In Autumn 2016 we advertised for applications for Poet in Residence at the inaugural Poetry in Aldeburgh Festival. Ben Rogers was subsequently put into position and undertook a month full of research, interviews, writing prompts and poems. We asked him to provide his reflections on this mammoth task in the hope it might prove useful to poets undertaking or considering residencies of their own. Read on for Ben's thoughts on his initial visit, the lead up and, of course, the festival itself to discover his processes for crafting responses and the sights, sounds and sonnets that shaped them.
***
Initial Visit
Aldeburgh is known variously for being the erstwhile home of composer Benjamin Britten, for the classical music centre Snape Maltings, for its various festivals and for its fish and chips, not particularly for its urban sprawl.  It was perhaps surprising then on a pre-festival recce trip to hear one of the chief organisers of Poetry in Aldeburgh 2016 Robin Boyd introduce the town as being mapped in a grid system akin to New York, and that remembering this would protect from getting lost.  With only a few main streets and the significantly large landmark of the North Sea, surely to become genuinely disorientated there would be nonsensical.
'Getting lost' can of course take many forms, not just spatially, and the various forking-path resonances of the idea are explored by one of the Poetry in Aldeburgh poets Ian Duhig in his pamphlet Digressions (that arose from his 2014 residency of Shandy Hall).  Duhig signs off the pamphlet by saying "our final Yorkshire paradox is to welcome you by saying get lost".  'Lostness', in one sense, is a contrasting concept to the idea of a homely-sounding 'residency', the literal definition of which is "the act of dwelling in a place".  Also, "to dwell" in itself doesn't necessarily suggest a particular action or purpose, suggesting that part of the experience of a residency may be to discover or find what the residency signifies.
"Exploration was the first port-of-call, to look at the place from the perspective of an outsider."
There were of course aims and targets of sorts, including a number of interviews, a selection of poems showcasing performers at the festival, a series of writing prompts, a round-up of reviews.  It seemed worthwhile to bring a strategic wishlist: to bring poetry to a wider audience, emphasise its accessibility and relevance, try and explore the borders between poetry and other art forms.  The latter was facilitated by the curation of Daphne Astor who had sprinkled artists into the line-up.  Also Aldeburgh, with the massive presence of Britten, and the institution of Snape Maltings, is steeped in music.
I decided that exploration was the first port-of-call, to look at the place from the perspective of an outsider. First impressions yielded a wealth of memorable sights and sounds.  A Martello Tower that had apparently not long ago hosted an Anthony Gormley sculpture.  A self-styled 'Pebble Homage' inviting people to write on pebbles outside the curious arts hub that is the South Lookout.  Boats named 'Silver', 'Spray' and 'Content'.  Many blackboards boasting fresh fish – cod, haddock, skate wings, rock eel, gurnard – and first-of-the-season samphire.  The apparently controversial Scallop sculpture by artist Maggi Hambling with the words punched out of the metal "I hear those voices that will not be drowned" taken from Britten's opera Peter Grimes.  Multitudinous sundials on the walls of houses, including one with the word CORREGGIO underneath it, a reference perhaps to the 15th century Italian Renaissance painter known for his chiaroscuro, fitting for a sundial.  A blue plaque for 'Monarch House', a former telecommunications centre connecting Great Britain with Europe via submarine cables "laid by HMS Monarch 1922-1989".  Another plaque for Benjamin Britten himself.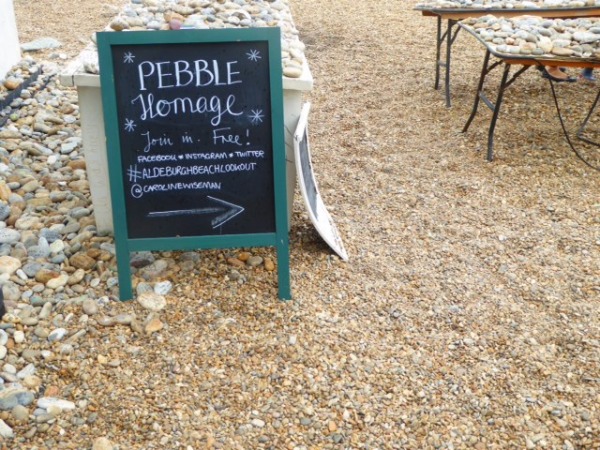 During the initial visit, it also seemed a good opportunity to conduct a test recording of the sea for the residency, in advance of the daily sea recordings during the festival, but it was a mistake to use a phone to do this.  A rogue, or possibly deliberate, wave threw itself at the device, and its main button then became inactive.  Perhaps a message from the North Sea to "get lost".  Or maybe a bid to destroy the ability to contact the outside world.  Normal service appeared to resume an hour later after the phone spent some time under a hand-drier.  It later transpired that the main button is called the 'Home' button.
***
Another sortie in the evening included a visit to the beach, the borderline between the beach and sea almost invisible.  There were tight clusters of stars between clouds, many more than in London.  Also a lot more silence, suddenly broken by the pebble-crunching of a slightly unnerving unknown figure who appeared to be approaching at high speed, prompting a swift exit from the shore.  Bumping into the statue of Snooks the dog (a kind of Aldeburgh equivalent to Edinburgh's Greyfriars Bobby or Tokyo's Hachiko) dimly lit by streetlamps was an eerie follow-up.  By this point sea water had clearly worked its way into a critical part of the phone, so that it began to call random contacts of its own spooky volition, even if the device was switched off.  A respite with a pint of Ghost Ship at the Mill Inn involved being spotted and named through the window by two women who pointed, muttered and darted off.  An indication perhaps of the impossibility of anonymity in a small town, maybe of people being alerted before you arrive, possibly the dangers of social media.  Aldeburgh was suddenly reminiscent of the village in 60s TV show The Prisoner, and the white dome of the Sizewell B power station that peers over Aldeburgh from its North horizon became redolent of the patrolling sphere Rover that keeps people from escaping.
"The museum offered many insights into the area, a wide spectrum of paths to travel down."
The next morning of this initial trip saw the phone miraculously healed.  It was also time to meet the festival's powerhouse curator Daphne Astor who brought with her several boxes full of the elegant Poetry in Aldeburgh promotional leaflets/ posters, all in the Festival Titling font.  After this, there was opportunity to discuss the approaching festivities, contemplate further waves, grab a few local maps, leaflets and booklets from the Aldeburgh bookshop, and take in a whistle-stop tour around Aldeburgh's museum, housed in the 16th Century Moot Hall (sporting another sundial).  The museum offered many insights into the area, a wide spectrum of paths to travel down.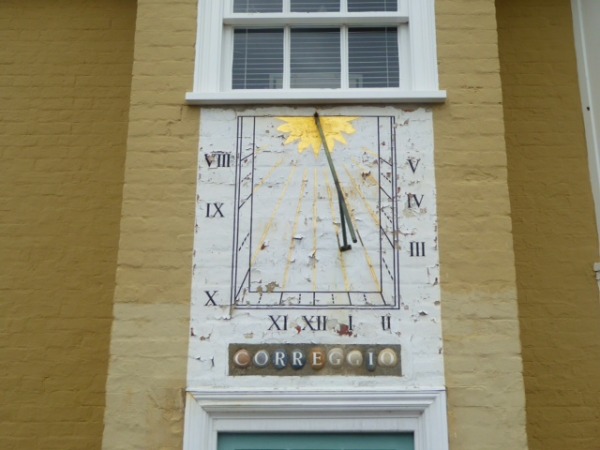 One clear theme was coastal erosion.  The 'Old Fort' that gives Aldeburgh its name was lost to the sea.  Nearby Dunwich used to be one of the biggest settlements in England, now hosts a population circa 100.  Slaughden, a narrow strip of land with a couple of sailing clubs, used to be "a thriving commercial centre".  A black and white illustration of a thatched cottage depicted the reputed birthplace of poet George Crabbe that existed between the Moot Hall and the sea, also washed away by storms in the 18th century.  A storm in January 1953 apparently rendered 32,000 people temporarily homeless.  A nearby picture showed a production of 'Noey's Fludde' performed in Orford Church for the 14th Aldeburgh festival (of music) in 1958, a collaboration between Benjamin Britten and Peter Pears.  It seems that while in London you're never far from a rat, in Aldeburgh you're never far from Britten.
The museum also packed in an array of stuffed birds and a wide collection of pinned moths, which caught the eye of Daphne Astor and seemed something of an omen given a butterfly's starring role at several of the Jubilee Hall readings a month later. There was a non-operational model railway.  An information board detailed Matthew Hopkins and his notorious witch-hunts, involving supposed witches being sleep-deprived and imprisoned in the Moot Hall prior to their execution.  There was also the 18th century equivalent of a drinks token issued to lifeboat men for exchange at the Mill Inn, marked with an archaic spelling of the town as 'Aldbro'. All things I made a mental note of in preparation for the tasks ahead.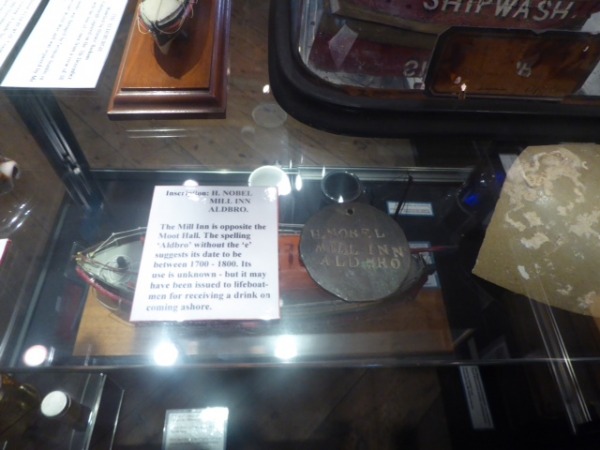 The Countdown
Having gathered a well of material, it was then time to return back to London and determine a course of action for the month-long countdown to the festival.  It seemed prudent to draw up a series of lists: of poets to interview, of poems to feature in a daily post, of possible thematic links, of potential writing prompts.  It transpired while doing so that nearly all of poets featuring at the festival had written about the sea, and a significant number had engaged with the coast actually in and around Aldeburgh.  Some of them had even done residencies of a kind there before, including at Caroline Wiseman's South Lookout.  It could be a bit insular or circular to promote a poetry festival in Aldeburgh with an extended series of poems about Aldeburgh, but some early poem choices were Fiona Moore's 'On Dunwich Beach' and Blake Morrison's 'On Sizewell Beach'.  Also, Maura Dooley's 'Apple Pie in Pizzaland' was a charming poem that offered an appealing backward glance to the first Aldeburgh festival.
"It seemed prudent to draw up a series of lists: of poets to interview, of poems to feature in a daily post, of possible thematic links, of potential writing prompts."
One form that ended up rising to the surface was prose poetry, including an extract from Tamar Yoseloff's 'Other Landscapes', two of Julia Bird's 'Short Film' poems, an excerpt from Jacqueline Saphra's Emma Press pamphlet If I lay on my back I saw nothing but naked women and Mona Arshi's 'Wireman'. This was probably in part due to the veer towards prose poetry at the moment and also in line with the intention of looking at poetry's borders and boundaries.
In this regard, artistic crossovers with poetry and other art forms or spaces also recurred. In addition to Yoseloff and Saphra's collaborations with artists, Chrissy Williams's 'Instructions to a Lemon Grass Artist' jumped out as an ingenious imagined collaboration with a graphic artist while featuring a fascinatingly cosmic narrative. Holly Corfield Carr's site-specific poem 'Aft' written for a Bristol ferry was innovative and fun, and at least one of Britten's many collaborations seemed essential to fit in. With National Poetry Day offering the theme of 'messages', 'Night Mail' was an obvious pick, Britten working with Auden on a documentary for the General Post Office. This also seemed pertinent given that the 22nd Aldeburgh Documentary Film festival had decided to land on the same weekend as Poetry in Aldeburgh. Ruth Padel cunningly managed to feature at both festivals, closing the Poetry in Aldeburgh readings and appearing on a panel after the screening of documentary Robert Bly – A Thousand Years of Joy to discuss the life and work of the American poet .
22 also ended up being the number of featured poems (the last 'poem' was actually an etching, 'Siberia – Irrational Representation III' by Perienne Christian). This was a reduced figure from one point when weekends were included in the equation, which would have ratcheted up the residency output considerably. Poems which were lined up for possible inclusion were Kayo Chingonyi's 'Orientations', Maurice Riordan's 'The Lull', Rachel McCarthy's 'Break-up at Edinburgh Castle', Annie Freud's 'Small Book of Tropical Miracles', Matthew Hollis's 'Isostasy', and a couple of other Britten collaborations Alfred Tennyson's 'The Kraken', TS Eliot's 'The Death of St Narcissus' that Carcanet kindly offered permission for from their excellent anthology Benjamin Britten's Poets: An anthology of the poems he set to music (1994). There were plans to also include work from the Suffolk poetry anthology Parnassian Molehill and choices from some of the participating writing groups, including Wivenhoe and Colchester poets .
***
 "the presiding principle was to try and help people become knocked off-centre."
With each of these poems came a writing prompt.  I decided that the presiding principle was to try and help people become knocked off-centre. Some of these were to attempt getting people out of their usual writing habits: becoming a flaneur and wandering to a place for the sake of it being new, eavesdropping on public phone conversations, or visiting a local café and making it the venue for a poem.  Others aimed to bring in different art forms, including collections of experimental sound, silent short films, still life paintings and photographs, the weird niche of inkblot art.  It also seemed appropriate to have a few local-based challenges, including an erasure-based exercise using the H Rider Haggard novel Red Eve that features Dunwich, a Halloween prompt for a poem that had to include an epigraph from either James I's book Daemonologie or Matthew Hopkins's A Discovery of Witches, and a sea-shanty prompt to tie in with nearby Harwich's 11th international sea shanty festival.  Aldeburgh resident Edward Clodd's fascinating anthropological study Myths and Dreams provided the basis for the final prompt. I created other exercises to encourage people to write in a different style, such as the prompts to write in the voice of a creature from Borges's bestiary, to mix up language using Ikea product names and the film Dogtooth for inspiration, or to create a new spin of Oulipean Raymond Queneau's Exercises in Style.
Fifteen of those poets behind the highlighted pieces of the day needed to be interviewed.  The Poetry Library in the Festival Hall was invaluable in providing access to researching each poet's historic output.  Each interviewee was asked six questions, and invited to reject one if they wished.  As a rule no one was asked what their poetic influences were, though some were asked who or what they liked from other art forms, continuing the theme of linking poetry with the rest of the arts.  In this vein, Hannah Lowe was asked about music, Dan Burt quizzed on his attachment to the film L'Année dernière à Marienbad, Emily Berry invited to nominate her favourite playwrights.
"Some of the flotsam and jetsam of trivia that had accumulated during the preparatory visit to Aldeburgh was woven in"
Connections to Aldeburgh were brought into the questioning, to underline Aldeburgh's cultural heritage, such as Tamar Yoseloff's experience of winning an Aldeburgh First Collection Prize, or Blake Morrison writing the libretto for the experimental opera Elephant and Castle shown at Snape Maltings. Some of the flotsam and jetsam of trivia that had accumulated during the preparatory visit to Aldeburgh was also woven in.  The fact that HG Wells was one of Edward Clodd's guests to his arty Whitsunday gatherings provided the basis for a cycling question for Rebecca Watts.  Wilkie Collins, who wrote the crucial confrontation to his novel No Name in Aldeburgh (spelt 'Aldborough' in the 1860s) had a great line on breakfasts in his novel The Moonstone to put to Emily Berry.  The 18th Century spelling of Aldeburgh as 'Aldbro' on the metal drinks token in the Moot Hall part-fuelled the idea to present a lipogram question on the topic of Aldeburgh (where the answer had to avoid the letter E) to the Oulipo-influenced Paul Stephenson, a challenge that he met more than admirably with a monumental 650+ word response.
Those who were interviewed provided a wide range of lively responses, and a few key themes and preoccupations recurred.  In a year where 'post-truth' disconcertingly gained traction as a word (let alone OED Word of the Year), it was illuminating to hear some perspectives on truth in poetry.  Dan Burt, a lawyer-turned-poet, said that he was keen to adhere to the feel of "truth, accuracy and authenticity" as much as possible, and revealingly he stressed that while law impelled him to accuracy it didn't necessarily influence his desire to convey the truth.  Jacqueline Saphra offered another slant on the topic, that the "emotional centre needs to spin centrifugally, and everything else – the facts and the unfacts, if you like, need to be caught in its vortex."
The concept of play and experiment also elicited some interesting responses.  Chrissy Williams made the point that "Play is linked to experiment and exploration, and also to enjoyment. Play doesn't have to imply lightheartedness and it doesn't imply childishness."  A serious application of play could be said to run through Paul Stephenson's work in his pamphlet The Days that Followed Paris, a pamphlet addressing the 2015 terrorist attacks.  Poems were crafted in various shapes, including that of the French flag, a hexagon, in a V-shape.  Of his experimentation with shape and form in these poems he said: "Ultimately, I suppose because of the shock and bewilderment of what occurred, the different shapes all seemed like bits of a puzzle, and if I varied it and then put them together, maybe I would actually make sense of it all."  When asked about the ludic territory of chance procedure, Holly Corfield Carr provided another intriguing perspective, arguing "all writing is just a loose version of these kinds of exercises" and that when "we talk about 'chance' we've already stationed part of the writing process outside ourselves. We decide on names for this other part, like 'found' or 'inspiration' or something else, but we are always just writing back to what we have already recognised, writing back to ourselves, collaborating with the back of our heads."
Find all of Ben's writing prompts & interviews here.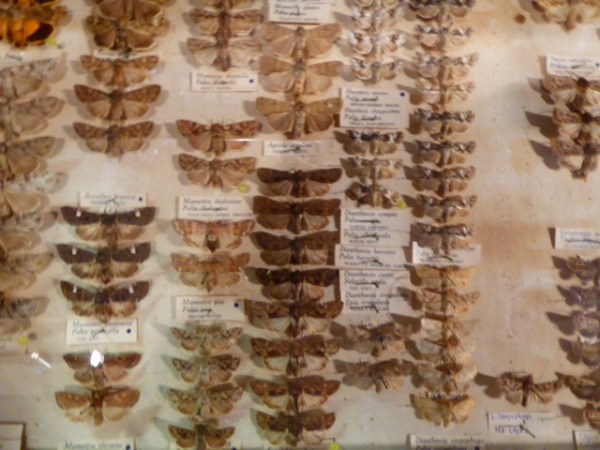 The Festival
When the festival weekend arrived after the month's countdown, it felt like an intense and almost surreal transformation of Aldeburgh.  Quiet streets were suddenly swamped.  Familiar faces from poetry in London could be seen wandering Crag Path and the High Street.  Poetry readings/events were taking place at a furious rate, often concurrently at two or more venues.  Hitherto deserted pubs were buzzing.  Some of the town's eateries seemed off-guard for the surge in demand.  Poetry in Aldeburgh struck a deal with the well-placed East Coast Café (just opposite one of the key venues, the Peter Pears gallery) so that festival-goers could show a Scrabble piece for a discount.  They served an exemplary mackerel salad.
"the sense of surplus, a cornucopia, is arguably a key feature of a festival"
While the residency bestowed the power of a free pass to any event, without mastering the miraculous ability of bilocation, the festival programme meant that you could only experience first-hand around half of the action. However, this was in a sense a benign frustration and the sense of surplus, a cornucopia, is arguably a key feature of a festival.  There were many excellent poetry events, some of which are covered in the companion piece to this essay 'Seven Highlights of Poetry in Aldeburgh' that appeared following the festival.  There could well have been another such round-up of the events that were going on while those highlights were going on.
One of the more bold and unusual poetry events, and one not included or forecast on the programme was 'Poetry in the Sea', led by Fiona Moore, assistant editor of The Rialto.  This impromptu gathering was held at 8.45am Sunday morning and featured five poets reciting a poem each while swimming/ treading water.  A small audience assembled on the beach, catching the occasional word or cry amidst the continual crashing of the North Sea.  A minute of this event formed one of the daily sea recordings, which are audible on Soundcloud.
The festival also did well at including events that weren't 'poetry' at all.  There was Sarah Wood's short film A Murmuration and its accompanying installation at the summit of the South Lookout.  Also, at a glance the opening event of Poetry in Aldeburgh appeared to have little connection to poems: a private view of artwork in the Peter Pears gallery featuring the collaborations of Clara Drummond and Kirsty Buchanan, and the work of six other local artists.  The portraits were impressive, and the collected handwritten letters and postcards of Drummond and Buchanan 2015-16 compiled into a small booklet provided a fascinating and freewheeling exploration of art, the nature of the muse, and all manner of other topics, including poets and poetry.  In one of her letters Drummond breaks off from talking about Petrarch, Dante and tapestry cycles to say "Anyway, I have strayed from the point, sorry!" though straying from the point could be said to be sometimes the point, and anyway these are all digressions well worth getting lost in.
"Not knowing what one is doing is no prohibition on doing it. We all grope ahead." A worthwhile mantra to have… for navigating a first residency"
Clara Drummond appeared again for a George Crabbe-inspired sketching workshop based in the downstairs room of the South Lookout.  Perienne Chistian ran the workshop and Drummond posed as Crabbe himself for everyone present to produce charcoal drawings from six different points of his narrative verse The Village.  This was a nerve-wracking assignment for a non-artist poet, though rewarding to investigate the Paul Klee idea of 'taking a line for a walk', and realise the virtue of not being beholden to, or fearing, error, a useful principle applicable to many endeavours.  It called to mind Anne Carson saying: "Not knowing what one is doing is no prohibition on doing it. We all grope ahead."
A worthwhile mantra to have, and perhaps it is also an apt one for navigating a first residency, which was often fascinating, frequently inspiring, and an illustration that the more you look, the more you find.  Meanwhile, the team of volunteers running Poetry in Aldeburgh may have been charting new territory with their debut festival but there was scant evidence of this.  The entire event appeared to flow seamlessly, and debriefing seemed to be focused on minutiae, such as tweaking timings, considering the occasional longer break between readings, and on ideas for development for the second iteration.  Next year's festival, already in the calendar for 2017, might see additional satellite events, and an enhanced international presence.
"fascinating, frequently inspiring, and an illustration that the more you look, the more you find"
On the topic of potential mantras, here are now two to finish (a phrase that often seems to surface at poetry readings) that clatter together in an interesting way.  The first closes Ruth Padel's poem 'Facing East', which begins and ends in Aldeburgh focused on Maggi Hambling's 'Scallop', and the second from the American writer Rebecca Solnit via Ian Duhig (he mentioned her book in his interview).
"Making is our defence against the dark"
– Ruth Padel, 'Facing East', How to Make an Oud in Nazareth
"Always leave the door open for the dark."
– Rebecca Solnit, A Field Guide to Getting Lost