Starting by announcing the potentially idyllic locale of a beach in St Lucia, 'Wireman' (from Mona Arshi's first collection Small Hands) reveals itself to be a surreal and unsettling poem. A seemingly innocuous seller/maker of wire-based objects casts a "long shadow" over the narrator who then becomes fixated on a distorted vision of the world where everything is fashioned from wire.
At Poetry in Aldeburgh: Mona Arshi reads as part of 'Making Sense of the Past in the Present' alongside Dan Burt and Paul Stephenson on Sunday 6th November, 11:30am – 12:30pm in the Jubilee Hall.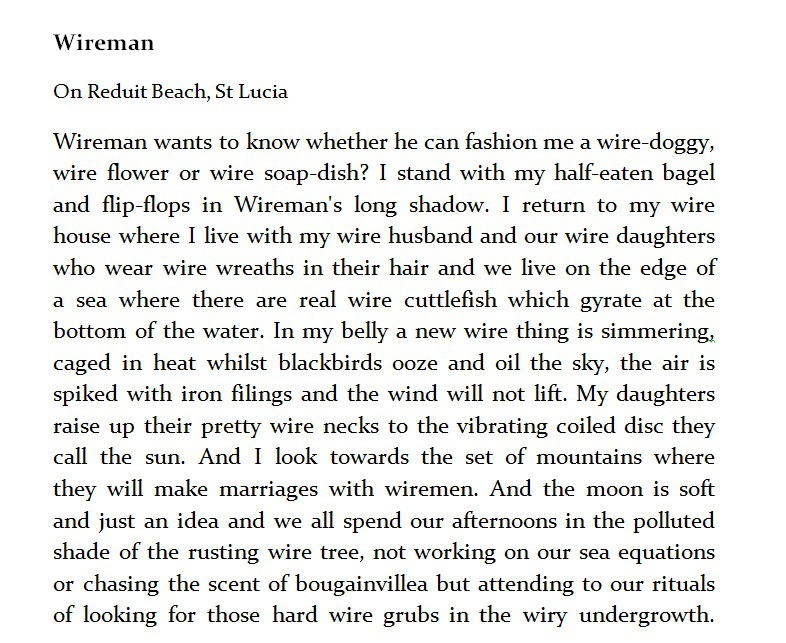 from Small Hands (Liverpool University Press, 2015)

Writing Prompt: The Collector
'Wireman' is a collection of images of wire, a daydream turned obsessional. Jean Baudrillard, in his book The System of Objects (1968), said: "Any collection is a succession of items, but the last in the set is the person of the collector." A poet is a kind of collector, probably of books, but also of sounds, of images, of thoughts, of ideas, and of their own poems, that they periodically present as a 'collection'.
Building a collection of some kind requires focus, a focus that can morph into mania or obsession, which can be dark as in John Fowles's sinister novel The Collector (1963) but could be a positive thing; as the Czech animator Jan Svankmajer recommends to aspiring artists: "Succumb totally to your obsessions. You have nothing better anyway". Svankmajer has been an avid collector since childhood of all manner of curiosities, including exotic animal parts, sea shells and ceramic fruits. Today's task is to create a poem on the idea of collecting: perhaps the text is a collection in itself, or is about a collector or inspired by a collection. Whatever slant you take, make sure that obsession wins over to some extent.
For inspiration, here are some collections to look at, a taxidermy shop and various museums, including one which helpfully explains how to start a barbed wire collection:
a) Deyrolle, Paris
b) Meguro Parasitological Museum, Tokyo
c) Sir John Soane's Museum, London
d) Kunstkamera, St Petersburg
e) Museum of Broken Relationships, Croatia
f) Kansas Barbed Wire Museum, US