Poem of the Day – AFT by  Holly Corfield Carr
Today's poem was a site-specific piece commissioned by Spike Island (a centre for contemporary art and design based in Bristol) with Bristol Ferry.  Written while listening to the sea shanties of a Bristol sailor recorded in 1950, Holly Corfield Carr created a poem whose couplets were actually measured to fit thirteen windows of a passenger ferry called Matilda. You can watch a film of the poem below, shot through the windows of Matilda, and set to a sea shanty.
At Poetry in Aldebugh: Holly Corfield Carr will read as part of 'Beginning to See the Light', a Jaybird Live Literature event, which is held on Saturday 5th November, 5.30pm – 6.30pm in the Peter Pears Gallery.
AFT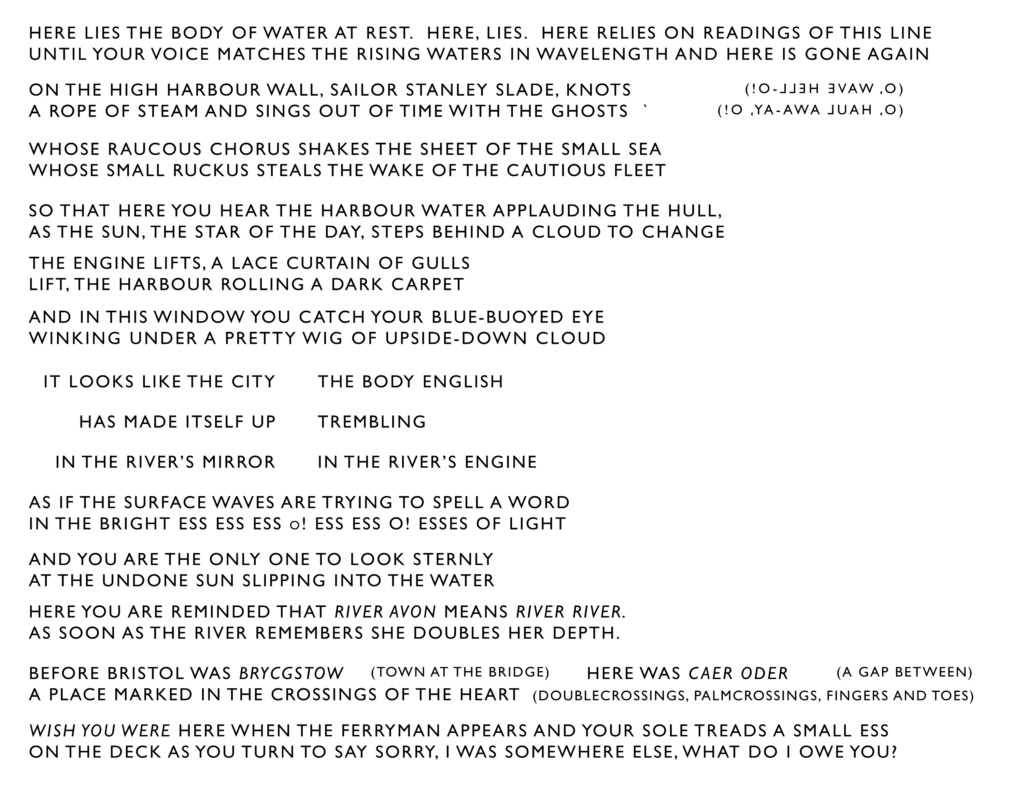 Writing Prompt – Take a Chance  by  Ben Rogers
The basic principle of using a chance technique to create an artistic work, whether it be painting, music, dance or writing, is that it removes (to an extent) conscious intention.  John Cage, the American composer, regularly used the I Ching (an ancient Chinese text containing 64 hexograms based on yin and yang symbols) or tarot cards to create a chance procedure to guide the creation of his work.  Merce Cunningham, the dancer and choreographer, frequently collaborated with Cage, and has often used coins and dice as a way of determining the choreography of a dance piece.  He once said, "Tossing a coin can save you all kinds of mental harassment".  Today's prompt involves using the outcomes of coins and dice to generate basic constraints or rules within which to guide the writing of your poem.  Follow the three stages below and begin.
Poem Length
Roll 3 dice and add 6.  This is the total number of lines for your poem.
Subject Matter
Take a word using a Random Word Generator. Toss a coin.  If it is 'heads', your poem should be obviously about the word you have been given.  If it is 'tails', your poem should be about the random word but not appear to be about it and should not mention it.
Style Constraint
Roll 1 die.  If you roll 1, use a poetic form you have not used before.  If you roll 2, use only two sentences.  If you roll 3, never end a line with a noun.  If you roll 4, have an abrupt ending.  If you roll 5, use a lot of repetition.  If you roll 6, use a lot of the space on the page.