Ahead of the Awards ceremony on Thursday 12th December, The Poetry School has asked the five poets shortlisted for this year's Michael Marks Award for Poetry Pamphlets to discuss the writing process behind a poem from their award-nominated work.
So far, Theophilus Kwek, Charlotte Wetton, Phoebe Stuckes and Omikemi Natacha Bryan have talked about their poems. In today's final instalment – our first ever How I Did It in verse! – Alyson Hallett shares the inspiration behind 'crossing the sound'.
---
please note that in the pamphlet there is a main character – Toots – and up until the last poem it is only her name that is given a capital letter
'crossing the sound' refers to crossing
a narrow strip of water
called the Sound of Iona
between the islands of Mull and Iona
Right from the start
I'm working with sibilance –
once shot whisky stepped side hands see feels –
the sounds waves make
when they slap the sides of a boat
the hiss and s that lives
in the mouth of water
It's hard to separate the poems in this pamphlet
they all came at once
in one big rush
I was staying at Hawthornden Castle
in Scotland
editing a different manuscript
a whole month spent
in silence from 9.30 to 6.30 apart from weekends
or when Quentin came with his horse and trap
to take me out along the frosty
lanes and roads
One whole month of concentration and then
on the last day
when I was due to go for a walk with Lynn
something started happening
poems pouring out of me like lava
there was a knock on the door
Lynn saying are you ready?
I'm exploding, I said, I can't come yet –
A year and a half later
I found the poems stashed away in a folder
in a corner of my room
It was good to see them again
there was an energy
a boom of electric
so I tinkered away
(I say tinkered because a light touch
is often better than a heavy one –
I've slaughtered more poems
than I care to count with earnest
over-editing)
clipping bits off here and there
and saying them out loud over and over
because if there's no punctuation
you have to bring so much awareness
to line endings
and if the energy's racing
you have to take care to not put obstacles
in its way unless you want to slow it down
or road block it
and I didn't want to do either of those things
in 'crossing the sound' –
I spent a lot of time thinking about punctuation
and capital letters and what I was up to
only giving a capital to Toots –
the politics of that –
the question of where power lies
and how to shift it around
disturb the ground
Without capitals and punctuation
the words move fast
like water
and I wanted that in 'crossing the sound'
because we're out on the water
and the rules of water
are different to land-based rules
Before all of this writing
there was also the lived experience
the intense wild experience of living on Iona
stored inside for more than two decades
(I've wondered since
if it was being on Scottish soil again
that triggered these poems……)
'see how good she feels
he said'
how long did I take swapping these words around
so that I could hear them from the captain's mouth
there were thirty other versions
but I decided to bring it back
to the simplest one of all
like a line drawing
creating a world
with lines that don't distract
but focus on the making of a potent space
Yes
space
daring to be brief and lucid to the point of
being naive
I liked the zig-zag pattern I was making with words –
how this reflected the zig-zag of the ferry
the froth of the ferry's wake
where what's around it
is bigger than what it is
the picture of the poem
as well as the poem
The repeated 'curvy'
and 'curve'
the question of whether or not to do that
and then
yes, curve twice, keep it, repeat it,
let the rhythm build,
let the curve dominate
because that's what the ferry does when it motors
from one shore to another
it curves
everything in water curves
And then the truncated
'never again
for granted'
putting pressure on language
putting the work of the ferryman
centre-stage – showing
the way our lives
are in his hands
in an intelligence that can't be seen
The ending – fifteen/twenty/fifty times played with
before coming back to the original
keeping it simple
resisting the urge
to slip into cleverness
keeping the 'and' after rocks
for the rhythm
for embedding a repeated rhythm
Under everything
there's the knowledge
that this is the penultimate poem –
when you turn the page
you discover Toots is dead
and so 'crossing the sound'
is no longer just the Sound of Iona
it's also the river Styx
undertones and rip currents
the final crossing over
from sound to silence
crossing the sound
once
in the captain's cabin
after a shot
or two
of whisky
he stepped to one side
put the wheel
in my hands
see how good she feels
he said
she began
to cut a zig-zag path
instead of a
straight curvy line
currents
so strong
they stole her arc
and i was helpless
to make it otherwise
the captain laughed
took the wheel
and tamed her into
the usual curve
and never again
for granted
the ferryman's
strength
his knowledge
of rocks and
tides and currents
---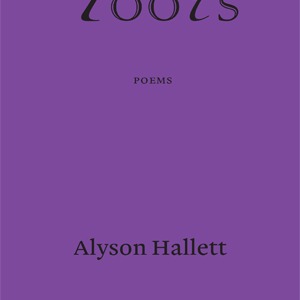 Alyson Hallett's pamphlet Toots (Mariscat Press) is shortlisted for this year's Michael Marks Poetry Award. Her publications and broadcasts include Chalk (BBC Radio 3), Walking Stumbling Limping Falling (Triarchy Press) On Ridgegrove Hill(Atlantic Press) and Six Days in Iceland (Dropstone Press). She collaborates with sculptors, artists, scientists and musicians. Since 2001 she has curated The Migration Habits of Stones, a project that involves taking stones around the world with a line of poetry carved into them. She lives near Bath and is a Royal Literary Fund advisory fellow.
The Michael Marks Award recognises an outstanding poetry pamphlet published in the UK. The winners will be announced at the Awards Dinner at the British Library on Tuesday 12th December.