Ahead of the Awards ceremony on Thursday 12th December, The Poetry School has asked the five poets shortlisted for this year's Michael Marks Award for Poetry Pamphlets to discuss the writing process behind a poem from their award-nominated work. First in the series, Theophilus Kwek writes about his poem, 'The Crossing'. 
---
Easter 2015. I am walking with my father along the esplanade in Aberdeen when we are asked, by a couple of boys with a dog, to fuck off home. My father, who is visiting, is taken aback. But he is careful not to seem too shocked at what might after all be a common occurrence.
Does this happen all the time, he asks? (I am grateful for this.)
Only sometimes, I lie. I hardly even notice.
I have only lived in Britain for two years at this point but already this has begun to feel like exile. I somehow register, in the moment, that the words sound different in Aberdeen than in Oxford. Less chiselled. More potent, more expressive.
How long does one take to acquire an accent like that?
(We have been speaking a Singaporean patois: a dead giveaway).
How long to acquire not only that accent, but that whole manner of (ugly) spontaneity and feeling?
Throughout my entire first year in Britain (especially the long, wet winter of 2014), writing proves difficult. Partly because my surroundings are different, and everything about Oxford's tousled geography still throws me off. But more because I'm ashamed of the way my words come out: consonants fall flat, all the stresses are wrong. When I read my poems – to myself or others – they do not sound as I would like them to sound.
Being attentive to the language(s) we write in can be a double curse. As poets, we tend to overthink the words we use, sacrificing sense for sound as the occasion demands. When we uproot ourselves to new places their logic might stay the same, but their music changes.
When we sit down to write, we intuitively seek some means of inhabiting the language, of living in its lilt, like a second skin. And when we move this intuition is thwarted; we are caught off-guard.
I don't know what eventually brings me round again to writing in a way that feels okay, though by the time my father visits, two years in, things are a little better. I've found a community that listens and cheers me on without awkwardness or malice. I've survived countless introductions (over loud music: sorry, could you say that again?), and fallen in love.
But my voice has also shifted gears, moving of its own accord into the 'global downtown'. Tuning in to coverage of the 2015 elections, I notice I sound more like Cambridge than Peterborough, Durham than Newcastle. Back in Singapore one summer, an old teacher says I wouldn't be out of place in Bloomsbury. He means it as a compliment.
Is this the price to pay for writing again? Whose voice is it that I now write in?
I eventually arrive at this poem in the summer of 2016, but in a manner of speaking, it has begun in my head months before. With more asylum-seekers arriving in the country each week, fleeing war and desolation elsewhere, the chorus defending (some kind of) Englishness rises to a fever pitch.
Speak up. You're not from around here, are you?
There is pressure on the refugees to go away. There is pressure on them to fit in. Because I've had the same question put to me a thousand times, I am compelled to make common cause with them. And yet unlike how it is for them, my life has never depended on the answer.
One week, Marina Warner comes to lecture on 'The Sanctuary of Stories'; on how, through our narratives, we can make room for each other. She reminds us of this episode in the Old Testament: Israel is riven by civil war and the men of Gilead, believing themselves wronged by the Ephraimites, have captured a ford of the River Jordan. Any Ephraimites trying to cross the river are forced to say shibboleth, and found out by their accents.
The story cuts close to home. Immediately I picture the fugitives struggling to gain a foothold on the riverbed, praying they won't be unmasked, praying they won't be asked to speak. It's a feeling I know well, and the rest of the poem tumbles easily onto the page.
The lines owe their rough iambic rhythm to the King James Bible, where I first encountered this episode as a child. To sharpen the story's time-travelling quality, I opt for an imperfect terza rima: the form in which Dante recounts his (and Virgil's) own 'crossing' into hell, which sounds stilted in English unless mellowed out with soft and half-rhymes ('back' / 'dark', 'peace' / 'morass').
I cannot escape the feeling that this poem's journey onto the page approximates my own. Of course, I shouldn't be surprised: in so many ways, our words force us to take stock of our own arrivals. But each time I am reminded of this, it is worth the telling.
The Crossing
'When any of the fugitives said, "Let me go over", the men of Gilead said to him…"Say Shibboleth," and he said, "Sibboleth," for he could not pronounce it right. Then they seized him and slaughtered him at the fords of the Jordan, [and thus] 42,000 of the Ephraimites fell.' – Judges 12:5-6
Calf-deep in water and no turning back,
we bury our swords in sacks of grain,
smear on wet loam to make our faces dark.
Black hours. The riverbed clings to our skin
as we plan our way home across the marsh
to where a firm shape of the land begins:
tribesmen, with our heavy gear and horses,
bringing a full harvest. The first sentries
take us at our word, and, lifting a measure
of dry corn from our bags, wish us peace.
In the pale light we haul the animals
champing at their ropes into the morass,
trust our luck and the still-distant swell
with our feet, eyes. Then from too close
among our submerged ranks, a yell –
a bucking horse, a rock, rope loosed
from the grip – that makes the watchmen turn,
curse, fix us with a sterner glare. Years
later on Jordan's bank another man
will comfort his people, by their words
will they be justified. Here on the open
water there is nothing, nothing to hold
as the word comes faltering to our lips,
wide nothing that makes our voices heard
above the river's lisp, nothing like sleep
or the comfort of sleep. As we speak
the mud slips off our faces into the deep.
---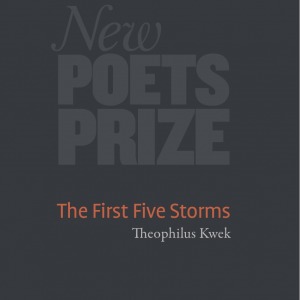 Theophilus Kwek's pamphlet The First Five Storms (Smith|Doorstop) is shortlisted for this year's Michael Marks Poetry Award. He has published three collections of poetry, most recently Giving Ground. He won the Martin Starkie Prize in 2014, the Jane Martin Prize in 2015 and the New Poets' Prize in 2016. He is a former President of the Oxford University Poetry Society, co-founder of The Kindling, an online poetry journal, and co-editor of Oxford Poetry.
The Michael Marks Award recognises an outstanding poetry pamphlet published in the UK. The winners will be announced at the Awards Dinner at the British Library on Tuesday 12th December.