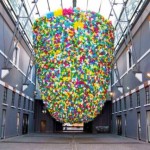 Poetry & Visual Art
This is a Campus group associated with Tamar Yoseloff's Poetry & Visual Art courses, a place for course members to share work, resources and conversation.
Course description: Poets have long drawn inspiration from painters and sculptors; with the rise of a new generation of artists challenging traditional media, can we find in them a source for poems which push boundaries in a similar manner? Tamar will take you into gallery spaces to engage with contemporary art and to encourage new poems in response. You will also look at parallels between the gallery as a space for exhibition and
the page as a dynamic space for composition, and, based on the tutors' own experience, will discuss the technicalities of artist / poet collaborations, publications and residencies.
This is a private group. To join you must be a registered site member and request group membership.