Poetry can spring up in the most unlikely places – even Zone 3. For Xriss Xross, a free one-day writing festival, the Poetry School took over RAW Labs, an airy studio space at a fringe of the DLR that many Londoners (this one included) will never have visited before.
It was the perfect setting for poetry. Even the names of the nearby DLR stations have a ring of romance and adventure: East India, Cyprus, Gallions Reach. I voyaged out in search of answers, and what I found were shipwrecks.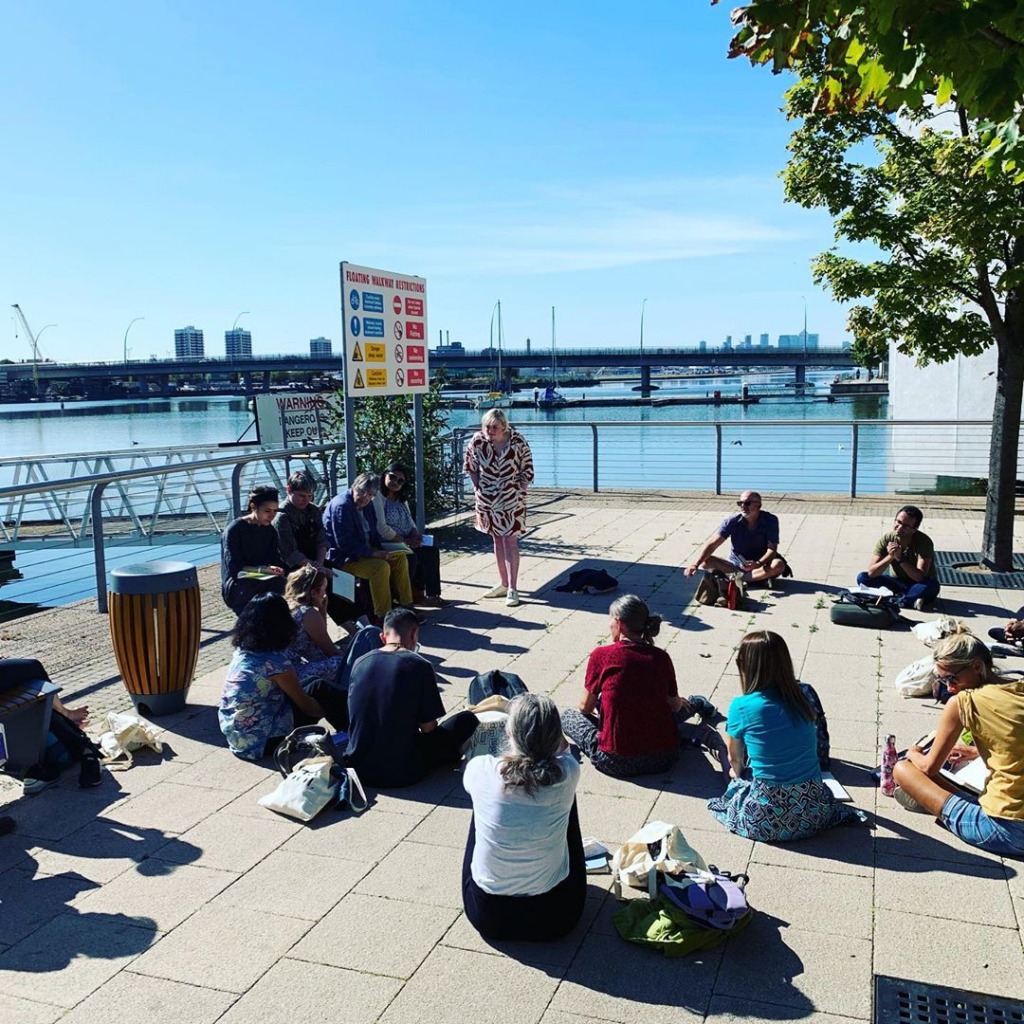 Poet and journalist Eleanor Penny, despite being a self-proclaimed "landlubber", is fascinated by wrecks. Each sunken ship is a symbol of "human ingenuity and engineering knocking its head against the reality of nature," she told the writers who had gathered for her workshop, which crammed around 15 highly imaginative writing prompts into just over half an hour.
Can you name 10 unlikely ways to sink a ship? What happened to the crew of a ghost vessel lost in the arctic? What did it say in the captain's log? How does the Marie Celeste smell? The aim of all these fast-paced writing games was to side-step "the critical voice", Penny explained; a barrage of ideas would arrive before the inner censor had a chance to pipe up. I'll confess that at the time it was something of a challenge to keep up, but ideas from that workshop have been following me around ever since.
Penny, whose first book is forthcoming from Flipped Eye, took a visual approach to summoning ideas, using photos for inspiration in a series of writing games: could you describe the colours – and only the colours – in an image of a rusting iron hull? We were encouraged to dabble with Martianism: how would an alien who'd never seen a boat explain this picture of a wooden wreck, half-buried in sand? (It's a giant lobster-pot, an open-air theatre, a ruined church, a clockwork whale's skeleton, a neanderthal's first attempt at a lunar rocket…)
Each workshop followed a similar structure: an opening talk designed to spark ideas, an hour of free writing time, before reconvening to discuss what we'd written. Meeting outside, accompanied by the sound of water gently lapping in the Royal Albert Wharf, one writer shared a moving poem that used the slow dissolution of a ship under the waves as a metaphor for her the mind of her father in a care-home, "only now set free to become flotsam".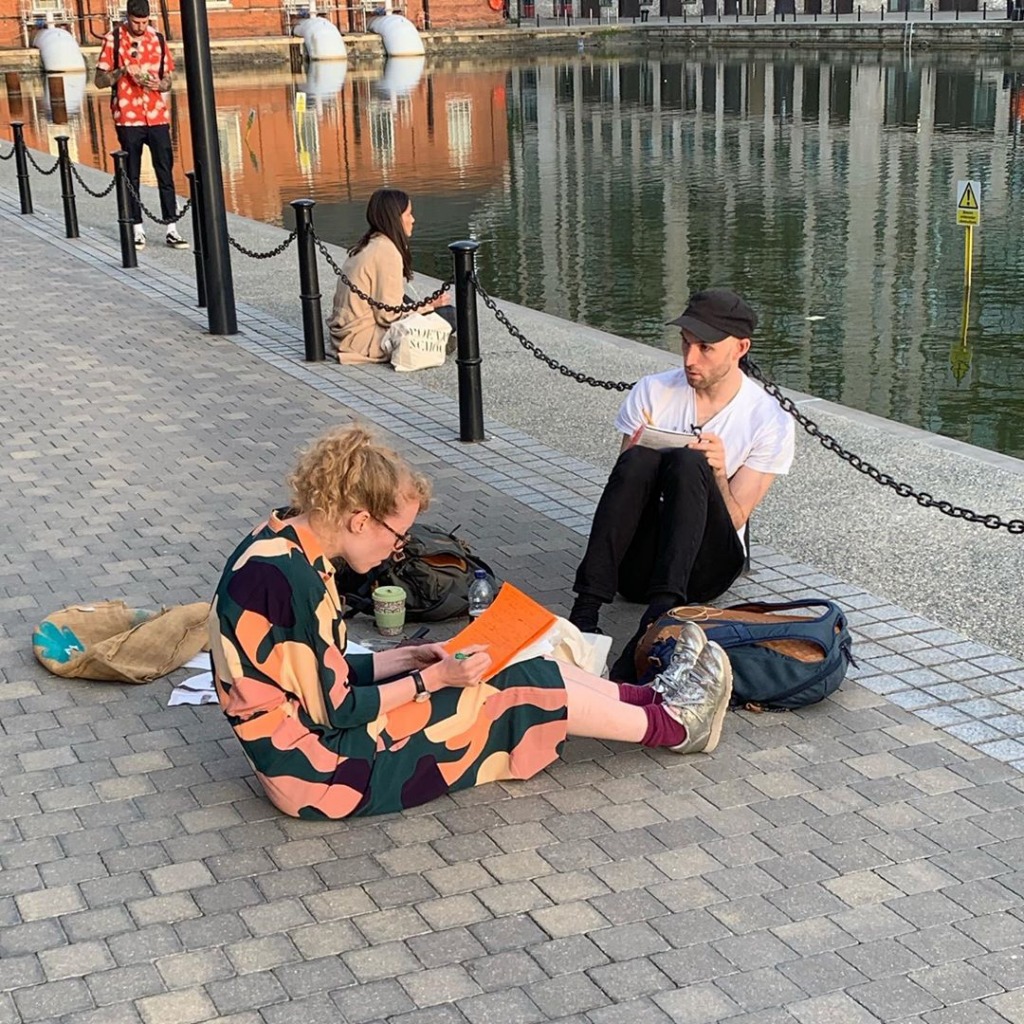 While Penny's workshop offered a series of eye-catching images, Jade Cuttle had another sense in mind: smell. A poet, songwriter and critic, Cuttle arrived armed with a set of tiny, cork-stoppered bottles, and invited us to guess what was inside. Scribbling our first impressions on a sheet of paper lying beside each bottle created a kind of collaborative poetry. We each bring a different set of associations to any given smell; one man's marzipan is another's cyanide, as the scribbled notes beside a vial of almond oil proved.
Cuttle also brought a few examples of well-known poets being led by the nose, from the "brown enormous odour" of Elizabeth Bishop's 'A Prodigal' to William Carlos Williams's ebullient 'Smell!' ("Oh strong-ridged and deeply hollowed/ nose of mine!"). But this was a workshop more interested in the present moment than the literary canon: Cuttle was keen to hear about scents that held a personal meaning for each of the people in the room. ("Incense sticks," one person volunteered. "They remind me of home.")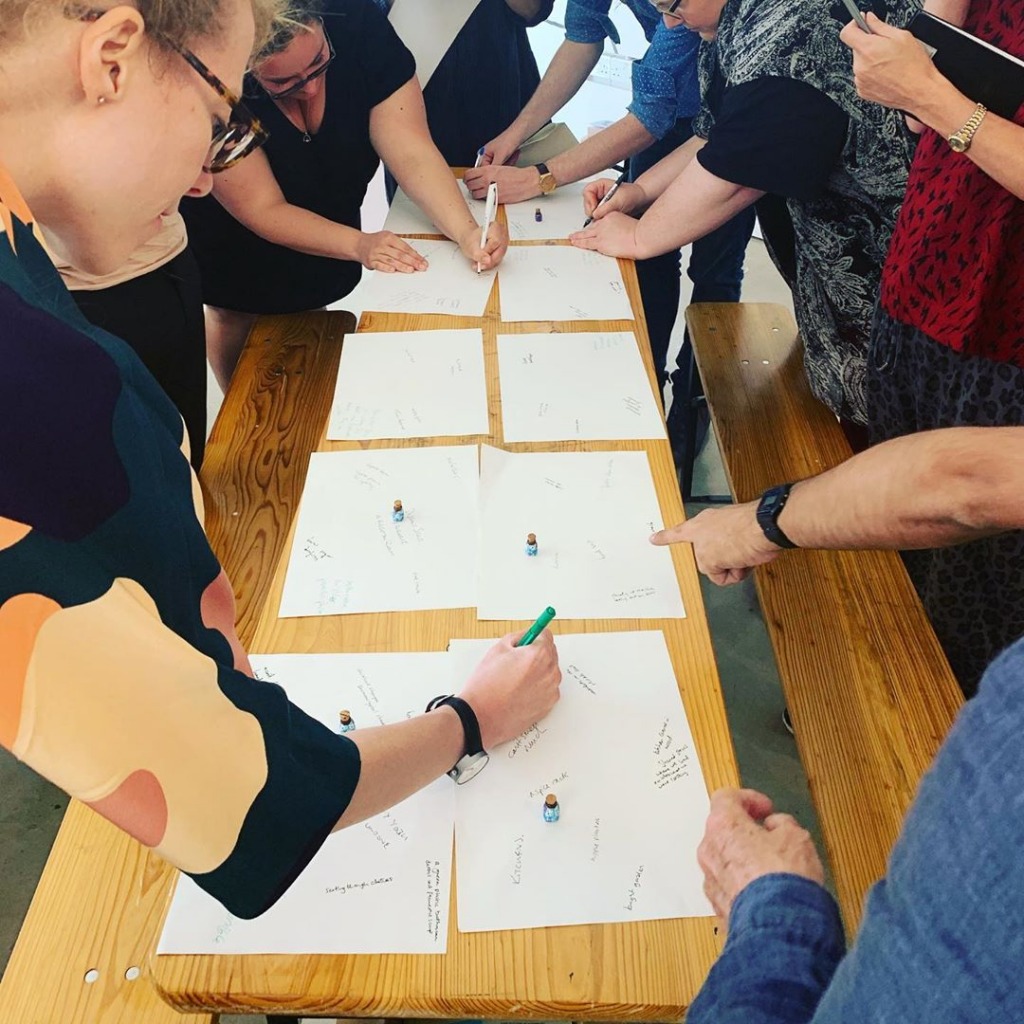 Working with a small-ish workshop of just over a dozen writers, Cuttle gently brought each of them into the conversation, starting out by asking everyone in the group where they were in their "poetry journey". It was a good way of overcoming any potential shyness from the outset; I had the feeling a few of us might not usually own up in public to writing poetry, and one or two of the answers had an AA meeting cadence. ("Hi, my name is John… I wrote a poem by mistake two years ago, and I've been writing a lot more since.")
It was charming to see a group of people with – at first glance – nothing in common brought together by a shared obsession with putting the right words in the right order. Some were published authors, some new to writing; there were writers in their early twenties, and writers in their retirement years. Some had travelled into London specifically for Xriss Xross, others were Docklands locals who had taken a punt on the festival because they happened to live nearby.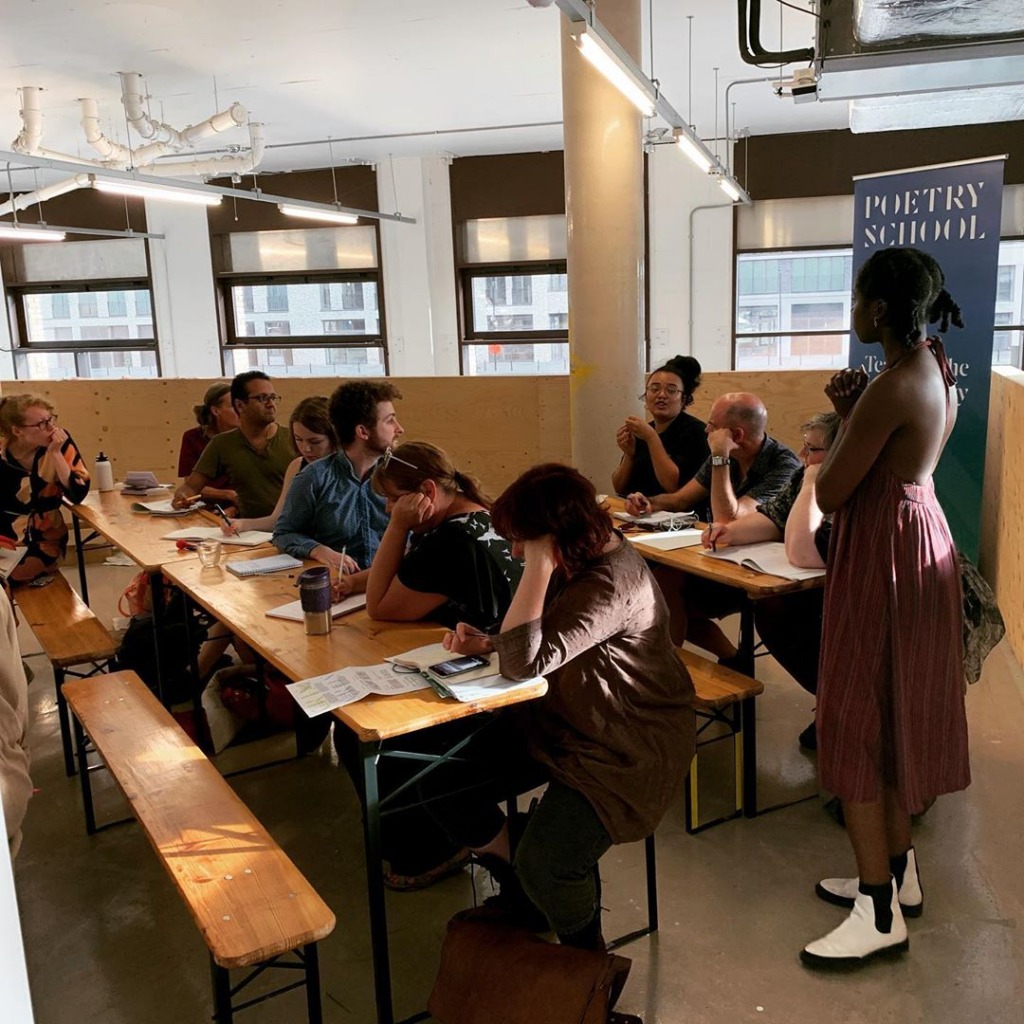 Another thing the writers scattered in and around RAW Labs had in common was a willingness to try something new. One attendee, Gavin, told me he had been writing sincere, autobiographical poetry for quite some time, but had never tried experimenting with different characters until he joined Dean Atta's workshop on personae that afternoon, which led him to try a bit of surreal humour. (Gavin's poem about a dog mistaken for a cat took the form of an angry email, sent by the aforementioned dog to one "Karen from accounts", who was responsible for this grievous administrative blunder).
Elsewhere, Anthony Anaxagorou used the idea of "writing about joy" as the loose theme for a remarkably wide-ranging workshop. I'm not sure I've ever heard Danez Smith's poems compared to Marcus Aurelius's Meditations before, but Anaxagorou found a surprising common ground in how they structured their sequences of self-contained ideas.
Anaxagorou was certainly the most quotable teacher at Xriss Xross. His tips for combating writer's block alone could make an excellent pocket-sized book. Here's how to get started: "With poetry, never start at the top. Start halfway through. Don't look for a logical beginning. Take two steps down, and that's where you start – the third or fourth line."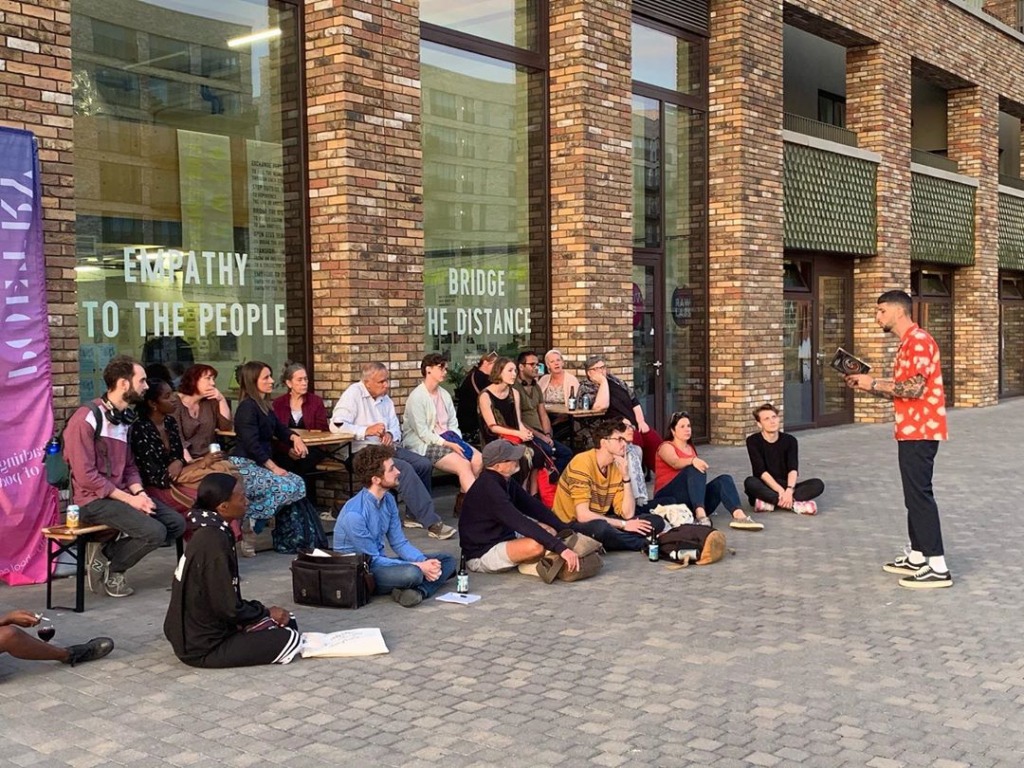 Anaxagorou likes to call poets "objectifiers"; he follows a less prescriptive version of William Carlos Williams's "no ideas but in things". For poets, he told us, "Material things, objects, are your get out of jail free card". In other words, if you reach a dead end halfway through a poem, with no idea where your next line should take you, bung in a thing – sandals, rope, a broken fridge magnet – and watch a new idea spring into life.
With the sun setting over the dock behind him, Anaxagorou ended the evening with an al fresco reading from his first collection After the Formalities, recently published by Penned in the Margins. It's a powerful book about different kinds of identity and grappling with other people's preconceptions, drawing on his own youth in London and his family's roots in Cyprus (the island, not the DLR station). "Reading" isn't quite the right word: this was a fully embodied recital-by-heart. Even the swans bobbing in the river were gripped.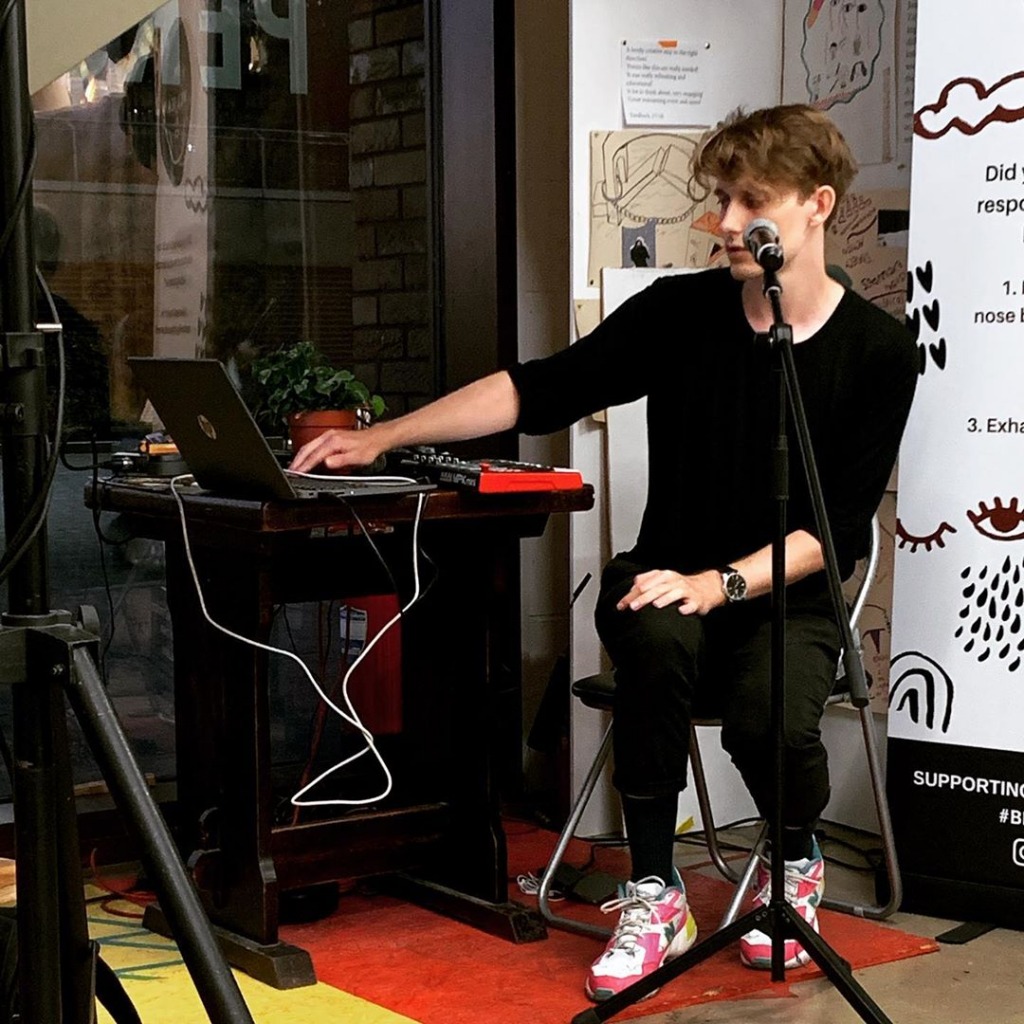 Back inside, I gulped down a bit of wine and EDM with equal enthusiasm. Antosh Wojcik blends poetry and music in innovative ways (his acclaimed stage-show How to Keep Time is billed as "a drum solo for dementia"). For his laptop-powered Xriss Xross set, which he called "a kind of live radio show", the young performer set his words to soporific, woozy electronic beats, conjuring a calm neighbourhood scene imbued with a Lynchian sense of unease, where "our suburban curbed spirits" are haunted by "a vague sense of loss among the patio slabs." His poems are postcards from the uncanny valley: "A ski resort in summer is its own sort of ghost." Wojcik's set reminded me of a workshop earlier that afternoon, led by Victoria Adukwei Bulley, which explored the overlap between music and poetry. Is every poem a kind of song, and every song a poem? I'm still not sure, but it's a question that had me humming all the way home.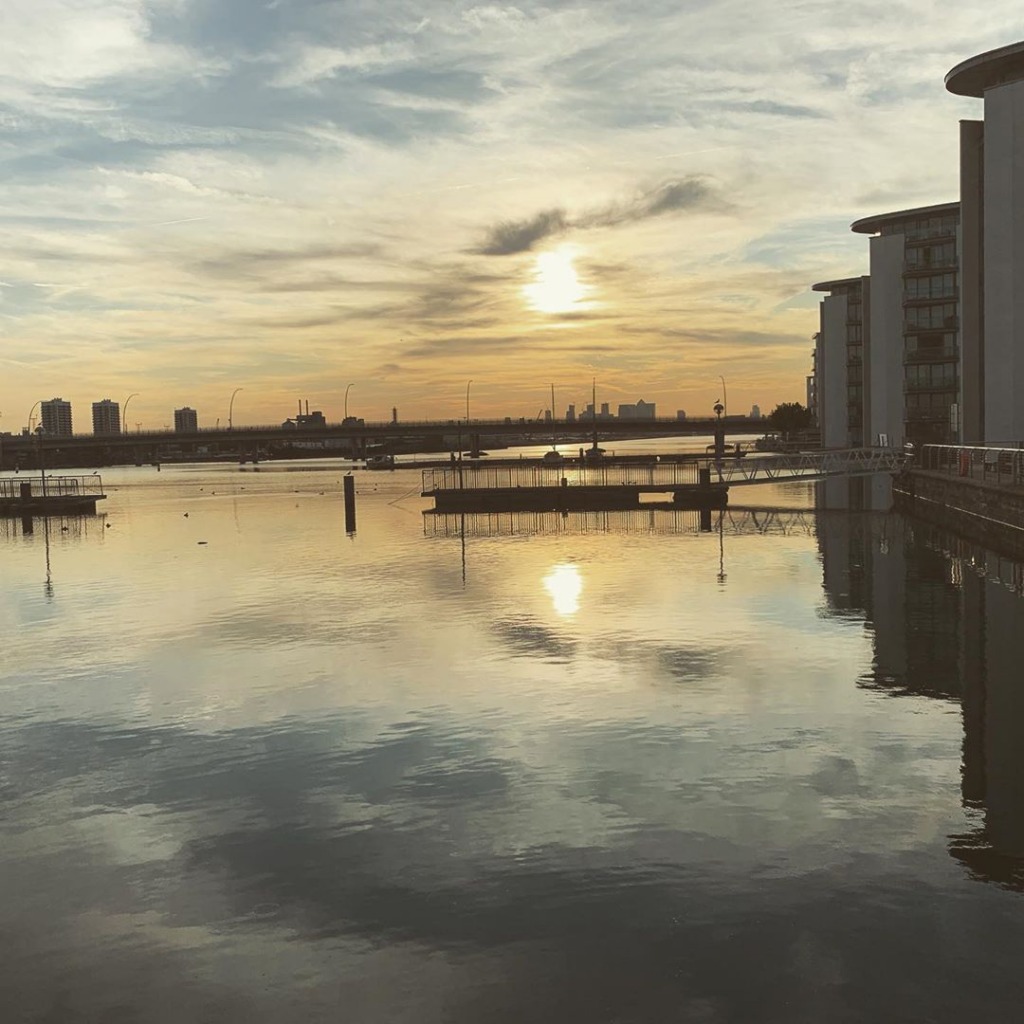 Tristram Fane Saunders was Xriss Xross' blogger-in-residence for the day.