When was the last time you were asked to do the impossible?
Caroline Bird's essay 'The Discipline of Getting Lost: On the Impossibility of Poems' (in the Nine Arches anthology The Craft) speaks of freeing yourself to write poetry by accepting how impossible it is to put your soul down on paper. Resonant of Ben Lerner's The Hatred of Poetry, she says:
The impossibility is what keeps us writing; the perpetual hunger, endless dissatisfaction, trying to smuggle something real across the writer-reader border as we slip through the gaps between our own words.
Given the sheer volume of creativity we find in Bird's latest collection, The Air Year, we can imagine she has gone through a lot of 'dissatisfaction' to give us what is a fabulous take on the world – 'soul to soul'.
In communicating the impossible, Bird mainly employs free verse and prose poems, which reflect the narrative nature of her subjects. The conversational style of 'Urban Myth' almost makes you feel as if the poet is sitting beside you: 'I don't even know if that's how planes work, or if gumming punctures keeps you airborne.' The subject of the poem is a stricken World War II plane, whose captain passes round the Wrigley's chewing gum for his crew to chew, so that they can plug the bullet holes. Bringing myth into real life enables Bird, and thus the reader, to try to comprehend an impossible situation:
Well anyway it's not a true story.
If it were true, you'd have heard of it, maybe I saw it in a cartoon. I
like it because it's literally the only idea I'd have if asked to bung a
bullet hole.
But we shouldn't be mistaken in thinking Bird's poetry is pure comedic weirdness. Underlying many of the poems are vital issues to do with love and desire, the historic erasure of women, the postmodern madness of today's world, and, what seems to me, the terror of living in end times.

Love and desire are front and centre in the poems 'Temporary Vows' and 'The Red Telephone'. These deal with reminiscences and communication in relationships, and contain Bird's trademark dark humour. In the former:
I hold two fingers to my head,
trigger my thumb, I say pow.
I slice my throat with a single stroke,
pull an invisible blade
vertically along my vein.
Remember the deaths we did together.
[…]
As well as death, we'd mime marriage.
The poem turns on the fact that the narrator is always good at starting things ('I am proficient at beginnings') but these beginnings come to naught. We can have many ideas about what we would like to do that we don't act upon – lost wishes.
This is put into sharp focus when in partnership with someone, especially when they are in need and you are too depressed and anxious to help. So, in 'The Red Telephone', Bird shows us the limitations of what a poem can do:
Now her house is burning down and you're still
writing. This poem will not
drop everything, sit up, get up
from this stale sheet and go to her. Look,
it's just sitting here.
'The Golden Age' looks at the historic role of women, again in a dialogic style that forces you into the poem, and asks the reader to remember women who achieved great things in the past but who are often forgotten or go unrecorded.
A woman whose name escapes me
was my ultimate role model growing up.
What was her name? You know. You know
who I'm talking about. Whatsherface, with the hair.
She then goes on (for some 70+ lines) to ask the reader if we know who she is referring to: 'caught herpes from a mountain lion', 'first woman to say fuck in a zoo', 'she met Lenin in a coffee shop in Zurich', and the killer line for these Weinstein times – 'Coined the phrase "Nope."' All of which remind me of the erasure by a BBC journalist (you know, Whatshisface, with the receding hair, oh you know) who said: 'The Booker prize was shared by Margaret Atwood and another author.' That 'other author' being the first woman of colour to win it: Bernardine Evaristo.
Throughout the collection, there are poems about the end times our world seems to be in. At the time Bird wrote the collection, it was (and still is) the climate crisis, the breakdown of liberal democracy, or the final squeeze of capitalism into every pore of society. But now, with Covid-19, it takes on a greater, darker prescience.
The list poem 'The Final Episode' has an array of fabulous images about endings:
The 18th century bawd who sells her daughter's virginity
to an Earl. The tired CIA officer who says "just do it"
then half a village dies. The plantation owner's wife.
The lonely CEO of the pharmaceutical company
who screams like a banshee when an employee's baby
pukes milk on her pantsuit.
Then there is the need to please, to want to be liked, and the ends we will go to achieve it. This is beautifully encapsulated in 'Factory Floor', about a benevolent 'manic' CEO of a company, who tries to keep their staff happy whilst the business is failing to secure contracts. There is 'FREE MONEY' (which, in these times of Covid-19, is currently being made available to contracted and self-employed workers), a 'FOUR DAY WEEK' on the same salary, a 'ROAMING MASSEUSE! CIRCUS TUESDAYS!', etc.
Although the prosecution would later describe this time as a "manic
lying spree", I remember it as my month of magical thinking.
So, the poem is not only about trying to please everyone, or the creative wildness of a manic mind, but also the limits of power and the promises often made by those in high office (remember the Brexit battle bus and £350 million?). But again, given the financial interventions now being made by those in high office, even the most sceptical of Keynesians would be astounded.
Finally, 'The Tree Room' describes the casualties of a hard world in rehab and how they 'make' things to help them heal. As a Cat Stevens CD plays in the background, they are 'Splayed out like walruses on the carpet':

Scott was an advertising mogul
for a famous soft drinks company.
He made an angel. Oh baby baby it's a wild world.
Carli had three estranged children,
was six weeks sober, bright-eyed and fit,
wore neon sportswear all day
and had long loud conversations
in the telephone-corner at night.
But in these times of self-isolation and social distancing, 'The Tree Room' can be read as a metaphor for all of our lives:
We were sheltered,
encased, forgiven, reduced
to a communal hum in a room[.]
In concluding her Craft essay, Bird references James Tate: 'Nothing should supplant the true act of discovery'. Well, the act of discovering the impossibility of Bird's poems gives me heart as a writer, even though, as she says: 'We think poetry is about the wonder of words […] but it's also about the ineptitude of words'. Like life, writing is hard. As a reader, The Air Year gives me hope that maybe we can write and read our way out of whatever mess is splashed in our faces as we float around this increasingly weird world – as impossible as that seems.
There is no doubt about how prescient The Air Year is – even the title could act as a sobriquet for the pandemic. So, we are left with everything up in the air and, as we sit tight in our homes, we're all just hoping that, if we ever land, there'll be something worth landing on.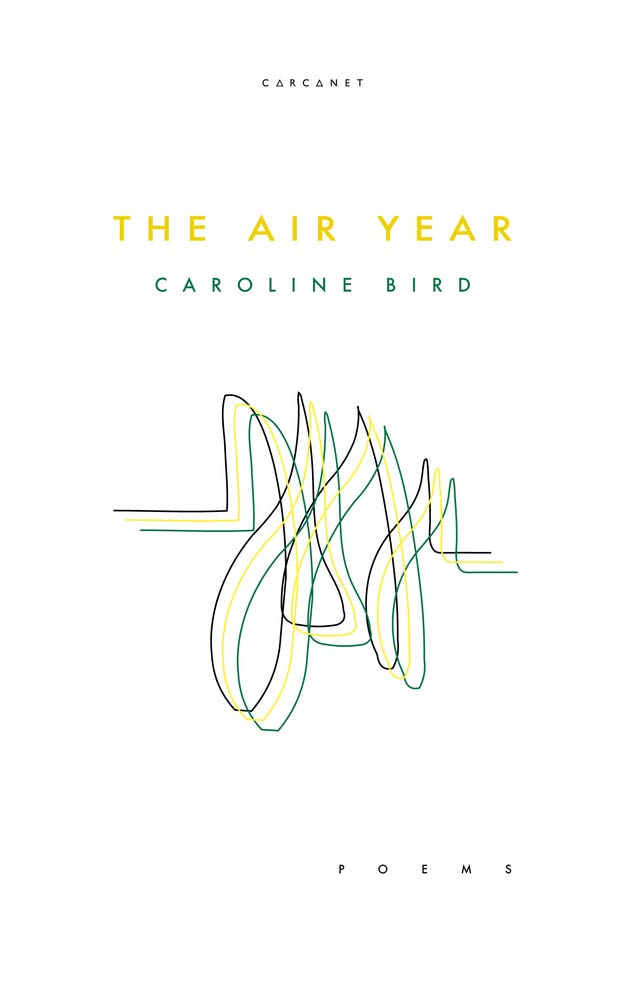 If you'd like to review for the Poetry School, or submit a publication for review, please contact Sarala Estruch on s[email protected] or Chloë Hasti on [email protected].