How to approach reviewing an anthology? Option 1: Dip in at random. Option 2: Read chronologically. Option 3: Begin with a poet known to you. Here's me letting you into a not-so-big secret: I blended all three approaches when reading Carcanet's New Poetries VIII. This handsomely designed anthology functions, on the one hand, as radar for new books that we can likely expect from the press in coming years; but its more interesting – and to this reader more useful – purpose is its role as bellwether for English language poetry: a state-of-the-disciplinary check-in on what's being written about, and how.

A word on format: there are 24 poets here. Each gets two pages to outline their poetics, before a dozen – or, in some cases, a very generous baker's dozen – pages of poetry. Biographies then follow, unobtrusively, at the end of each poet's section. A brief note on the editors' task: John McAuliffe and Michael Schmidt, acknowledging the present crisis, explain how 'Swapping poems and notes in a locked down northern city, this profligate Babel of new poetries emerged out of the tidal swells it still withstands'(p.xi).

And so, the random dip that leads to the folded-over pages – that indefatigable marker that poems require revisiting. I didn't expect to start with Catullus, the Latin poet of the late Roman Republic, doubly adapted here by Isobel Williams, but this is the joy of New Poetries VIII: time and again you discover refreshing and compelling new styles and subjects. Williams's poems draw upon a multimodal ekphrasis, placing Catullus into a life drawing class on shibari, a type of Japanese rope bondage. In 'Catullus: Shibari Carmina', a poet admired by Ovid and Virgil asks:
Stress-testing are we, Mistress?
How many of your tropes in rope
Can be endured before the poet chokes?
A sardonic answer soon follows, the poet admonishing:
Look, being the guardian of what's good
Is work for the poet, not for the poet's works.
It's a rule that we might bear in mind throughout. On then, from Williams's captivating combination of poetry and life drawings, to Charlotte Eichler, whose 'Baby Swimming' caught the eye of this recent father. 'My friend and I each take a twin / into the pool', Eichler writes, '[…] they come up laughing, / lashes spiked like urchins.' It's one of a number of startling images from Eichler's selection, which, as her introduction outlines, comes from 'treading a fine line between clarity for the reader and creation of emotion and atmosphere during the reading experience.'

Life writing and family connections evidently form the core of Christine Roseeta Walker's poems, too. 'The Swivel Chair' reads like the best flash fiction. A grieving mother has her late daughter's 'swivel chair sent across the Caribbean Sea'. Captivating the imaginations of local children, 'All summer the chair on its metal column / turned and turned and turned.' Transformed from quotidian item to vessel for renewal, it figures as the central conceit in a poem that will continue revolving around my mind for some time.

The presence of other poets registers while reading this anthology, no more so than in the influence of Eavan Boland. Jenny King, whose poems, in her own words, are 'from a settled life', is indebted to the late Irish genius, and it manifests in works such as 'Signal', where we are invited to observe:
Before the days of texting, here's my mother
leaning across the sink to tap the window
at my father, weeding.
It's a poem that fits the looking-back of King's vantage, but as 'Were There Trams In Odessa?' asks, it is also a gesture at transcending time, of speaking to the zeitgeist:
It is the sepia year of long ago.
There was no time then. Streets were empty,
shops unvisited.

[…]

But such a place and such a year existed
outside the mind's embroidery.
In Joe Carrick-Varty's poems (final dip), the influence of much younger poets like Wayne Holloway-Smith is plain to see. Lines 'from Block Sequence' left me dumbstruck; Carrick-Varty is a poet unashamed of beginning with plain emotion, but his power comes from an ability to distil trauma and shame. Behold:
v. Draw a circle around the city you grew up in

look / the field you lost your virginity in / isn't far from the
field your dad stopped breathing in […]
I said I'd name names. I've admired Padraig Regan's poems since The Lifeboat put out Delicious in 2016. Their work now has grown: it is allusive, musically alert, and inquisitive. Here, in 'Aubade with Half a Lemon on the Summer Solstice', is Regan at his pithy best:
Sleep was a paltry wafer
after we'd come back
from watching the tide
expose the beach's softer
districts & the sun
beginning to spill through
a murder-hole in an
architrave of clouds.
My final word, though, is reserved for another discovery: Jason Allen-Paisant and his reinvigoration of canonical Romantic sentiment. 'Daffodils (Speculation on Future Blackness)' invokes the titular spirit of New Poetries VIII:
It's time to write about daffodils
again
to hear a different sound
from the word

daffodil

Imagine daffodils in the corner
of a sound system
in Clapham

Can't you?
Well you must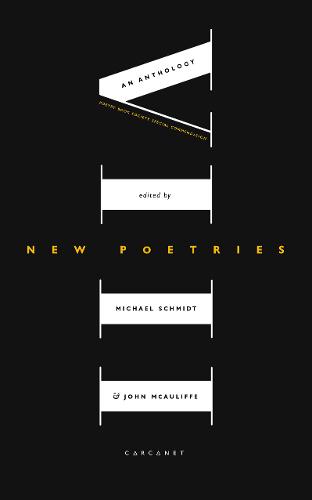 Jake Morris-Campbell's first full-length collection, Corrigenda for Costafine Town, is forthcoming with Blue Diode Press in November 2021. He is a BBC/AHRC New Generation Thinker 2021 and lives in South Tyneside.

Image: New Poetries VIII: An Anthology (Carcanet)