A bright yellow poetry book is doing the rounds, perhaps you've caught a flash. It's Primers Volume 1, the fruit of a collaboration between the Poetry School and Nine Arches Press designed to identify, mentor and publish talented poets. Geraldine Clarkson, Maureen Cullen, Katie Griffiths and Lucy Ingram are the Primers Vol 1 writers, their work a perfect chemical combination of lyricism, wordplay, surprise and tenderness.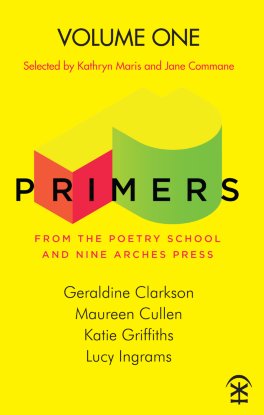 There are more books to come – but we don't know yet who is going to write them. Primers Volume 2 will be launching shortly. We're delighted to announce that poet, performer, educator, mentor and artistic director Jacob Sam La Rose will be this year's judge – read all about him here – http://www.jsamlarose.com/ 
Jacob, along with Nine Arches and Poetry School representatives, will be identifying the three talented poets whose work will be featured in this new volume. Before the books hit the shops in 2017, the selected poets will receive an in-depth programme of mentoring and editorial advice from Jacob and Jane Commane from Nine Arches Press. 
All the fine details will be with you shortly, but here are the headlines … 
·         11 July – rules and regulations confirmed, and submission opens – via Submittable only, so if you haven't got an account yet, set one up ready – http://www.submittable.com/
·         4 September – submissions deadline 
Your submission will need to be up to 6 poems long, and the fee will be £15. 
You'll be able to find the details on the Poetry School and Nine Arches' websites, and we will get the message around and about via our respective social media channels, so you won't miss any information. 
Start polishing your poems now, and we look forward to receiving them in due course.