What were your top five poetry books of the year? What about top one hundred?
Despite a rumour to the contrary… this year has been an alarmingly thick one for poetry. Stupefyingly thick. Not simply coats-the-back-of-a-spoon thick, but thick-enough-to-stand-up-in-a-straw thick, cutting-off-oxygen-flow-thick, a year so thick with great poetry you could re-mortar Dame Mary Archer's 1683 residence, The Old Vicarage in Grantchester, with the stuff and ladle the leftovers into Kirklees Stadium and perform an interpretative ice skating routine with Simon Armitage about the life of Patrick Branwell Brontë.
These end of year lists have become a well-received occasion. We love doing them, but the selection process has proved harder than any previous year; whittling down such a bumper crop to two dozen or so titles proved almost impossible. How many poetry books would anyone want to read? We drew a modest line of restraint at a hundred.
Below you'll find our Poetry School Books of the Year, each with a few words from one of our staff members. These are our highlights from our longlist of one hundred titles; that's almost two books for every week of the year. Both the Books of the Year and the Longlist are – I stress – in no particular order.
As ever, our final selections are based on partial, personal choices, and for transparency we've declared any potential conflicts of interest. We hope it will elicit a few murmurs of appreciation, but also a few gasps of surprise as well. Also note: Ocean Vuong was on our list last year, therefore was not eligible for inclusion this time.
Happy mulling.
WB = Will Barrett, JB = Julia Bird, JC = John Canfield, SC = Sally Carruthers, AL = Ali Lewis, AP = Andrew Parkes
POETRY SCHOOL BOOKS OF THE YEAR 2017
you are mistaken by Sean Wai Keung (Rialto), Savage by Rebecca Tamás (clinic), All Fours by Nia Davies (Bloodaxe), Understudies For Air by Daisy Lafarge (Sad Press), Useful Verses by Richard Osmond (Picador), Scare Stories by David Clarke (V Press), Incarnation by Clare Pollard (Bloodaxe), FAST by Jorie Graham (Carcanet), Long Pass by Joey Connolly (Carcanet), Birmingham Jazz Incarnation by Simon Turner (The Emma Press), The Golden Shovel Anthology: New Poems Honoring Gwendolyn Brooks edited by Peter Kahn, Ravi Shankar and Patricia Smith (University of Arkansas Press), BOTTLE by Romana Herdman (Happenstance), Ticker-tape by Rishi Dastidar (Nine Arches), lemon egg bread by Laura Elliot (Test Centre), Seasonal Disturbances by Karen McCarthy Woolf (Carcanet), Who Seemed Alive & Altogether Real by Padraig Regan (The Emma Press), #afterhours by Inua Ellams (Nine Arches Press), Nights of Poor Sleep by Rachael Allen and Marie Jacotey, Stairs and Whispers: D/deaf and Disabled Poets Write Back, edited by Sandra Alland, Khairani Barokka and Daniel Sluman, Alarum by Wayne Holloway-Smith (Bloodaxe Books), More Than You Were by Christina Thatcher (Parthian), A Bargain with the Light: Poems after Lee Miller by Jacqueline Saphra (Hercules Press), Kumukanda by Kayo Chingonyi (Chatto & Windus), Glass as Broken Glass by Martha Sprackland (Rack Press), Velkom to Inklandt by Sophie Herxheimer (Short Books), Bear by Chrissy Williams (Bloodaxe Books)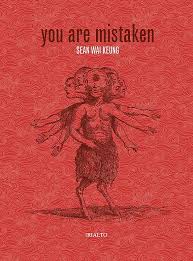 you are mistaken by Sean Wai Keung (Rialto)
The winner of The Rialto's first pamphlet competiton, you are mistaken introduces Sean Wai Keung as a writer of casual but barbed poems with a taste for unpoetic realities: supermarkets, boring jobs, and the awkward, repetitive conversations skewered in 'i think i want to write about race'. But this is not only exquisite writing about race; it is also exquisite writing about writing about race. With wit and force, Keung tackles what Sandeep Parmar calls 'the expectation from a mainly white British readership that poets of color must grapple with the longing of exile and alienation by fixating on exotic tropes (…saris, mangoes, pomegranates, arranged marriages).' The title poem especially is not only a mercilessly-funny rebuke of white British expectations, but an affirmation of the author's right to write – and be – whatever he pleases: 'no ive never been to beijing no i dont love shakespeare no i dont love manga no i still dont believe that i fully understand myself'. AL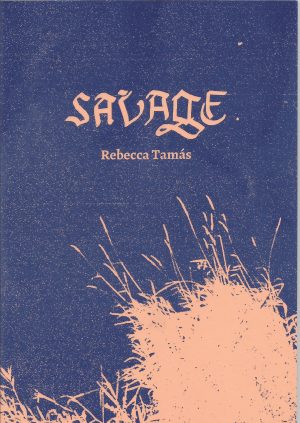 Savage by Rebecca Tamás (clinic)
In Savage, sex is not to be shied from: the sex is real, the spunk is real, the blood and tears, the vaginal discharge ('shining like stained glass'). The opening poem is about BDSM. On these pages, sex is the universal governing force of life, a gnostic demiurge both nourishing and destructive, sower and reaper, eater and eaten; women bear the brunt of its violence, as they have done for most of human history. By no accounts an explicitly witchy book – Tamás has previous – but one shot through with occult glints, such as the standout 'Penis Hex', and a host of compelling invocations of female mystics, such as Joan of Arc and Julian of Norwich. Here is someone putting real magic back into political and poetical praxis, a writer with an alchemist's eye for archetype, symbol and the elemental. 'If women are demons' Tamás says, 'then let us be demonic'. WB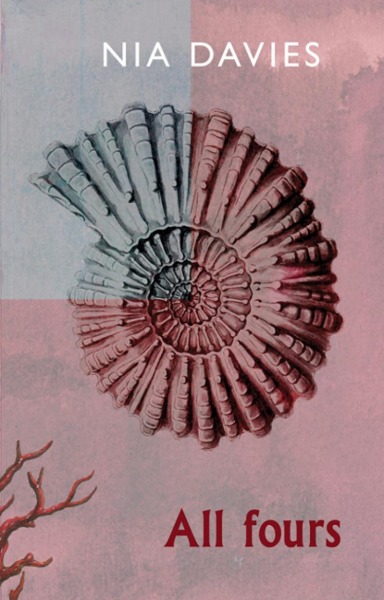 All Fours by Nia Davies (Bloodaxe Books)
My initial response to seeing the picture of an ammonite on the cover of Nia Davies's first full collection was that it was an odd choice. The insinuation to me of something arcane, historical, fossilised doesn't chime with the startling phrasing and syntax I know from her pamphlet Then Spree. But look closer at the cover: it's a picture of an ammonite, not a photograph, and, crucially, it's colour treated so three quarters of it is in a stained pink, and the other quarter in a bluey-grey. It's something familiar and recognisable, certainly, but it's not entirely comforting; there's something unusual about it, something off-kilter, it's a different way of seeing it. And this does chime with the collection. The poems come in relatively familiar shapes and forms, but they are unique and original in their use of language, syntax , diction and imagery. Ammonite does make an appearance with 'partly heaven, partly city-state / partly ether, partly ammonite' and one could do worse than use this as an analogy for the poems – their ethereal, other worldly quality, their utopian yet utterly grounded vision of the world, their relevance to today and desire to converse with and help us understand the past. Above all, there is a linguistic skill and joy, from riddles to dialect and long words in other languages that bring it a sense of something completely fresh, and a new way of looking at things. JC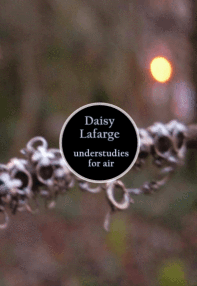 understudies for air by Daisy Lafarge (Sad Press)
During 2017, Bristol-based pamphlet publishers Sad Press, produced a series of 'pamphlets by powerful women' (this is how they were described to me at this year's Poetry Book Fair) including great works by Eley Williams and Emilia Weber, alongside this simply astonishing book from Daisy Lafarge. It's a strange and shifting pamphlet, with a unique conceit, careful consideration of craft, and totally unlike anything else I've read this year. The poems begin from Greek philosopher Anaximenes' assertion that air was the primary substance of all things, before using this conceit to break open lyric, ecological and historical poetry and forging from these pieces a new, linguistically adventurous and wholly female poetic mode. AP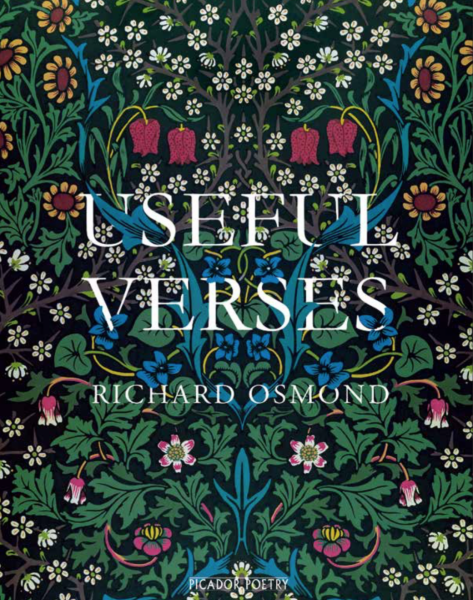 Useful Verses by Richard Osmond (Picador)
Reading Richard Osmond's debut Useful Verses, I'm reminded of something Sean O'Brien said in his introduction to Michael Donaghy's Collected Poems: 'He didn't simply have opinions: he knew things – about literature, history, music, science…'. Except in Osmond's case, substitute 'plants' and 'translation' (you can leave literature and history there). In his unashamedly erudite, cultivated, and, somehow, demotic set-pieces, Osmond ranges across mugwort, Old English charms, Lynx Africa, and the titular 'Useful Verses for Distinguishing Cow Parsley from Poison Hemlock'. But in all these poems, there's a unifying interest in folk-knowledge and artifice, and in the 'original mnemonic function' of verse that binds them all together. To misquote Yeats: Osmond is a poet who has learned his trade – and knows that people will sing whatever is well made. AL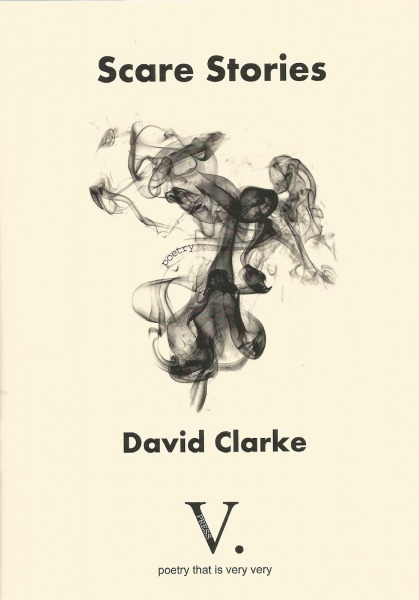 Scare Stories by David Clarke (V Press)
Signs of social crisis are everywhere in Scare Stories; something has happened to civilisation, and the atmosphere tingles with unspoken catastrophe. I hesitate to call this post-apocalyptic – it could very well describe the times I live in. Ante-apocalyptic perhaps? There's certainly a lot to be scared about: climate change, rampant economic inequality, corporate manslaughter, tangerine neo-facist ideologues. The theory Clarke seems to posit is – if this were the end times, would we necessarily know? And might we end up, like the protagonist in Doris Lessing's Memoirs of a Survivor, psychologically fractured by feelings of unreality and nausea caused by the slow realisation that 'the game we were all agreeing to play could no longer stand up to events'? Clarke's eerie sequence of vignettes can be read in any order, juxtaposed and rearranged like Tarot cards to reveal further details and dangers, without ever giving away the bigger picture; if such convenient knowledge were even possible (there will be no newspapers announcing the last day on earth). Like in Mr Robot, many of the characters of Scare Stories are too deep inside the cataclysm, or simply too reluctant, to accept the fact the world has gone rogue. Like frogs slowly boiling ourselves to death. WB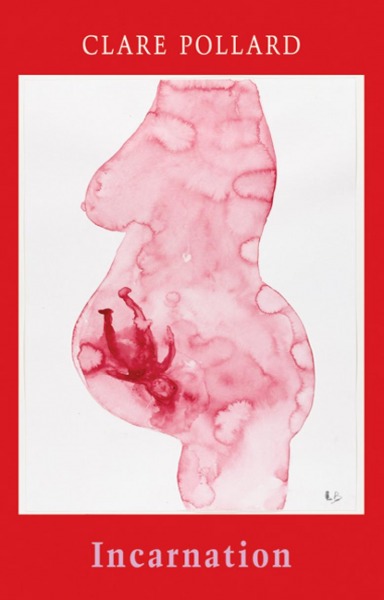 Incarnation by Clare Pollard (Bloodaxe Books)
There's a great joy in discovering a band early and following their career, watching their work develop and change, having them articulate the changes in life and the world to you – a Radiohead, or a Super Furry Animals, say. Clare Pollard's new collection further solidifies her position as just that kind of poet. Her first collection in 1998, while still at school, means we've had a chance to experience the world as she experiences it. And in Incarnation, we are experiencing motherhood with her. There are the specifics of childbirth ('Suffer'), life-changing practicalities, reconciling who you are with your new responsibilities for another human being ('On Peckham Rye') and the new frames of reference that brings ('The Very Hungry Animal'). But there is also motherhood in a broader sense, a compassion and care for the whole world, for the lost and the gone, and a fear, an aching, a desperation to protect life, and yet to understand how fragile and powerless we can be. It's all done in an unflinching, honest, witty, subtle and assured way. Life is difficult, scary, heartbreaking and challenging, but rewarding and beautiful if it can be faced with compassion and intelligence, and the knowledge that we're not alone in our experiences. So, to quote the Super Furry Animals, 'that fragile happiness / Stops the nightmares when I'm sleeping'. JC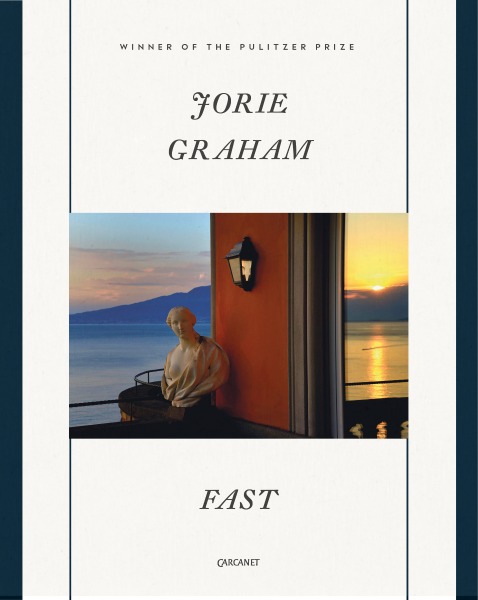 FAST by Jorie Graham (Carcanet)
Another striking book from Jorie Graham, and one that frequently reaches fever-pitch in its frantic explosion of the lyric mode. Graham's themes in these poems – ranging through sickness, death and environmental crises – would rattle any reader, and her long lines, clamouring fragments and sprawling chorus of voices increase this effect to a dramatic extent. These are urgent, stressed and stressful poems that produce a panicked motion-sickness as you spiral through them. This is an important, desperate and, at times, frightening, book that truly captures the tone of contemporary times. AP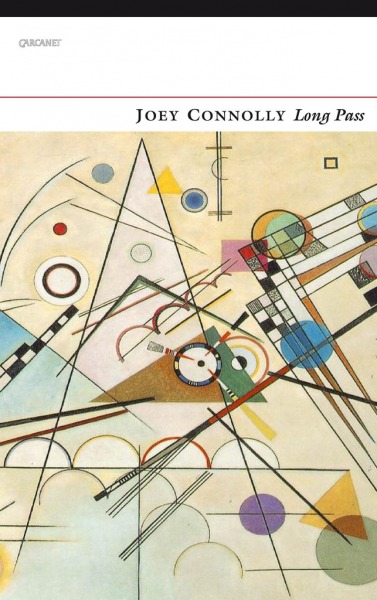 Long Pass by Joey Connolly (Carcanet)
This is not a book where things simply happen; the assumption of an invisible author relaying a truthful narrative that underpins nearly all story-telling is laid aside. But 'what could be plusher than experience?' How about 'The intense / cornicing and fretwork of imagination and memory / inlaid in everything like veins'? In these poems, the truth and the narrative peel apart from each other, the 'truth' is revealed to be another narrative, and the authorial telling of it yet another. To give you a flavour, 'The Finest Fire-Proofing We Have', the book's brilliant opener, is a modern-day poem about a poem written in 1924 about a man fireproofing his home in 1919, and about the realisations the 1924 poet has in 1925, and we have in 2017. Perhaps that sounds fidgety and annoying, and it might be with another poet, but in Connolly's hands the tools of literary theory (and of all the other intellectual traditions he raids) are not used sneeringly to dismantle a reader's "naïve" love of story and emotion, but to deepen and complicate both. AL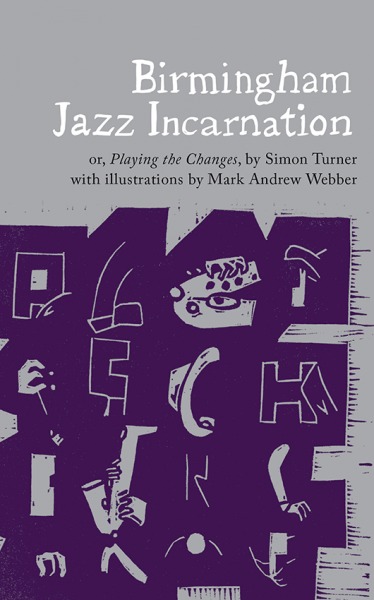 Birmingham Jazz Incarnation by Simon Turner (The Emma Press)
Simon Turner writes a poem called 'Birmingham Jazz Incarnation', inspired by jazz and Oulipo. Simon Turner rewrites the poem with words redacted. Simon Turner rewrites the poem without using the letter 'e'. Simon Turner rewrites the poem as an abecedarian. Simon Turner rewrites the poem and pares it down to its essential meaning. Simon Turner rewrites the poem as a horror story. Simon Turner rewrites the poem as the table of contents in a 17th century novel. Simon Turner rewrites the poem into limericks. Simon Turner rewrites the poem as a quenette. Simon Turner rewrites the poem as an alphabet concerto. Simon Turner rewrites the poem as album playlist. Simon Turner unpacks the poem and re-organises it into its individual letter units. Simon Turner writes an opposite poem. Simon Turner rewrites the poem as a Petrarchan sonnet. WB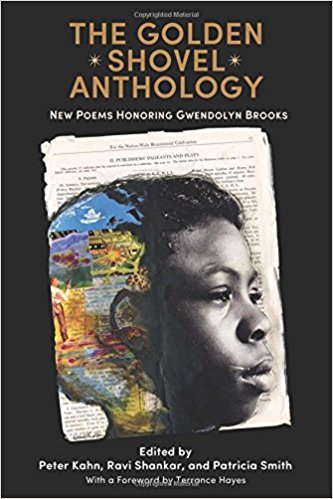 The Golden Shovel Anthology: New Poems Honoring Gwendolyn Brooks edited by Peter Kahn, Ravi Shankar and Patricia Smith (University of Arkansas Press)
The Golden Shovel Anthology is quite simply one of the most extraordinary collections of poems ever brought together in one home. Celebrating the life and work of civil rights activist Gwendolyn Brooks on the centenary of her birth, Peter Kahn, Ravi Shankar and Patricia Smith have edited this endlessly rewarding and diverse anthology. 'The Golden Shovel', a form created by the US National Book Award Winner Terrance Hayes, encodes Brooks' words through each poem, slipping a line or lines of her work as the last word in each line of the new poem. The breadth of poets and variety of work make this the ideal book for newcomers and poetry afficionados alike; a brief look reveals poets from both sides of the Atlantic including Rita Dove, Billy Collins, Carol Ann Duffy, Nikki Giovani, Sharon Olds, Sir Andrew Motion, Tracy K. Smith, Daljit Nagra, Mark Doty, Ray Antrobus, Nick Makoha,  Sharon Draper, and Julia Glass. It inspires, amazes and celebrates the talent, diversity and excitement in poetry today. SC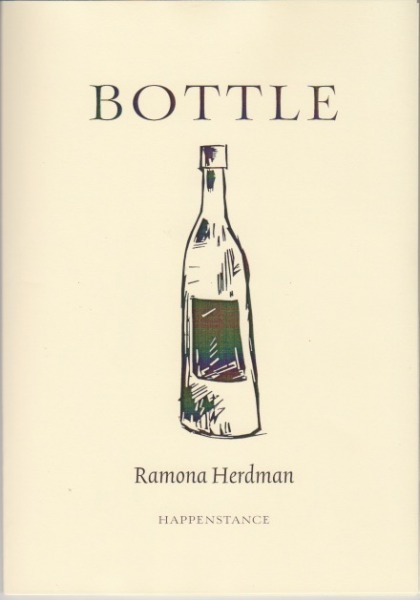 BOTTLE by Romana Herdman (HappenStance)
It's been almost 15 years since Ramona Herdman's last book – 2003's Come What You Wished For – and Bottle shows us what we've been missing. Bleak without being maudlin, and funny without being flippant, Bottle is a courageous and despairing guide to addiction, inheritance, infidelity and desire – all viewed through the bottom of a whisky glass. Alcohol skulks half-seen in the background of so many poems – and indeed poets – but it's rare to see the demon drink take centre stage in such a sustained and serious way. 'Not Never' and 'In Vino' are stand-out poems, while 'I Do' will take its place alongside Duhig's 'Bridled Vows' and Alan Jenkins' 'Sailor's Vow' in the pantheon of alternative wedding poems. A welcome pamphlet, beautifully produced by HappenStance Press, Bottle is well worth a spin. AL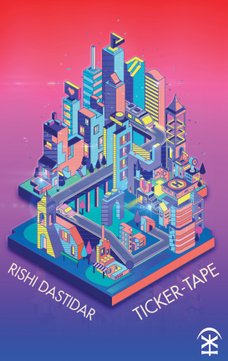 Ticker-tape by Rishi Dastidar (Nine Arches Press)
At the front of this collection is a quote from a song by The Magnetic Fields from their three-volume concept album 69 Love Songs, and as a way of summing up this book it's a useful comparison. The poems in Ticker-tape seem almost endlessly varied; they are inventive, crafted, erudite, witty, serious, heartfelt, and political. Overall, the entire project is ambitious but never lofty or overblown, and always accessible. As the title suggests, there's a fascination with contemporary culture and how it affects us from personal relationships up to the scale of global events and politics (witness the bravura and compelling mid-section of 'What's the matter with…'), a need to discuss who we are and where we are right now, but always with wit and charm (e.g. 'Risk Patterns'). It also uses a broad, but always perfectly-fitting frame of references. It's hard not to fall in love with a collection that starts with Camus and ends with the Sugababes. I have a friend, who at random intervals in my life, often sends me links to songs from 69 Love Songs. I think I'm going to start sending back poems from Ticker-tape. JC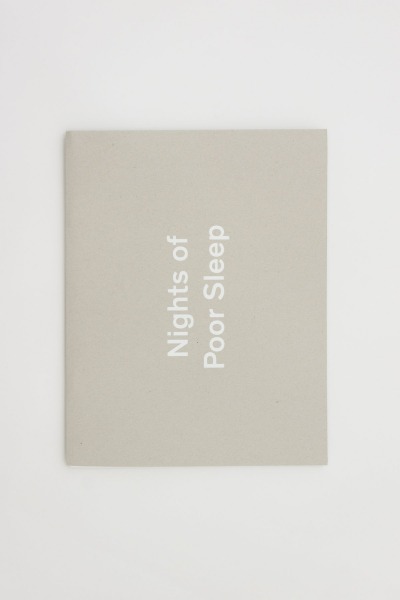 Nights of Poor Sleep by Rachael Allen and Marie Jacotey (Test Centre)
I should declare a conflict of interest here, in that Rachael is an old friend and also one of my co-founders at clinic. However, this is so much more than a collection of Rachael's poems; it is a collaborative project between two hugely talented artists and one of the most exciting small presses in the UK. The book is a series of responses and engagements between poems and paintings, and every part of this collaboration succeeds on its own merit – the poems, focusing on female sexual desire, are striking and unique; Marie Jacoty's paintings are beautiful, elliptical and distinctly feminine; and the book itself is a gorgeous object: hand numbered, offset printed onto two paper stocks, with full colour images and wrapped in loose foil-blocked card cover. Test Centre are easily one of the most interesting and innovative small presses around, and this book is just another example of why we are so lucky to have them. AP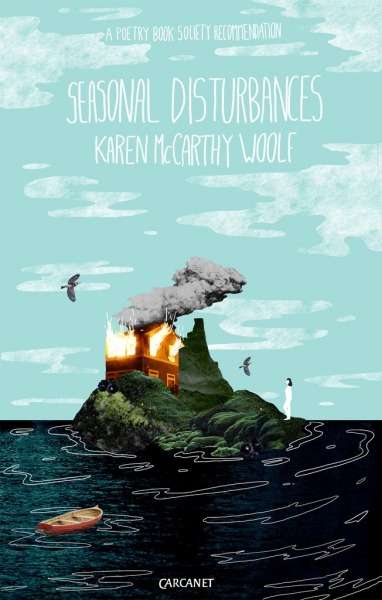 Seasonal Disturbances by Karen McCarthy Woolf (Carcanet)
The world's gone woke, apparently. 2017 was the unofficial year of 'woke', a personal brand-friendly alternative to simply 'being aware', and arguably disaster capitalism at its finest: when life gives you hurricanes, sell Hurricane Aid. The sad truth is t-shirts saying 'This Is What A Feminist Looks Like' will not a patriarchy dismantle. The sad truth of us is that most of us are climate change deniers, myself included, by sheer virtue of using a flushing toilet. The sad, painful, inconvenient truth is that civilisation was founded on slavery, and all of us are mired in a vast, history-spanning web of injustice and violence that we are taught from birth not to question. As dependents of our societies, we consent, obey, convince ourselves that having 'knowledge' or 'values' is enough. But what is progress exactly if it renders our very environment uninhabitable? As I write this, President Trump has dropped climate change from his national security agenda, instead stressing the importance of GDP growth and, sic, America First. The world continues to shit where it eats. McCarthy Woolf, the author of this joyously disobedient collection, might put it more piquantly – 'It's true there's a lot of weather here'. Seasonal Disturbances is an unclassifiable book, revolutionary in its engagement with form (found sonnets, landays, golden shovels, disrupted zuihitsus, 'couplings'), stunning in its intersectional politics, and an extraordinary achievement that should give the selectors of major poetry prize lists cold sweats for neglecting it. It will break you, in a good way. Truth hurts. World's gone broke. WB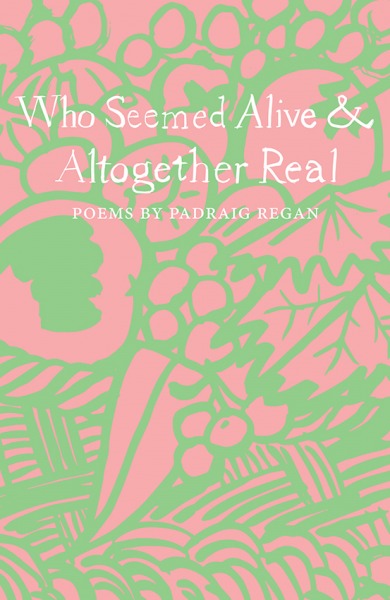 Who Seemed Alive & Altogether Real by Padraig Regan (The Emma Press)
Andrew McMillan suggests in the introduction that this pamphlet is best moved around in the way one would move around a gallery. I'd echo that, and add to it the advice I was once given that you should never be afraid to approach works of art from different positions in a gallery. Sitting, standing, crouching, lying; a changed physicality often gives a new and unexpected perspective. And so it is with these poems, many of them fascinated by art and artists, ways of seeing and ways of being seen. They go beyond simple ekphrasis and invite the reader to become part of the pictures, to become the subject, to become the artist, to become the poet. This is most affecting in the central sequence which focuses on Caravaggio's pictures in which Mario Minniti was a model. Some of these exist in different versions in galleries around the world, and so we are often asked to approach the them from different angles, to look for the variances, but also the similarities and the universal, human commonalities that unite them all. Go and visit the poems here, spend time with your favourite ones, take a seat, lie down, stand on a chair. Go back and re-visit them again and again and see new things each time. JC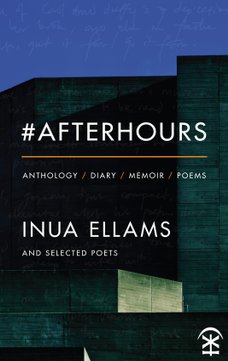 #afterhours by Inua Ellams (Nine Arches Press)
I love a project book, and this one is such a perfect concept. Working in the Poetry Library, Inua Ellams found one poem from the contemporary canon for each of his years from 0 to 18, and wrote a response to it – a new poem overlaid with new temporal, geographical, cultural and personal concerns. My favourite: the translation of Neil Rollinson's 1996 poem 'The Ecstasy of  St Saviour's Avenue' into 'The Ecstasy of Emery Hill Street (First Night in England)'. Both poems speak of abandonment – the first sexual, the second physical – and the conversation between them is a critical illumination of each. JB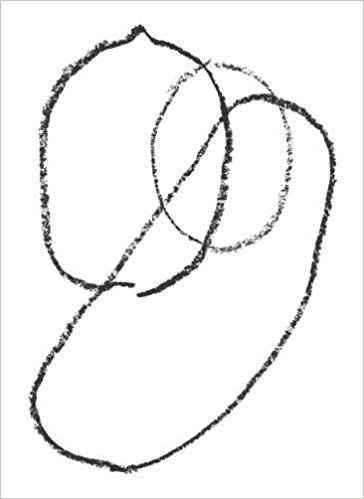 lemon, egg, bread by Laura Elliott (Test Centre)

The long-awaited debut collection from Laura Elliott is yet another distinctive publication from Test Centre, and is the second instalment in their project exploring the interaction between poetry and visual art (the first of which is Nights of Poor Sleep, mentioned above). The poems here re-configure the praxes of still-life painting to create a series of imagistic, fragmentary and collaged vignettes, which direct a markedly feminine and sensorial attention towards consumption, hunger, desire and wastage. The poems are tiny marvels, tightly packed with fleshy detail and an unyielding gaze. The physical book itself is also stunning, with its small size, exposed spine and bright yellow page edges; this is an object to treasure and a collection of fiery poems to read and read again. AP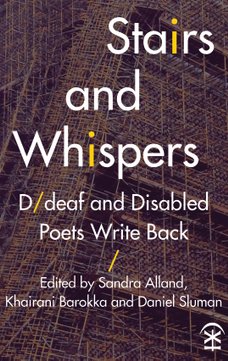 Stairs and Whispers: D/deaf and Disabled Poets Write Back, edited by Sandra Alland, Khairani Barokka and Daniel Sluman (Nine Arches Press)
It's unusual for the form and presentation of a book to be as important and thought-provoking as the content, but that is exactly what Stairs and Whispers achieves. With audio recordings of the poems and essays, text and audio descriptions of images, BSL poetry on film, content notes, and definitions of useful terms, the editors Alland, Barokka, and Sluman and publishers Nine Arches Press have shown what can – and should – be done to make poetry more accessible. As for the poems themselves, they are exceptionally varied and wide-ranging. Stairs and Whispers is more a survey of exciting possibilities than a singular expression of the editors' tastes. As with any anthology, each reader will have their own favourites, but, for me, Nuala Watts' sonnets and the poems from Joanne Limburg's The Autistic Alice are particular highlights. AL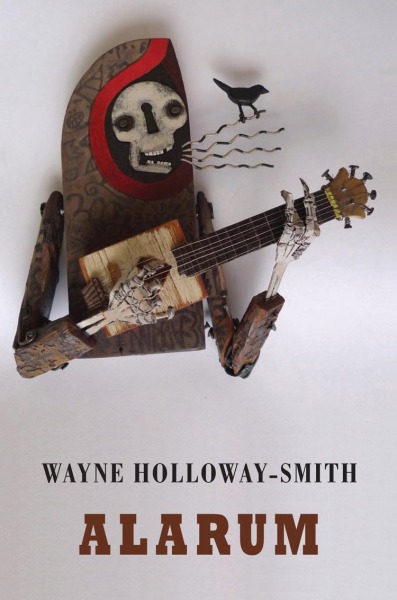 Alarum by Wayne Holloway-Smith (Bloodaxe Books)
I've enjoyed Wayne's poetry since his early Donut Press days, so was very pleased to see this first full collection turn up, with a jaunty cigar-box guitar-playing skeleton on its cover. The book is a wardrobe full of masculinities: the gent, the boy, the dad. Its snappiest outfit is the poem 'Some Waynes', where Amy Waynehouse, Purple Wayne, A-Wayne in a Manger and others take a turn representing our every fleeting mood and personality facet. JB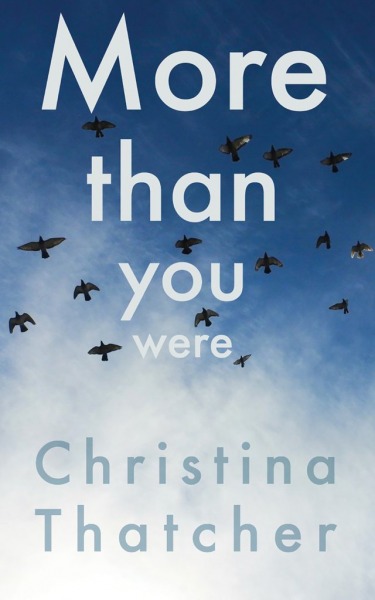 More Than You Were by Christina Thatcher (Parthian)
The poems in More Than You Were are brutally concise, often no more than several short lines or a single sentence, each standing on the page as spare and sharp as a lightning rod in a snow field. These poems are direct, honest and simple, made thoughtfully with regard to their function and form, creating an elegeaic, plainspoken style that lends a quiet intensity to Thatcher's exploration of grief and addiction. Nothing is wasted, or superfluous: every single poem pared down to its 'decisive moment' (to borrow a phrase from Cartier-Bresson). Thatcher also understands intuitively that often we respond most powerfully to what is not being said or specified, and as such every single poem is given its own page (and never has the empty space around a poem ever carried quite so much emotional freight). Were Thatcher less of a storyteller, and had less of a story to tell, the poems would probably be too flimsy; as they are, they are meticulously studied, gutsy, deliberate, long-lingering aperçus of lost lives (not) lived. Some poets tell it slant – Thatcher trues the slant and sharpens her pencil with it. WB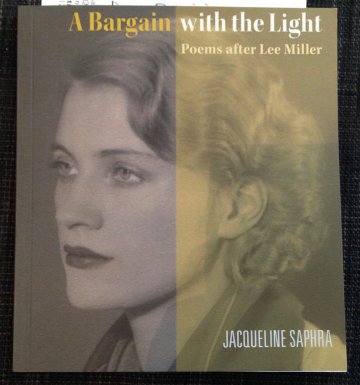 A Bargain with the Light: Poems after Lee Miller by Jacqueline Saphra (Hercules Press)
Another project, this one springing from an exhibition at the Imperial War Museum and and a 40 sonnets for Lent challenge. Like an old-style album interleaving a page of photos with a sheet of glassine, Saphra's sonnets alternate with a selection of Miller's most iconic images: the nudes taken by her father, the photo of Hitler's bathroom, the Buchenwald camp guard. The 5-inch square pocket book also includes two essays, and has been turned into a live show. JB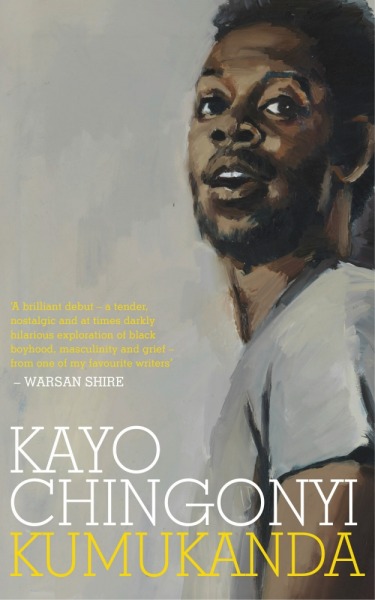 Kumukanda by Kayo Chingonyi (Chatto & Windus)
Music – particularly post-disco, UK garage and early grime – runs through this debut collection and pulls these poems into harmony. Kumukanda is a truly experiential book – you hear the songs and the silences between them; you feel the speakers' pain, anger, love, and grief. The poems are dexterous, intimate and probing – they ask sharp questions, are suffused with emotion and generously welcome readers from all backgrounds. This is a collection where flow, sequence and leitmotif are key – Chingonyi here is Larry Levan, Prince Paul and Frankie Knuckles, expertly guiding you through a heartfelt, transformative and often surprising experience. A glaring omission from many of this year's prize lists. AP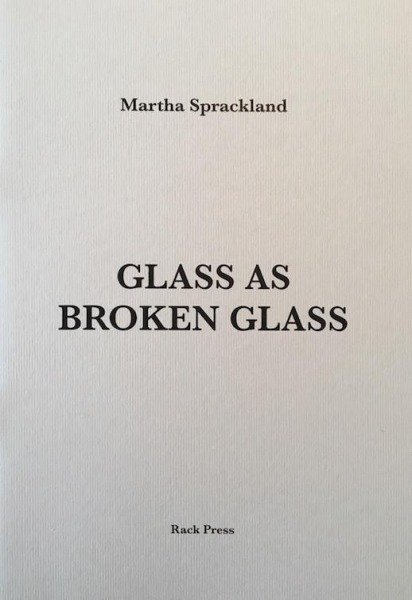 Glass as Broken Glass by Martha Sprackland (Rack Press)
'I caved him in with the heel of my shoe' begins 'Snail', the tiniest act of accidental violence setting the tone for Sprackland's pamphlet which was longlisted for a Saboteur award. Between poor Ron Sullivan, struck by lightning seven times, who 'crackled when he walked', and the fevered lover who radiates fire at night, this skinny volume of 8 poems explores the body in extremis. JB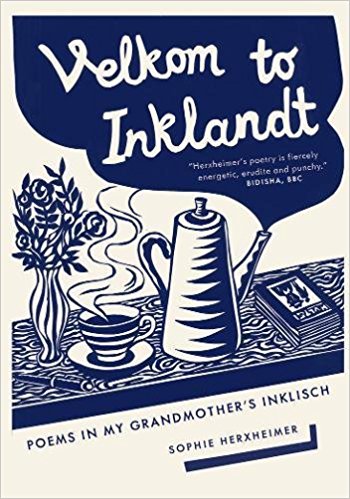 Velkom to Inklandt by Sophie Herxheimer (Short Books)
Anyone interested in tone of voice, diction and phonetics will find this book a joy. The subtitle 'Poems in my Grandmother's Inklisch' neatly explains the conceit of a sequence of poems in the voice of Herxheimer's German Jewish grandmother who moved to England in 1938. However, these are not simply acts of poetising her experience but of complete ventriloquism. The everyday and the ordinariness of domestic life is ignited by the phonetic use of language, and there is a delicious delight in scanning words that at first look unfamiliar and do not correlate to meaning, then hearing them come alive and gain their meaning by pronouncing them out loud. The poems lead us from 'Infentory' and 'Bitz oont Bopse', through the mixed experience of being a refugee in 'Allyze', to her thoughts on life and language in 'On lookink down: ze Grent Chiltdrenn'. Herxheimer's book is that most pleasing of experiences, one that is full of subtle humour, insight into other lives and times, linguistic playfulness and an emotional undercurrent that is gentle and understated and all the more powerful for it. Along with the accompanying pictures, also by Herxheimer, the book is a beautiful object to hold and stepping into her Grent-muzzer's schuze is a unique and emotive experience. Disclosure – I sometimes bump into Sophie on the number 59 bus. JC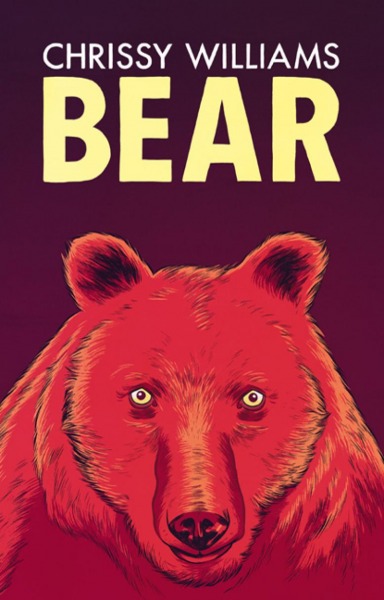 Bear by Chrissy Williams (Bloodaxe Books)
A good year for Bloodaxe debuts – here's another one, from Chrissy Williams. She's the poet who co-founded a journal of edible poetry and jointly edited an anthology of poetry comics, so I already knew that I wanted to follow her imagination wherever it beckoned me. It showed me a robot unicorn attack, a murderous Angela Lansbury, and a needle stuck on the fluff in Dante's groove – you should take a look too. JB
LONGLIST
A list of 100 poetry titles published in 2017 for your consideration. Try one. They're all good.
1. Adrian Matejka – Map To The Stars
2. Alvin Pang – What Happened: Poems 1997-2017
3. Amaan Hyder – At Hajj
4. Andrew Fentham – Romanesco
5. Anna Kisby – All the Naked Daughters
6. Anthony Owen – The Nagasaki Elder
7. Aquanautica anthology
8. Bill Knott – I Am Flying Into Myself – Selected Poems of Bill Knott
9. Chen Chen – When I Grow Up I Want to Be a List of Further Possibilities
10. Chrissy Williams – Bear
11. Christina Thatcher – More Than You Were
12. Clare Pollard – Incarnation
13. Cold Fire – Poetry Inspired By David Bowie
14. Daisy Lafarge – Understudies for Air
15. Daljit Nagra – British Museum
16. Danez Smith – Don't Call Us Dead
17. David Clarke – Scare Stories
18. David Wheatley – The President of Planet Earth
19. Donte Collins – Autopsy
20. Drew Milne – The Collected Poems of Drew Milne
21. Ed Doegar – For Now
22. Eley Williams – Frit
23. Ellen Cranitch – The Immortalist
24. Emma Hammond – Waves on a Boring Beach
25. Elizabeth-Jane Burnett – Swims
26. Fran Lock – Dogtooth
27. The Golden Shovel anthology
28. Gram Joel Davis – bolt down this earth
29. Harmony Holiday – Hollywood Forever
30. Hilda Sheehan & Jill Carter – The God Baby
31. Ibn Khālawayh – Names of the Lion
32. Inua Ellams – #afterhours
33. Ishion Hutchinson – The House of Lords and Commons
34. Jacqui Saphra – A Bargain with the Light
35. Jacqui Saphra – All My Mad Mothers
36. JL Williams – After Economy
37. Joanne Limburg – The Autistic Alice
38. Jodie Hollander – My Dark Horses
39. Joelle Taylor – Songs My Enemy Taught Me
40. Joey Connolly – Long Pass
41. John Montague – Second Childhood
42. John Wedgwood Clarke – Landfill
43. Jorie Graham – FAST
44. Julia Bird – Now You Can Look
45. Julie Mellor – Out of the Weather
46. Justyna Bargielska – The Great Plan B
47. Karen McCarthy Woolf – Seasonal Disturbances
48. Kaveh Akbar – Calling A Wolf A Wolf
49. Kayo Chingonyi – Kumukundu
50. Khairani Barokka – Rope
51. Laura Elliot – lemon egg bread
52. Layli Longsoldier – Whereas
53. Marianne Morris – Word / World
54. Martha Sprackland – Glass as Broken Glass
55. Matthew Stewart – Knives Of Villalejo
56. Melissa Lee-Houghton – Cumshot in D Minor
57. Miriam Nash – All the Prayers in the House
58. Nia Davies – All Fours
59. Nick Makoha – Kingdom of Gravity
60. Nisha Bhakoo – You Found A Beating Heart
61. Nuar Alsadir – Fourth Person Singular
62. Oz Hardwick – The House of Ghosts and Mirrors
63. Padraig Regan – Who Seemed Alive and Altogether Real
64. Paul Stephenson – Selfie with Waterlilies
65. Penguin Modern Poets 3 – Booker, Olds, Shire
66. Peter Hughes – Calvacanty
67. Phoebe Stuckes – Gin and Tonic
68. Polly Atkin – Basic Nest Architecture
69. Rachael Allen – Nights of Poor Sleep
70. Rachel McCrum – The First Blast to Awaken Women Degenerate
71. Ramona Herdman – BOTTLE
72. Randall Mann – Proprietary
73. Raymond Antrobus – To Sweeten Bitter
74. Rebecca Tamas – Savage
75. Rennie Parker – The Complete Electric Artisan
76. Richard Georges – Make Us All Islands
77. Richard Osmond – Useful Verses
78. Rishi Dastidar – Ticker-tape
79. Rowyda Amin – We Go Wandering At Night And Are Consumed By Fire
80. Sarah L Dixon – The sky is cracked
81. Sasha Dugdale – Joy
82. Sean Bonney – Ghosts
83. Sean Wai Keung – You Are Mistaken
84. Shara McCallum – Madwoman
85. She Grrrrowls anthology
86. Simon Armitage – New Cemetery
87. Simon Turner – Birmingham Jazz Incarnation
88. Sinead Morrissey – On Balance
89. Sophie Herxheimer – Velcome to Inglant
90. Sophie Herxheimer – Your Candle Accompanies the Sun
91. Stairs and Whispers: D/deaf and Disabled Poets Write Back
92. Steve Ely – Incendium Amoris
93. Tara Bergin – The Tragic Death of Eleanor Marx
94. Tom Betteridge – Pedicure
95. Tommy Pico – Nature Poem
96. Triptych (Guillemot Press)
97. Tyehimba Jess – Olio
98. Wayne Holloway-Smith – Alarum
99. Will Harris – All This Is Implied
100. Zosia Kuczyńska – Pisanki