Volodymyr Vakulenko – (1972-2022)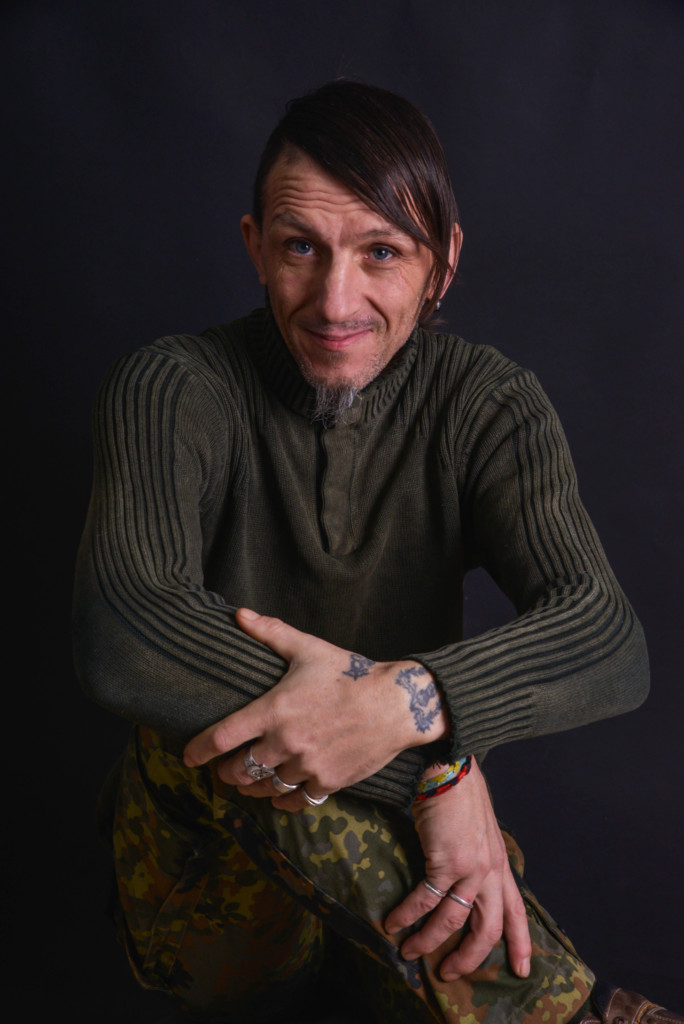 The Ukrainian author Volodymyr Vakulenko was such an exuberant personality that it's hard for his readers to believe that he is dead. The photographs, with his distinctive forelock swept to one side, and despite his fifty years, an aura of perpetual youthfulness, make it seem as if he is still sitting at a keyboard or giving a reading somewhere. He was a poet, translator, prose author and activist who had been wounded during the Revolution of Dignity in 2013-14 and had voluntarily participated in the military campaign against the Russian occupiers who invaded Ukraine's Donbas area in 2014. When his native village of Kapitolyvka was occupied by the invaders after a wider Russian invasion in 2022, he refused to leave and tried to protect his community as best he could. However, he knew that he would possibly be arrested/killed and so hid thirty pages of handwritten notes under a cherry tree. These would be unearthed in September 2022 after the occupiers fled and transferred to the literary museum in Kharkiv. Vakulenko himself was abducted along with his son Vitalii, now 14, who survives him, at some point in late March 2022 when Vakulenko was murdered by the occupiers on an unknown date. He was one of over four hundred victims discovered at Izyum in a mass grave in September 2022, identified by DNA testing.


His death has painful echoes for Ukrainians. In the nineteen thirties, 30,000 Ukrainian intellectuals including writers, poets and artists were murdered by the occupying Soviet regime and millions more were exterminated by a targeted famine in Ukraine, and also Belarus and Russia. The Nazis too left mass graves as a result of their 'Holocaust by Bullets' of Ukraine's Jewish population. However, this quirky and compelling author is more than just a symbol of past and present atrocities against Ukraine's people. He left an impressive literary legacy of over thirteen books, numerous literary awards and created several Wikipedia entries on subjects ranging from poetry to Mexican history.



Beyond his family, his fellow Ukrainian poets particularly feel his loss. Lyuba Yakimchuk, a prominent poet who read one of her poems at the 2022 Grammys, remembers him as more than 'just a writer. He was a literary activist who was always conceiving projects in which he involved all of us poets, publishing anthologies etc. He once asked me: "are you okay? You seem preoccupied." I replied that I was always worried, but everything was fine. He responded, "maybe I've become like that too, but I just don't notice." There was such an indescribable sadness in this regarding how we all change with age and become grumpy adults. It was particularly striking, because it seemed to me that Volodya always looked carefree, like a child. Perhaps it is because of these personal qualities that his children's poetry is absolutely wonderful. It is written in the way that a childlike person, who even as an adult sees evil and fights against it uncompromisingly, can write. It was because of this quality in him that he did not evacuate from occupied Izyum and protested against the occupiers. But it was not the cause of his death, because we all have the right to be different. He died because of the Russian soldiers who tortured then killed him.'


Vakulenko was murdered ultimately because the Kremlin planned to occupy Ukraine and crush Ukrainian identity through brutal oppression and mass executions. However, his words live after him both presaging the war and the lives to come after the war. In a poem dating from 2008, he spoke of 'another traumatised city… written in the folio of the dead'. These words could be said of many Ukrainian cities now, but in yet another exuberant poem he told of things which transcend the moment of the night, hiding from us like a junkie, of the stars scattered like pennies and honey dripping from a fir tree – he asked who should all this belong to? His poetry and his example of resistance to a totalitarian invasion and dictatorship, belong to anyone who is inspired by him.


Image Credit Mariia Lysytska Beskorsa