Welcome to our Forward Prizes 2023 'How I Did It' series. This year we asked the poets shortlisted for the Forward Prize for Best Collection to write about the inspiration behind some of their poems from the chosen collection. Here's Kit on what inspired him to write The Ink Cloud Reader.



My Hong Kong childhood was overshadowed by a host of expiry dates: 1984, 1997, 2047.


In 1984, I was five years old. The Sino-British Joint Declaration was signed between Margaret Thatcher and Deng Xiaoping to transfer the entirety of Hong Kong, the then British colony, to Chinese control on 1 July 1997. It promises that under The Basic Law, Hong Kong will be governed by the principle of 'one country, two systems' and will remain unchanged for fifty-years until 2047.


I turned eighteen in 1997. The Handover of Hong Kong from Britain to China took place on 1 July at midnight, when my city became a 'Special Administrative Region' of the People's Republic of China and embarked on The Basic Law, its own mini-constitution.


I will be sixty-eight years old in 2047. The Basic Law and the principle of 'one country, two systems' will formally and legislatively expire.


It is unsurprising that clocks are everywhere in Hong Kong cinema, especially in Wong Kai-Wai's films – clocks in slow-motion, clocks fast-forwarded, clocks blurred, clocks in close-up. In Chungking Express, one of Wong's protagonists is obsessed with tins of pineapples with a specific expiry date. Later, in 2046, Wong's ambitious sci-fi movie after In the Mood for Love, the future becomes the present, and the past is scattered into pieces of mirror reflecting the future.


As a sci-fi junkie, I often wonder what Hong Kong will look like in 2047 when the city is no longer a 'Special Administrative Region' and no longer 'an inseparable part of' China, but simply China.


In the height of protests in Hong Kong in 2019 and later on the introduction of the National Security Law in 2020, I re-watched Stanley Kubrick's seminal 2001: A Space Odyssey and re-read Walt Whitman's majestic collection Leaves of Grass. I had so many questions to ask Master Future but was subdued by the lockdowns. I heard no answers except the echoes of my own voice questioning in the void.


A poem then emerged in the interstices between fact and imagination. I imagine a speaker having a conversation with their sister in 2047, in a place called Hong Kong where nobody knows what it will look and feel like. While Stanley handed me a form and structure, Walt gave me materials and feelings.


Like 2001: A Space Odyssey which has an uncanny intermission, I introduced an abrupt interruption to sever the poem into two time zones.


After the intermission, the speaker's head is bombarded by a firework display of questions from and about the past, present, and future. Time liquidises into lines, into the art of memory and forgetting.



2047: A Hong Kong Space Odyssey

for my sister

Bowman: Open the pod bay doors, HAL.
HAL 9000: I'm sorry, Dave. I'm afraid I can't do that.
I too can't open that door, can't lend a hand, can't.
Two years from being a septuagenarian. Time never
elegises. We keep waiting, my sister and I, at the door.

It isn't a human error but something more systematic
like an army of red dots watching and listening.

'Let's talk to the leaves,' she says, 'they'll have answers.'

So I conjure up from Project Gutenberg the sniff of green leaves
and dry leaves, hopeful green, green intertinged, the dusky
green of the rye, pale-green eggs in the dented sand, dark
green lobsters… She full-stops my lips with a finger.

I fast-forward the rest of the 45 green occurrences
in that mighty book of Mr Whitman.
Other colours have no place in our Kingdom of Red.

'Don't hyper-process the past,' she says, 'they can detect
nostalgia, even the literary kind.' I shake my head
and throw a pen into space. It falls flat on the ground
opening up into a well that returns a sound like water.

'Don't waste your gravity quota, Kit. You'll regret it.'




INTERMISSION


Do you remember you stole Mum's lipstick?
Do you remember the red spread like a virus
on your three-year-old mouth? Do you remember
next to the lipstick a small thing sealed in paper?
Do you remember I asked you not to open it?
Do you remember those bright, shiny things
inside the wrapping paper and how I screamed?
Do you remember the blades? The blood
coating your mouth, slightly scented by the red
pigment only found in Chanel lipstick?
Do you remember I sat you by the window
to show you the clouds over Victoria Harbour
in the distance? Do you remember counting
those glass and steel monoliths across the water
from our own monolith? Do you remember
how long it took the blood to congeal?
Do you remember it was 1985, one year after
the Joint Declaration was signed by Deng
and Thatcher? Do you remember those tanks
on the television? Do you remember the two
indistinguishable eras of face masks? Do you
remember the writing on the Lennon Walls?
Do you remember being Blue or Yellow,
or both, or none? Do you remember what happened
afterwards? Do you remember those complex
variations of green, and how suddenly,
perhaps it was the wind, perhaps algorithms,
a wide gap opened up between two leaves of grass
and the sun stabbed straight into our eyes?
Do you remember how to remember
and disremember? Do you remember me?


Find out more and purchase The Ink Cloud Reader here.

---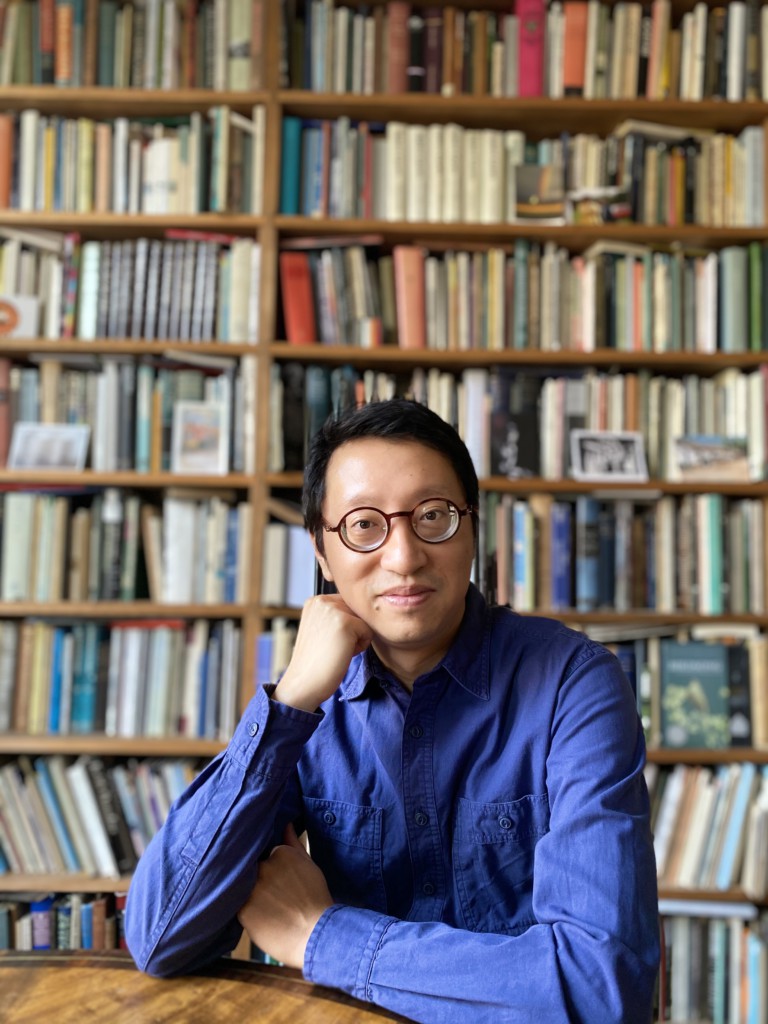 Kit Fan is a poet, novelist and critic. He was born and educated in Hong Kong before moving to the UK at 21. His debut novel is Diamond Hill (2021). His first book of poems, Paper Scissors Stone (2011), won the inaugural HKU International Poetry Prize. As Slow As Possible (2018) was a Poetry Book Society Recommendation and one of the Irish Times Books of the Year. His third poetry collection The Ink Cloud Reader (2023), which is shortlisted for the Forward Prize. He was shortlisted twice for the Guardian 4th Estate BAME Short Story Prize and the TLS Mick Imlah Poetry Prize. He has won Northern Writers Awards for Fiction and Poetry, the Times Stephen Spender Poetry Translation Prize, and POETRY Editors' Prize for Reviewing. In 2023, he was shortlisted for the Alpine Fellowship and the Moth Poetry Prize judged by the Nobel Laureate Louise Glück.