Welcome to our Forward Prizes 2021 'How I Did It' series. This year we asked the poets shortlisted for the Felix Dennis Prize for Best First Collection to explain the writing process behind one of the poems in their collections. In this piece, Holly Pester talks about 'Comic Timing' from her collection of the same name.


I'd like to answer the question of how I wrote Comic Timing by talking about writing as a measure of experience, but not without also talking about a pig and a sleeping bag. Most of the poems in the book came out of a process of putting myself in the deliberate interchange of living and study, creating situations where writing blended with sensation. I recommend doing this. Because when you take experience and put it into new contexts, that's already composition, a kind of writing. It will also give you a language for the circumstances you can't change. Here are some of the situations I put my writing in for this book, and their syntheses detailed as writing.

For a week I was a guest in the vicinity of a massive grey and pink pig. It was the house of a very kind person in Offaly, Ireland who rescued rare breed farm animals. In the house I had a truly gothic experience. Having recently read Charlotte Brontë's novel, Villette, I felt very in touch with that supernatural prehension of the feminine; I was also ill and full of mucus, dizzy and generally out of sorts but pretending to be fine. The woman who was letting me stay with her (she liked to have artists and writers to stay in the old coach house she'd grown up in) went away for work leaving me alone in what then felt like a spooky, cold house surrounded by some black big-horned sheep; they would slowly walk up to the house and peer into the windows at night. It rained the whole time. Most days I went to feed the pig near his little tin house across the bog, and would have to race him to his bowl with a bucket of food before he knocked me down. I was nervous about this the whole time. As well as Susan Howe's The Midnight, for some stupid, stupid reason I also read Shirley Jackson's The Haunting of Hill House in the days I was alone with the leaking ceilings and the peering sheep and the strange illness that made me cough and cough then pass out. I had to hide the book in my suitcase, then put the suitcase under the bed. I lay awake with a hat on sneezing, kicking thoughts out of corners, making up a language out of the situation, then wrote the poem, 'Comic Timing'.

I ran away to Los Angeles to stay with the poet Elaine Kahn – a magnificent presence in my life and in contemporary poetry overall. Everyday I woke up and would not go to the tar pits. Elaine would make oatmeal and say, 'Will you go to La Brea today?' And I would say, 'I hope to'. But didn't. The intention and the ideal of research is made more interesting when you follow desire. The same happens in writing; what you expect to say next and what you want to say will always be deferred by something; let that something somehow be appetite. We read Bernadette Mayer's Work & Days, and I drank a lot of cans of Modelo beer in her kitchen with a view of the Hollywood sign, thinking about old movie stars and their graves.

The idea was to go to places of natural preservation and deep sunk bodies. As much as this desire took me to Hannah Weiner's archive, it took me to the Jurassic Coast where I cycled and camped alone for about a week. Maybe it was more like 3 days. I paid great attention to the feeling of being in a sleeping bag, thinking it would get me closer to the idea of metabolism and gestation, history and narrative, resting and working. It brought me closer to the feeling of nylon and made me realise you can't escape manufacturing, or be anything but alien to it. I wrote a lot of notes in the reddish dark of my tent that were indecipherable afterwards but struggling with my writing later was a method that kept the poems full of a voice that I didn't feel in possession of; the question of possession being an ongoing… joke. I wanted the writing to stay alive with the sense of it being a note to self, a document of a sensation at the instant of feeling it, and a tribute to conditions. Maybe my next collection will have a more finished sense in the voice but I wanted this one to be as alive as it could in thought; embodied and stuck; a substance of its own.

I read that book about bog bodies by P.V. Glob that everyone has read. It made me want to eat porridge. I kept moving, taking my thinking with me. There's a kind of artist's retreat that anyone can go to in a rural part of Estonia that's an old school. You turn up, find a room, some sheets, and say hello to people in the kitchen, ask how you can help in the garden and then you work on whatever you want to work on (maybe watch the World Cup in the evening). It's a commune-model I thought was long gone. The creative idealisms of that setup itself made me think about the situation of poetry and how its language behaves in relation to the politics and culture you want back from it. You can get comradeship from your own writing, and you can find its limits too. The layering of institutions and ideologies in this place, an ex-Soviet site of education and childhood in absence of children, also made me think about age and care. I read William Morris's News from Nowhere on a swing there. What came out was an attitude towards hope in my writing that I couldn't have found otherwise.

The writing process for this book can be narrativised as: I went to places and I attended to ideas; there was a lot of new and interesting aloneness, intimacy, places, and ecologies. But while I was doing these things, there was still rent to pay, new tenancies to scramble for and sign, there were packing boxes to fill and move several times, there was work and debt to manage and the feelings of stress and tiredness, bodies, friendships, houseshares, dates, social relations, hungers, fantasies. None more arbitrary nor significant to poetry than the other. Industrial action, storms, Tory governments, crushes. This is stuff to write with, none of it should be out of the frame, or removed from the substance that is in the frame. (I refuse to know the difference between the frame and the substance.)

We might want to use poetry to write an account of our life; I like to reverse it too: to live gestures of writing, to consider life's timing, conditions, the materials that flare up, persist in memory, affect how you sleep, can be heard in your voice. This makes living feel like a performance, and that makes me want to write. Lying in a sleeping bag can make you understand better how to write about terminating a pregnancy; sitting in an archive can make you better understand how to write about rent; eating a porridge of seeds and grains can give you a language for the spirit of history. It's a comedy of subsistence, if you will, and it has stresses and breaks, just like a poem.
I went to Ilford on my own
walked up a dual carriageway
to McDonald's for a cup of tea and a think then
went back to the clinic with half a blueberry muffin
in my pocket
I was handed a white laminated
square with a number on it
I will be called by the number not
by my name I lied
on the form that asked if there was anyone
at home my Uber arrived
as the cramps started
I was told to be home within one hour
the journey time was 45 minutes
I felt nauseous
breathed slowly
the driver talked about ratings
he liked chatty and punctual passengers
he once gave a married couple no stars
when the man hit the woman
I felt dizzy we drove past his house
that's my house
he looked up my ratings and said I was
above average

Extract from 'Comic Timing'
---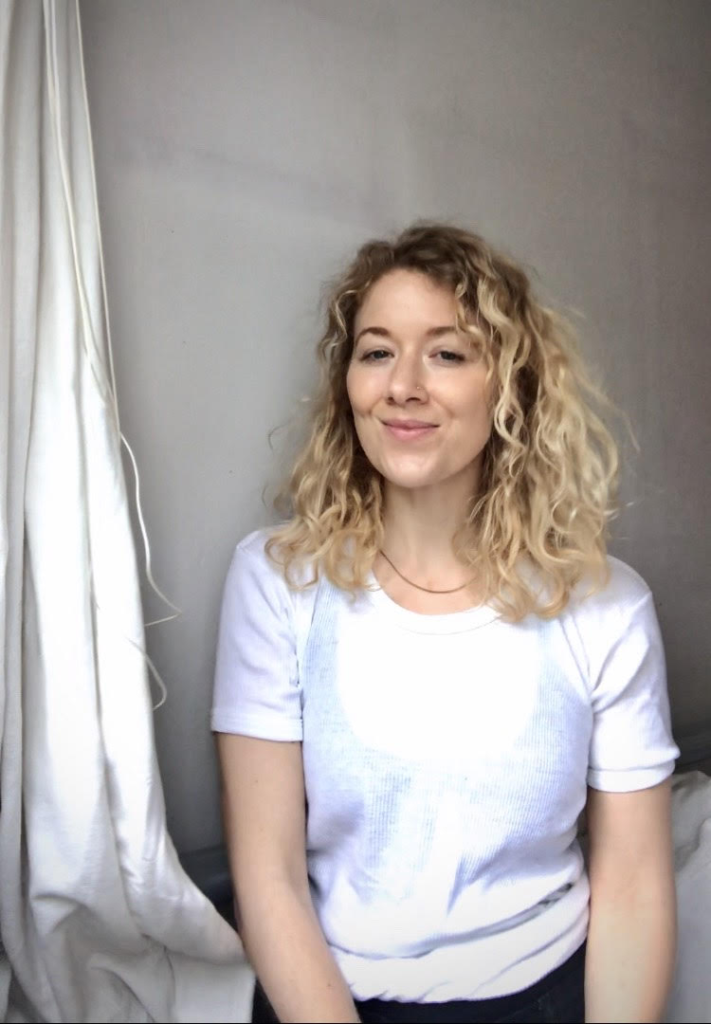 Holly Pester is a poet and writer. She has worked in sound art and performance, with BBC Radio, Women's Art Library and Wellcome Collection. She has written critical creative work on lullabies and rest/worksongs, and her debut collection, Comic Timing, was published by Granta in February 2021.