The Michael Marks Award-winning poet Róisín Tierney will be running our Spring 2017 course 'Derivatives, Reflection, Homage'. We caught up with her for a chat about the course, and what she's up to at the moment.
Hi Róisín. Your new course with us is called 'Derivatives, Reflection, Homage'. Could you tell us a little bit about your plans? 
The course is a chance to look at how past and present poets have responded to and been inspired by each other's work.  We will also be looking at the various ways that poets borrow from each other, whether by mirroring a specific use of metre or form, alluding to a particular poem, nicking a line from a (usually famous) poem, writing a poem in response to another, and all the other many and various ways that contemporary writers reflect the written past.
When you were writing your debut collection, The Spanish-Italian Border, you said in a previous interview you were reading a wide variety of other poets: Frost, Lorca, Paddy Bushe, Kathleen Jamie, Daljit Nagra, Siriol Troup. In what ways does it help to read other poets as you write?
It helps enormously! For example, each of the above poets has a very different style.  Frost, among his many talents, was the master of writing in common speech, and of using contemporary dialogue in his poetry, in a seemingly natural way, while at the same time crafting very skilfully structured poems.  That tension between natural speech and artifice was helpful to me, in that it almost gives permission to write as if one is just having a conversation, while setting the bar very high in terms of structure and craft.  I sometimes write poems about a country Irish childhood, and Frost helped to open up a way to express those themes in an authentic voice.  Daljit Nagra, you could say, gives one permission to use dialect (though it must always be done carefully) and given that a large proportion of the English-speaking diaspora speaks in myriad fluencies, far from standard English, and often expressive of different views on the world, that is a useful page to have opened.  Lorca wrote in Spanish, obviously, and mixed traditional Spanish themes with symbolist images in his work, and again that conflation of the traditional with the modern makes him an interesting poet, and is something we can all learn from.  Bushe is a bilingual poet (in Irish and English), and while I write only in English, I am very interested in the way bits of one language drift in to another – and definitely see that trend in my own poetry.  What I am trying to say is that all the very many wonderful poets that I read influence my own writing, both consciously and unconsciously, and that is generally a good thing!
Some poets find it useful to read other poets before they work; others feel like it disrupts their own voice. Do you ever feel this way?
I can understand how some writers might find it disruptive.  I don't, I have to say.  When I am writing a poem I am so 'in it', following its voice, that I find I am not easily influenced.  However, where I do find the disruptive influence useful, so to speak, is after I have finished a poem, and want to start on another.  Then I can find that I am still caught up in the rhythm or metre (or atmosphere) of my previous poem, or that it keeps going round in my head somehow.  That is when I find it very useful to pick up a book by Longley, say, or Lorca or Jamie, read a few poems out loud, settle on a line I like, and use it as a kind of pattern, or springboard into my next poem.  The very fact that it is in a different voice, has a different metre, and treats of a different subject matter is useful, and I usually find that after a period of time playing around with it, I have my own line, and a way in to my next poem.
Over the last few years, there have been several scandals over plagiarised poems, and in some cases the poets caught out have defended themselves by claiming they merely used the original poem as a scaffold. Where is the line when it comes to inspiration?
Yes, it is an interesting question.  I had a poem plagiarised a few years back, and was contacted by the editor of the online magazine, after he noticed that a poem he had received and published, under the name of an Algerian gentleman, was actually a poem of mine, with a few place names changed.  The man in question was called to task, and eventually emailed me an apology.  Part of me thought it was a little bit funny, that he had only changed the place names.  (Imagine if I nicked a poem by Yeats and changed it to I will arise and go now, and go to Granada…)    And I also sensed that there was a vulnerability there, and that perhaps he didn't know it was wrong.  Of course, I would feel differently if I saw a whole rake of my poems, thinly disguised, brought out under someone else's name…
But of course plagiarism is different to using a poem as inspiration.  It is perfectly acceptable to take a line from another poem occasionally –a bad idea to make a habit of it, perhaps.   There are ways of acknowledging it in the poem such as italicising it.  And generally speaking, one is better off using a famous line from a famous poem, so that no one can accuse you of subterfuge. We will be discussing all the subtle differences of plagiarism versus inspiration during the course.
Sharon Olds has made a lot of people think again about line-breaks, then there's Muldoon and his use of (half) rhyme, Selima Hill and her mastery of the short poem… Which poets have you found most instructive, technically and otherwise?
I think my influences are many and have changed over time. Muldoon of course, with his tricksy use of form and rhyme/half rhyme.  Heaney is always up there for me, with his beautiful use of language including Ulster dialect, and his elegant metaphors.  I like the way he blends classical themes with more down-to-earth themes.  Both Frost and Bishop are influences for me, Frost for the reasons and in the ways outlined earlier, and Bishop – well technically she is sublime of course, but the way she holds her self back in a poem, I mean her actual self – the way she lets the poem be the main thing, I find that most touching.  I think I am always after that, myself.  And there are many others – I love Hughes, especially his nature poetry.  And Plath – her particular genius gave us all leave to be more honest, and her flint is sharp.  Her 'confessional' writing is the opposite of indulgent.  I like that.  And who among us is not occasionally influenced by Frank O' Hara?  Christopher Smart, anyone?  And the Beats?  No modern poet is uninfluenced by them, whatever you think of their poetry.
Finally, what are you up to at the moment?
My latest pamphlet, 5 Poems was brought out recently by Clutag Press, so I have been doing a few readings to promote it.  I am currently writing poems for my next collection, an ongoing (and for me, slow) process.  Sending out to magazines, writing the occasional article or review, doing a spot of mentoring and of course preparing for my 'Derivatives, Reflection, Homage' course.  It'll be fun!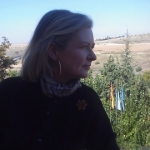 Róisín Tierney is an Irish poet who taught for several years in Spain (Valladolid and Granada), and Ireland (Dublin), and is now settled in London. She read in Dublin as part of the Poetry Ireland Introduction Series in June 2008. Her poetry has appeared in anthologies from Donut Press, Ondt & Gracehoper and Unfold Press. She has been placed in a number of national poetry competitions including the Brendan Kennelly Poetry Competition 2007, the Strokestown Poetry Competition 2006, the Bridport in 2005 and 2002, and the 2001 TLS Poetry Competition. Her pamphlet Dream Endings (Rack Press) won the 2012 Michael Marks Award. Her debut collection The Spanish-Italian Border was published by Arc Publications in 2014. Her latest publication is Five Poems from Clutag Press.