I want to take you, very briefly, on a journey I made back in May 2007, to Addis Ababa where I had not been since I was a boy, some 40 years before.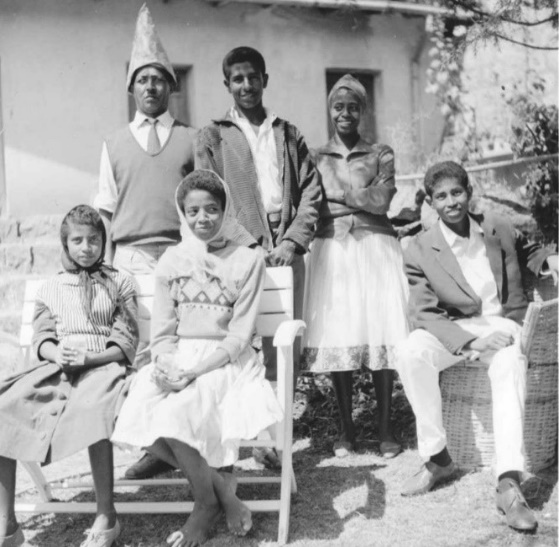 I had a photo of my friend Abebe in my pocket, standing with his family in our garden. My first stop was the Embassy where Dad worked, because I remembered we used to come out onto Yeka Road, turn left, then right and right again down a dirt track. Our house was the only one with two floors, surrounded by walls and eucalyptus trees and the shouts of donkey-drovers. But now, the area right of Yeka Road was thick with office blocks. Had I misremembered? The taxi driver suggested we try left. When the going got too bumpy, I climbed out and boys with mad tufts of hair shouted FERENGI!! (foreigner), laughing themselves silly. It felt very like our old track, wooded and friendly, but there was no two-storey house.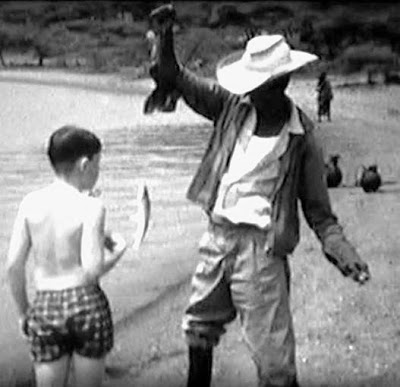 I had come to find a house, but also Abebe, our cook Asfaw's son. He was the friend I really missed when we left – our walks around Addis together, how he used to fish in Lake Langano and show me his catch (however tiddly!), the way just being with him made me feel bubbly and happy. I thought of him every time I saw news of Ethiopia: the revolution in 1974, the Red Terror which followed, students gunned down in the street, the appalling famine and endless wars with Eritrea and Tigray in the 1980s. I thought Abebe might not have survived all this carnage. I was afraid to find out, but not knowing is unbearable too!

Over the next three weeks, I got to know Addis again. There were many more cars, but the same bittersweet tang of eucalyptus, the same church bells, old 'lion' buses grinding up the street, the everyday plosive bustle of Amharic, the main language here. Addis is 2400 metres above sea level, so there is a breathless freshness to everything, an audible glint that I remembered so well. I browsed museums and coffee-shops, book-stalls and record-shacks. I trawled the huge Mercato where Mum used to shop with Asfaw. Every teenage boy reminded me of Abebe – grinning, strutting, popping his shoulders. I felt he was all around me again, flowering; just like the meaning of his name!

My search for Abebe turned into a poetic search too, for ways to express the memories and feelings thrown up during that trip to Addis, which could not be contained in my normal free verse or formal poems like sonnets. My main discovery was the Ethiopian Praise Poem, examples of which I found or translated and used as templates to reflect my memories as closely as I could. So I began my collection Ethiopia Boy with a Praise Shout called 'Abebe, the cook's son' (where every line starts with the name Abebe); then another Praise Shout 'Motorcar' (where every line starts with "the one who…"); then to a Reverse-Praise poem 'Lion Buses', to Funeral Dirges and Boasts in the voices of boys or even a fly-whisk. My new collection, Tenderfoot, also uses praise shouts and boasts to talk about its main theme of hunger.

But even if I was basing myself on Ethiopian/African models, I was still writing in English and still reading a lot of English-language poets, from Walt Whitman to Pascale Petit, Daljit Nagra, Malika Booker, Andrew MacMillan, to name just a few. So, perhaps unconsciously at first, the whole tradition of Western Praise Poetry was also informing my writing. What I realised was that I could borrow the Praise 'Stance' to help me write about my childhood in a fresh and energetic way. To forget the knowingness of being an adult, and just stand there, taking it all in again – the joyful but also the painful, the confusing, the whole complex wonderful experience of being a child!

I don't think it matters a jot where you grow up, everywhere is exotic and new to a child; it's just a matter of finding a way to express this!

To explore this topic further, join Chris Beckett's upcoming Autumn Term course, Childhood: A Source of Praise, which will run 7 October – 16 December.