Reading Rishi Dastidar's Ticker-tape (Nine Arches Press) gives essential insight into what it is to be alive in Britain today. Dastidar's debut full length collection marries project management and social media, politics with good old fashioned unrequited love, and clearly shows a fresh, original and important voice.
Facing the contents page is a flowchart guiding the reader through seasonal changes via outdoor hot tubs, giggly champagne and the Reverend Al Green. It vividly marks the beginning of the book with Dastidar's playful imagination and is our first glimpse of his skill at uprooting the extraordinary from the mundanity of everyday life. And the everyday life he plunders is very much of the early 21st century variety. Consider 'We are Premier League':
We are Nando's skin on X-Box wings
We are charitable visits, making dreams come true
.
We are role models and bandwagon drivers
We are baby Bentleys on private roads
.
We are gold tattoos on choking necks
We are orange spider mohicans on the backs of heads
.
[…]
.
We are sponsored elite, and we are endorsed
We've parked the bus and we want more
.
We are the wages of underachievement
We are 17th place and we are class
The deceptive simplicity of the repetition at the start of each line gives a canvas sufficiently open for Dastidar to fling the beautifully tainted paint of late capitalism at. This topicality reverberates throughout Ticker-tape, especially in 'On Enthusiasm', where Google fails to 'name a year / in which nothing happened', telling him instead 'all about / the apocalypse that didn't arrive / in 2012'. In 'Gunmetal', the sky is likened to 'Mussolini's mistress's dentures / in a Waterford tumbler' and 'a Tao Lin Google Chat endlessly referring to its/ own digital circularity. 'Bantz' introduces the hashtag to modern poetry, playing two columns of youthful energy and decadence down both sides of the page to the shared conclusion 'THIS BANTZ IS FOR THE PURPOSE / OF HUMOUR AND SHOULD NOT / BE TAKEN SERIOUSLY'.
I would contend however that Dastidar's poetry should. And if, like me, you are a trifle behind technologically, fear not – he also tackles those staples of poets right back to the Greeks: love and sex. In his sultry opening poem, 'The Summers of Camus' Youth', young men find it ideal
When you pass a buoy
where a pretty girl is sitting,
.
you shout to your friends,
"I tell you it's a seagull".
This play between b(u)boys and girls threads through the entire collection and brings a sensual aspect to some of the more cerebral concerns of Dastidar's poems, as in 'These Things Boys Do' where
Hina reminds me shedding clothes is not the same as shredding
Englishness. But we might all have to be trial lawyers in bed;
.
capital wants us, wants us to be fluidly equable, but desire
only comes from friction: a touch, an impression, a catching –
In fourteen boldly spun lines of poetry a virtuosic scope is explored, from commitment issues and possessiveness to neurochemistry and marketing holy grails. The explosion of categories and linguistic migration becomes familiar during the course of a collection where few poems let the reader off with being 'about' any one thing. One of my favourite examples of this is 'Licking Stamps', which begins:
Let me guess, painter boy. You'll depict me
as your Emma Hamilton in that Romney portrait,
all cheesecloth and Circe,
before moving onto some nonsense
about how I'm an antebellum babe
and that you have a battleplan for courting,
to neuter my Gatling gun tongue.
And then you'll have me say something
like, 'I want to be ravaged like Dresden
in 1945', when clearly I want to be
ravaged like Northumberland in 865.
By framing it as an address to a fellow artist, Dastidar opens the beginning of the poem up into an exploration of artistic processes. The meat and middle of the poem haul the familiar landscape of courtship through environmental catastrophe and millennia of European warfare. The last four lines capture the essence of good love poetry, combining thrill, expectation and disappointment to great effect.
Another collision of romantic themes with military symbolism occurs in the literally earth moving 'Joystick Valhalla', a single sentence that is worth quoting in full:

The radio tells me drones are reapers,
scythe-shaped saucers shearing the sky,
propelled from Big Rock Candy Mountain
by slow-blinking fat young men,
untroubled by RSI or PornTube wrist,
frolicking in an orgiastic joystick Valhalla,
.
where screens shield them from what's spilt
on the soil, six thousand leagues away,
laxly playing their games with dusty blobs,
making confetti out of wedding favours,
and never challenging their vow:
the only safe space is empty space.
It is a very political poem – the playful imagery of 'Big Rock Candy Mountain' and 'PornTube wrist', the orgiastic frolicking jar against the devastating impact of the drones 'making confetti out of wedding favours' – of which the collection boasts an embarrassment of riches.
The seven blistering pages of poetry which make up 'Pretanic (A journal of some proceedings on the North Atlantic archipelago)' explicitly address the recent political climate in the British Isles. For a world which can be as slow moving as poetry (mea maxima culpa) the recent pace of 'developments' in the political sphere can leave us flat-footed and out of date. Both Dastidar and Nine Arches do a great service through poems like 'What's the matter with [insert (non-metropolitan) English constituency of choice]?' in which he cleverly combines an accomplished sonnet with a heartfelt rant about what the political left needs to do and what it needs to stop doing.
The daring shown in his choice of subject matter is paralleled in his experimentation with the shape and form of his poetry, such as in 'A man is on the TV, telling me about'. In this prose poem we learn a lot about the man doing the telling, but the subject of the telling is blacked out, as if in a redacted document. At the beginning of the piece, this great teller is 'A man who is urbane, a realist, a man who knows, is on the TV telling me about'. Through the piece, Dastidar exposes the frailties of this modern day messenger's character – 'A man who slavishly chases proximity to power is on the TV, telling me about' 'A man who thinks he is the new TE Lawrence is on the TV, telling me about' 'A man who has never been the other is on the TV, telling me about' until 'A man who has misplaced the knowledge that he is human is on the TV, telling me about'.
No review of this collection would be complete without some mention of 'Ticker-tape', the title poem. It really is a masterpiece. After a six line preliminary, two hundred and ten lines of Rishi Dastidar's uninhibited imagination are unleashed on the reader. Just about everything else that I have spoken about in this review is contained in the sustained intensity of the piece. All the lurid and banal details are on display here, all the topicality, all the timelessness.
At the level of poem and at the level of collection, Ticker-tape is a phenomenon. For the author, it is the culmination of several years patient craft building. It shows skill and courage in equal measure. For the reader, the poems are expansive and at times percussive, energetically coming at their subject matter from all angles like a classic All Blacks rugby team. I'll leave the last word to the maestro himself, with a poem of yearning which keeps drawing me back, and yields a little more each time I come to it.
From Stavanger
.
I have been up for 23 hours now,
teetering on the edge of
missing home / missing her,
.
and it's all I can do to resist
the entreaties for one more
slice of Norwegian salmon,
.
sound the retreat to the empty seat
in the one desk terminal as I wait
for the propellers of my ride
.
to cut through the lassitude of the clouds
and get me rolling down the coast,
over triumphant Hanseatic business deals.
.
But there is no such thing
as a straight line above this earth,
so we prowl above Amsterdam,
.
a commuter eagle at weary bay, until
the crook finger of the jet bridge beckons
and I run slide glide perspire
.
curse cry drag squeak careen
to the beacon-jacketed help, who
with a smile of relaxed molasses says,
.
"Sir, there's another connection in 45 minutes.
Why not let Schiphol be your home for now?
We have a beautiful sunset here too."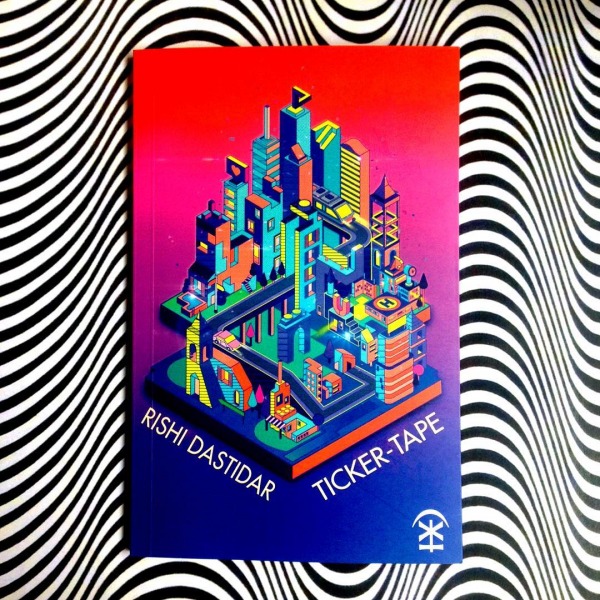 You can buy Ticker-tape from the Nine Arches website.
Reviews are an initiative from the Poetry School. We invite (and pay) emerging poetry reviewers to focus their critical skills on the small press, pamphlet and indie publications that excite us the most. If you'd like to review us or submit your publications for review, contact Will Barrett at – [email protected].
Save