Many of the poems in The House with Only an Attic and a Basement – poems Maris describes as 'fictions' – deal with anxieties around the frictions and fissures in communication between men and women, toxic heterosexual encounters, marriage and infidelity and child-rearing.
As with Maris' previous collection God Loves You (2013), the tensions produced by the spaces between what is said and unsaid, what is conscious and repressed, what is conveyed and what is intended to be 'caught' as subtext provide fertile seams for examination.
Maris' approach to language is characterised by a kind of post-internet, 'post-truth' blues, and the book is saturated with a resigned, impassive tone of irony. This is perhaps unsurprising given the book's preoccupation with the network of norms, expectations and structures which govern human behaviour in the digital age.
A number of poems in the book possess the energy, playfulness, humour and unexpectedness of Maris' last collection, notably 'The Summer Day the Spike Went into My', 'The Death of Empiricism', 'The A Man', 'Ooga-Booga Cento' and 'How to be a Dream Girl not a Doormat about the 'Ex.'' Here, the poet's clever, mordant wit and use of form works tremendously with her subject matter, while her characteristically deadpan style is used to excellent effect. 'The Death of Empiricism', for example, is staged as a series of aphoristic statements, each of which hovers between seriousness and flippancy.
You can never know if a photo of the president with a dog has been faked, whether in the 'Photoshop' sense or the psychological sense.
If a spring flower blooms in December it may mean we are fucked but, equally, if a flower blooms in April we may be fucked in that instance too.
If Shakespeare wrote about a woman dressed as a man dressed as a woman dressed as a man, perhaps he wasn't considering gender at all.
The tone of parody is skilfully balanced, each nugget poised between newspaper strapline, philosophical proposition and kōanesque puzzle. The precarity of certain knowledge provokes flashes of hesitation, doubt and self-questioning in the reader, while the undecidability of the poem's register (who is speaking, to whom are they speaking and why?) remains obscure. The satirical attitude also reckons with anxieties around who broadcasts 'truth' (and how), and implicitly questions the way knowledge is mediated, 'consumed' and made malleable both by those who disseminate, and those who 'consume' it.
'How to be a Dream Girl not a Doormat about the 'Ex'' offers an entirely different but equally mesmerising energy. The language of the poem moves under the subtle influence of demotic speech, while the ritual of repetition compels a breathless, rhythmic energy. Again, the speaker is a somewhat opaque narrator: here, however, the voice is cajoled into life by the intense pressures of form.
While the Doormat asks neurotic questions about his ex,
the Dream Girl looks at her watch if her man brings up the ex,
and if the man ever says, 'Everyone was in love with my ex'
a Dream Girl won't ask for a photo, but if a photo of the ex
is provided the Dream Girl won't demean the appearance of the ex
because her man will likely rush to his ex's
defence.
Maris deftly overperforms the banal gestures of interpersonal communication, exposing the hidden rules, norms and power structures lurking beneath personal relationships. Her wit, pathos and obsessive linguistic pattern-making cleverly combine to achieve a shrewd, irreverent and self-aware analysis of gender politics. Working within the confines of formal constraint the poet's talent for satire really comes into its own, and her subject matter is energised by the facility of epistrophe.
The poems which use found texts as source material – whether borrowing phrases from websites, emails, books, poems or a WhatsApp group – do not explicitly transform, interrupt or otherwise challenge their source materials. Rather, by showing the workings of the found text, Maris' poems return these texts to their own characteristic ordinariness: they somehow become even 'more like' themselves. Here, for example, is 'Ashley Madison Couplets' in its entirety.
Ashley Madison is the most open-minded dating community.
For women, Ashley Madison is free.
Millions of people like you are looking for a discreet connection.
Millions are drawn to the site because they want discretion.
No matter your reason, you'll find what's missing at Ashley Madison,
originally designed specifically for married men and women.
You control exactly what you want people to see.
We know you value your privacy.
The bleak content of online dating spiel is collaged together to create a series of reiterative near-rhyming couplets. This direct, scrapbooked method creates an alienating effect of numbness, and the reader floats impassively among the language of consumerism, with a sense of emotionless resignation.
Throughout the book, Maris plays with the flattened language of the digital realm, where everything and everyone is for sale and characters yearn for something they can neither physically touch nor bring themselves to get close to psychologically. This longing for closeness while being incapable of the self-exposure necessary for intimacy is evident in 'What Women Want', where the cool register both reaches for parody and crushes it.
After my best friend read a self-help book called Make Your Own Fairy Tale in which the author advises you to write your wish in a notebook and store it in the drawer of your bedside table, I did exactly that. One day my other half said, 'For fuck's sake I don't understand what you want.' When I suggested he look at the notebook in the bedside table, where my wish had been collecting dust for 3 years, he revealed he would never look at someone's private notebook, he was above that, and that was the end of the conversation.
Here, the stalemate of marriage forecloses the possibility of psychic intimacy. Love is played like a game, and the withholding of honest exchange is driven by fears around telling – and hearing – the truth. The avoidance, manipulation and game-playing involved in this relationship crops up in other scenarios as well, and a growing sense of deadlock between men and women accumulates through the book.
In a series of poems about outwardly powerful but inwardly flawed men, Maris scrutinises the fragile egos of 'types' for whom power arrives all-too easily. 'The A Man', for example, is a devious Humbert Humbert style character – a man-child entirely centred on himself and utterly without scruples.
His superpower was achieving the world's first happy marriage
by wedding his daughter, whom he loved at first sight
i.e. when she was adopted at the age of 6 by the woman
he was wooing & whose inevitability in the girl's life
led him to stick around until the girl was a preteen, a reedy
netball star in the making whose long legs under her
polyester shorts gave him a semi-permanent hard-on
that he translated into practised looks of empathy & affection
which all girls need to properly grow & so she grew
to adore this man like the New Testament God & it came to pass
that, once of legal age, she entered his sagging bed & stayed there.
The female character in this scenario remains submissively by The A Man's side, presumably never questioning the grooming which has so clearly shaped her life. This prompts me to wonder why so many of Maris' women are passive, stuck and/or happy to settle for the status quo.
The hunger for something beyond a godforsaken universe – a hunger which underpinned the poems in God Loves You – is gone in The House with Only an Attic and a Basement. The laughs are fewer and further between, and resignation has taken laughter's place. This is a world where pleasure, spontaneity and curiosity are conspicuous by their absence. Instead, the anxieties and neuroses produced by toxic heterosexual relationships provokes a mood of discontent and stuckness. Maris' preoccupation with aspects of psychoanalytic theory runs through the book, providing moments of psychological drama and energy. Yet her characters appear unable (or unwilling) to challenge the often paralysing power of their own anxieties, and so the destructive interactions they are locked in are perpetuated.
---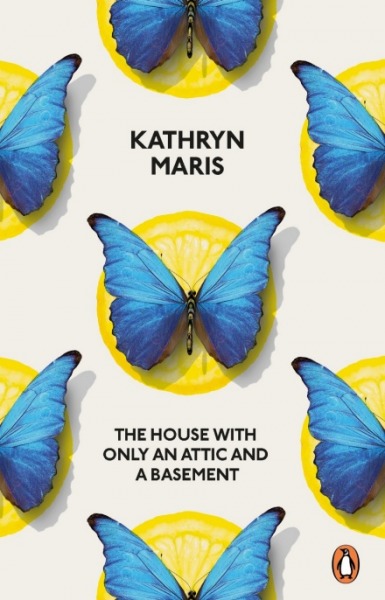 You can find out more about The House with Only an Attic and a Basement  from the Penguin website.
If you'd like to review for us or submit your publication for review, please contact Ali Lewis on [email protected] or Will Barrett on [email protected]