Maria Apichella's first collection, Psalmody (Eyewear), ends on a note of quiet, confident affirmation:
I can't play the sax
I can't bang the drum
I can't work the flute
I can't pick the harp
but I can respond.
Apichella's tough, lyrical psalm-poems celebrate the virtue of responsiveness, suggesting the possibility of a deeper, simpler, more open relationship with the material world. It's a promise that poetry often makes, but rarely delivers with such nerve, or such consistency. For creatures of flesh and blood, we have a troubled relationship with the material world, and too often our attitude towards it is one of suspicion, disgust or simply indifference. If we are driven towards basic urges like food and sex we are also driven away from them. Those 'basic' urges are not so simple after all.
The poems – numbered, and not named – follow a loose plot which enacts a conflict between two forms of love: agape, or love of God, and eros, romantic or sexual love. The psalmist, an ardently religious woman (presumably Christian, perhaps, or possibly Jewish – the ambiguity feels intentional), falls in love with David, a Welsh squaddie; David happens to be an atheist. Initially, the psalmist struggles to reconcile her faith with the new relationship:
I wake                recognize I've taken a wrong
turning; thirsted
for a doubter –
As religion and desire come into competition they blur, swapping and sharing meanings; ultimately, love and faith work to deepen each other. The psalmist learns to see David's materialism as a virtue: 'David's an atheist after God's own heart'. Armed with this revelation, passion gets admitted to the temple. Apichella interrogates and celebrates sex and the body with playful, enjoyably odd images:
You are like fingers after chopping chillies,
burning deeply long.
However, just as a resolution looks in sight, David is deployed to the Middle East (the birthplace of his Biblical namesake). Apichella's depiction of war here, as a combination of bureaucracy and male violence, is sharp and disturbing:
Who wants an absent partner, tense
with tooth-breaking secrets, whose body is
owned by government men?
Whose job's all jargon, bullet –
hold paper work.
Who plans to occupy, re-make cities,
countries, traditions, bedrooms.
There were moments when I felt that David's deployment was a distraction from the book's other concerns, but the poems in Psalmody are profoundly bound up with the Hebrew King David, to whom around half of the Bible's one-hundred and fifty psalms are attributed. The Middle Eastern turn is best seen as part of an intricate constellation of associations – the Holy Land dropped into the wind and rain of rural Wales. The Hebrew King was both a singer and a soldier (the 'virile, weepy bard'), and both characters in Psalmody take on multiple aspects of him. The poems wear these references lightly: King David's harp – the national instrument of Wales – sounds alongside iPod speakers and the 'morning clatter' of the Welsh coast: a candle-lit vigil is re-imagined as the long-dark-night-of-the-soul of a late night car journey:
Friday traffic to Bala
through mizzle, alone,
psalms whispering like a cassette.
The moon criss-
crossing the A
497, revelation of hills
like a face shimmering in a dark car.
I love the line 'psalms whispering like a cassette', an apt simile for Apichella's wide-ranging and instinctive feel for music. Apicella makes these poems sing, often in unfashionable ways, by dropping fragments of regular metre as well as naive rhymes and half-rhymes, using an idiosyncratic free verse:
A man laughs; a ring-
leader on leave.
He's strumming on a stool.
'Sing for us David',
someone calls.
The poems also worship, speaking directly to God. This might alienate secular readers, although it shouldn't. Like prayer, poetry is full of imperatives, requests and questions.  Apichella uses these to create real urgency, and a disarming vulnerability:
Please don't stop
me from loving David.
The Biblical David also had a famously tortured relationship with God. Usually, it was sex that got in the way (see also Leonard Cohen's 'Hallelujah'). This conflict, which runs through Psalmody, plucks at a chord that still holds real power in popular culture. In certain circumstances, agape and eros have a lot in common: doubt and uncertainty coupled with devotion and dependency, extremes of isolation and happiness. Religion denies pleasure, but it can also affirm it.
In Psalmody, it is food that acts as a final reminder of the value of the material world, a subject that recurs from poem to poem, as well as the occasion of some of Apichella's most powerful imagery.
Toast-flecked honey inched
across the breakfast table
like dense sunlight.
It is also food which brings the lovers together, preparing it and eating it. Their bodies are food, too, 'good as bread' – with echoes of Christ's body and the Eucharist. The imagery here draws on the centrality of food to religious rituals and domesticity, as well as the psalms themselves, and the Jewish tradition particularly, bringing us full circle to the theological implications of the 'consumption' of the material world, and the gratitude the poems offer for it. Psalmody swarms with lists of ingredients, collected and treasured like jewels: in particular, apples and honey, symbolizing sweetness and hope, drip a trail of Levantine light. In one poem, even the contents of a kitchen cupboard take on a strange luminance:
Everything's ordered:
my round –
bottomed percolator,
packets of couscous,
cannelloni tubes, curry.
Later, the psalmist imagines herself as a seagull. Like the poems themselves, the identity reclaims hunger as a virtue, rejecting false notions of purity.
I'm hungry for the salmon
bagels others chew.
I loom. Tear out binbag innards.
Leave streets bristling
with crunched brown glass,
coupons,
packets of cheese.
If the success of Luke Kennard's Cain is anything to go by, God is making a comeback in contemporary poetry, and Psalmody should have an important place in that conversation. Apichella revels in religion's more visionary, rhetorical contributions to poetic language. It's vivid, breathless work, like how the psalmist describes David: a 'full presence':
If with your throat,
fingers,
bowels,
you choose to follow fully, blessings
will sprout
like Queen Anne's lace; escort you as scent;
blackberries, Welsh rain,
stone. You'll be blessed in Aberystwyth,
in the bathroom.
The lyrics on your screen, the extension of your mind,
every page of every hardback you skim
– all your friends, your flat pack desk, keys,
green lamp will be hallowed
when you sleep, rise, and on
it goes.
But if God is coming back, He deserves more scrutiny than critics have given him. Not simply with regards to the claims that the Abrahamic religions make about the world but, more especially, the currency of their symbolism, tone and style.  What is it exactly that we have inherited from them? How much of it do we want? Who is even literate in them anymore?
Psalmody asks these questions in a way that should appeal to believers and unbelievers alike, and will challenge both.  You do not need any particular knowledge or faith to respond to Apichella poems. But neither does she waste time justifying them to the reader. Rather, the poems celebrate desire with a confounding directness and sincerity: desire for love, desire for God, desire for 'Portobello mushrooms browned over beach coals'.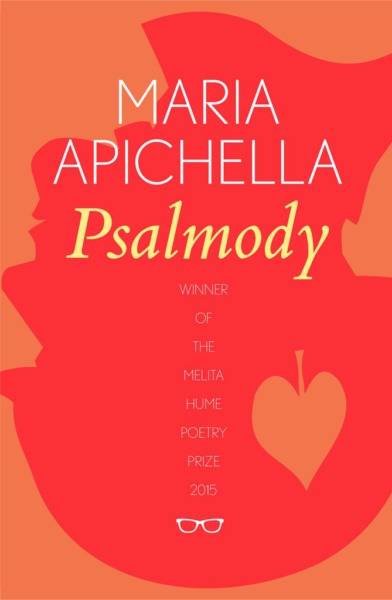 Reviews are a new initiative from the Poetry School. We invite (and pay) emerging poetry reviewers to focus their critical skills on the small press, pamphlet and indie publications that excite us the most. If you'd like to review us or submit your publications for review, contact Will Barrett at – [email protected].
Save
Save
Save
Save
Save