'If scent were white // noise,' suggests the title-piece of Randall Mann's Proprietary, 'doughnuts would be that scent.' One barely has a chance to get one's lips around the powdery dough of these white-noise doughnuts, this cultural soma, before the speaker informs us that 'The factory won't sell at any price. / The building next to it burns the animals // we experiment on.' Lost your appetite? Don't worry, because 'This pill will dissolve like sugar.'
If you're wondering why a poet would go with a title as coldly clinical as Proprietary, meanwhile, consider the possibility that he is concerned with who or what owns you (and the tensions between the images above tell you just how conflicted he wants you to be about potential dis/possessions). It could be your home or your job; it could be your spouse. Regarding the latter:
My mother is scared of the world.
She left my father after forty years.
She was like, Happy anniversary, goodbye;
.
I respect that.
So Mann's no romantic, but an ironist. And you'd have to be in order to survive the kind of break-up he describes in 'That Dark Apartment':
Heartless, the cliches;
.
artless, I mean. "Party guy seeks party guys,"
my meth-loving ex had typed on sites
with names like Adam4Adam and Manhunt.
.
"VERY open-minded," which was unlike
him, those caps.
No romantic, but a bit of a nostalgic, feeling his way through the memory of '1977. That fall. The color / had settled, too, undone / orange-brown and dull yellow, / crimson. And it was something, // yet not,' – one of many yet-nots that characterise the book – 'the pile of leaves / just a pile of leaves.' It's as if Mann is so wary of his environment that he can't take even his own medium entirely seriously, and poetry people will get a morbid laugh out of the effect (whether anyone else will, I'm not sure):
what's most important
is passion, doesn't
.
matter what, cats online, poetry
(ugh); I find mine
are about landscape; Anne
Carson – do you know (never mind)
.
in her Paris Review, no me neither –
If 'what's most important is passion', then what is Mann passionate about? Porn, apparently. And I'm not being facetious: it's the subject of one of Proprietary's strongest pieces, 'Leo & Lance', a requiem for the titular heroes of the 17-year-old Randall's first porno purchase. Looking back, he's in his divided element:
I was terrified
but also thrilled,
.
on the edge.
Can anyone even
remember how hard-
.
won a little corner
of sex was then,
no internet,
.
no hope,
no combination?
I can't; I can.
This is no idle observation: we really have no idea how the PornHub generation will grow up, and it is a question well worth thinking about. In the meantime, Mann reminds us there are people behind those body parts, mortal young men (and women) who 'died // weeks apart […] of AIDS complications' and are, bizarrely, immortalised in low art packaged with 'cruel cellophane'. They're immortalised in Mann's poem as well, of course, and we can only wonder what Leo and Lance themselves would make of being eulogised in lines as beautiful as 'Cali melancholy / canyon light' or as mischievous as 'now's a good time / to jerk off / by the last of the snow.'
And there's more to Proprietary than (auto)biography: the unrhymed sonnet quartet 'Letters from Satilla' makes a surprise appearance towards the end of the collection, proving Mann can also inhabit a persona when the spirit moves him. Channelling the voice of the late Diann Blakely, the four poems can be seen as the four walls enclosing the senior poet's convalescence, where she puts on a brave, wry face:
[…] I've never lived
in the same town as my real friends.
But we have a beautiful little farmhouse
literally picked up and moved here.
We're gated by an ungated community,
starter castles I only see when I leave
the house once a week for the doctors,
who inevitably mark the calendar.
Naturally, the introduction of such a voice brings depth to the collection, and the explicitly formal conceit of a sonnet series reminds us that Mann is no free-versifier. The evidence suggests, in fact, that his relationship with form is highly considered. Take 'Dolores Park', for instance, in which the couplets range from vivid ('The palms / are psalms') to subtle ('carted somewhere calm, a / nothing place called Colma') and back to on-the-nose ('the dead have nothing to lose; / the dead were Jews'). It's as if the fumbling rhymes and half-rhymes are an acknowledgement of the challenge of the subject matter (in this case the disinterment of a 19th-century Jewish cemetery). Better that, perhaps, than a heart-on-sleeve elegy, though it's doubtful Mann would go near such a thing.
Indeed, if you're looking for a poetry of threnodies and reveries, this ain't it: on the basis of Proprietary, Mann is unlikely to be going on retreat and writing poems about a quest for inner peace anytime soon. That's not to say the book evokes a poet at war with himself, however: these are poems of the modern city, everyday poems and products of their environment, and the poet knows it. Anyone who's lived in large cities knows they can be unforgiving places; there's the occasional reprieve but, even (perhaps especially) when it promises a lot, Mann is typically conflicted. The effect is very real:
So much has gone to shit. My hair. The state.
The addicts lie on Ellis Street, unfathered.
Reporters scribble synonyms for hate:
the men in blue have billy-clubbed the gathered.
.
And then, as grisly as an accident,
comes loves, what feels like love.
That Proprietary closes with a piece called 'I Resign' suggests that the poet, in spite of his ironic cladding, is finally losing patience with a milieu he can't take seriously ('There are moments of / grief standing in for grief'). A next, fifth collection could explore this departure, but in the meantime Proprietary offers just the right amount of wit, candour and distance to anyone who worries they're falling out of love with modernity.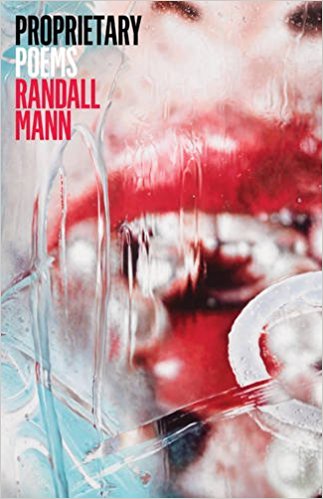 You can find out more about Proprietary from the Persea Books website.
Reviews are an initiative from the Poetry School. We invite (and pay) emerging poetry reviewers to focus their critical skills on the small press, pamphlet and indie publications that excite us the most. If you'd like to review us or submit your publications for review, contact Will Barrett at – [email protected].