Rhian Edwards' eagerly anticipated pamphlet, Brood, is as compact as a bird's nest, haunting as a folk song, and as brooding as the title suggests.
Brood explores the fragilities of the nuclear family and each line bristles with the channelled focus of a magpie. It is short, even for a pamphlet, with only fourteen poems. One of these, however, is a long poem called 'Pied Margot'  (meaning magpie), which Edwards divides into sections using the nursery rhyme 'One for Sorrow' for the titles: 1. Sorrow, 2. Joy, 3. Girl, 4. Boy and so on.
Like nursery rhymes, Brood is both whimsical and brutal in its character-sketches. These portray the key figures: the speaker, the absent husband, and babies – born and unborn. The sequence is a verbal dance of opposites: absence and presence, miscarriage and birth, Wales and America, love and hate, expectations and reality. The speaker's uncertainty is summed up in the ambiguous opening to '9. Wish.'
Now that I have all I thought
I ever wanted; a clutch of cells
coalescing into someone else,
a man who wishes to marry me,
whose voice is a continent away.
The speaker has her heart's desire, yet broods alone in her cold flat. What now?
Brood tells a loose narrative of the rise and fall of a relationship between a Welsh woman and an American man. While the poems are rooted in the landscapes of Mid and South Wales, some are set in New York. This gives a sense of the initial glamour of opposites but soon comes to represent the rising distance between the lovers, physically, but also between their inner worlds. This is illustrated beautifully when the man proposes in Central Park. It should be a romantic gesture but he uses a ring contained in a dime-bag, salvaged from a previous fiancée. The phrase 'a dime-a-dozen' comes to mind.
I asked for a ring of Welsh Gold,
settled for the cheapest White Gold,
mostly nickel, from the Jeweller on the Bridge.
Common American Nickel versus precious Welsh Gold is just one of the many symbols Edwards uses to show the nature of their mismatched relationship. Yet this is done with a wit that evades self-pity.
I had him pegged as a Midnight Cowboy…
what with his plaid shirt, weathered jeans,
a belt buckle that made him
a man of two halves.
…
I found his coarseness winsome
… I mistook
his monosyllables for shyness,
his unkindness for grief,
his incursion for love.
Things come to a head when, after a miscarriage, she falls pregnant.
A meanness has become me
since that piss wand harbinger,
blue-lined us the nuclear
family.
This jarring defamiliarisation shows the speakers turbulence. She lives alone while her body shape-shifts and suffers. The physicality of Edwards' language is powerful, particularly when describing the pain of a baby 'swelling / in [her] brackish gut.' Her mornings are 'curdling' and the clear-eyed description of a miscarriage is chilling.
Unable to contain itself,
it is flooding
out of me. I stagger
to the bathroom, sputter
a prayer to keep the last of him in.
The tone changes with the birth of the daughter. Again, Edwards' stunning ability to create vivid character sketches results in a beautiful poem that captures the tussle of putting a toddler to bed.
I am contorted in this pixie-bed,
querulous with your story-time heckling,
your hair-splitting curiosity
We have to talk about the birds. Birds weave in and out of the poems, and are a metaphor for poems themselves in '8. Kiss'.
I lie beside you, drafting
magpies until your sleep is composed.
Birds are used for zoomorphism. The husband, for example, is described as a strange avian hybrid ('Skin pale as a magpie's shoulder / black feathered hair'). And in the first poem, named after 'The Birds of Rhiannon' from The Mabinogi, Edwards references birds from Welsh myth. In the later part of the book, the bird imagery is particularly striking. The skies of Ceredigion are described as an 'unwalled ballroom' and the birds themselves 'a flight of false moustaches.' Edwards was a poet in residence at Aberystwyth Arts Centre based on the university campus, and no poet in Aber worth their salt can avoid a seagull poem: Edwards does not disappoint. Her seagulls are not 'birdbrained' but are part of 'organized crime.' They mug hungry scholars during the lunchtime hustle and cause havoc. Birds also form part of the visual appeal of the book with a series of charcoal illustrations by Paul Edwards (no relation).
While it has the irreverent wit of her first collection Clueless Dogs, this earthy pamphlet left me with a sense of melancholy. Her poems are beautiful and sad, and yet contain the poignant joy of bird-song. To feel 'broody' is to have the hormonal urge to procreate; it also means to be in deep, uneasy thought. Brood contains all these associations and more.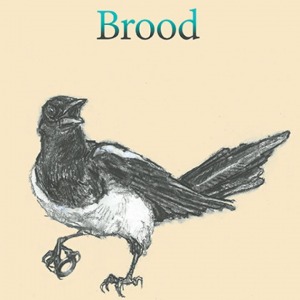 You can buy Brood from the Seren website. 
Reviews are an initiative from the Poetry School. We invite (and pay) emerging poetry reviewers to focus their critical skills on the small press, pamphlet and indie publications that excite us the most. If you'd like to review us or submit your publications for review, contact Will Barrett at – [email protected].