Shelley Wong's debut, As She Appears, is a deeply self-aware, courageous, and lyrical collection that weaves together history, humour, and ecological metaphor to explore Wong's experiences as a queer fourth-generation Chinese American. The tone is conversational but not plain, and the collection's strength lies not in any attempt on Wong's part to deploy complex forms or visuals but in the understated ingenuity of her language. The result is a personal yet accessible book in which it feels natural to trust Wong's speaker and to follow the trail of her thoughts. In 'All Beyoncés & Lucy Lius', for example, she writes: 
I am four generations 
deep / in America / dial up 

the boba to 75% sweetness 
50% ice … 
These lines hang on the stereotype that first-generation Chinese Americans might ask for, say, 25% sweetness and no ice, in contrast to the speaker's 75% sweetness and 50% ice. Through this everyday act, the speaker signals that she lives in a liminal space, not entirely detached from her Chinese roots but also not afraid to manifest her Americanness. Wong does not shy away from the complexities (and complicities) of her heritage. The feeling of existing perpetually at an intersection, in serious matters of race relations as well as in everyday choices about bubble tea orders, is clear. It's a candid and even funny admission that humanises her experience at the intersection of the American and the 'foreign'. 
Though Wong rightly recognizes, at least implicitly, that she does not speak for all Asian Americans or even all Chinese Americans, As She Appears is nonetheless an important contribution to Chinese American poetry. In 'To Yellow', Wong writes, 'Dear yellow, you / have never covered my body. / I leave your light in the dark.' The irony here is beautifully constructed. Though she may shy away from wearing yellow, the speaker herself is yellow, in her own eyes and in the view of her white compatriots. Later in that same poem, she acknowledges the importance of reclaiming of the 'yellow' label, including under the reinvigorated Yellow Power movement: 'I write you / to learn your minor keys. My people / are rising.' Indeed, we are. In the atmosphere of increased anti-Asian hate in recent years, we are learning our minor keys and 'armor[ing] [our]sel[ves] / against a world that makes [us] itch' ('The Allergy Test'). 
Another central theme in As She Appears is queerness. Wong writes candidly of the long struggle for queer visibility through the framework of her speaker's relationship with her body. In 'My Therapist Asks If I Would Be Happier If I Were Straight', she confesses: 
As a girl, I never

saw a woman
who looked like me. 

I had to invent her.
I'm inventing her. 
In the speaker's experience, this invention comprises two phases. In the first, she invents herself as a queer woman. This is an ongoing process: 'I'm inventing her', rather than 'I invented her'. In the second, she invents representations of queerness, offering 'a woman / who looked like me' where there previously were none, or very few. Taking this line of thought one step further, Wong has invented the speaker who invents herself, thus blurring the line between author and speaker and giving the poem a distinctive openness and reflectiveness. Wong does not try to elude the reader. Rather, through her speaker, she places herself in front of us and invites us to witness her experiences.  
 Occasionally, Wong's logic does break down. One rather jarring poem attempts to use albinism as a metaphor for whiteness, thereby erasing the real and important challenges faced by people with albinism. The title, 'Albino', is often considered a slur, especially when used by those outside the albinism community, and though the poem reads musically, it ultimately falls flat. The central character is a 'white peacock': 
Look at me, he blooms, pivoting
to display his beating wings. 
In the end, I will say 
that I, too, worshipped beauty,
parading in my pastels. 
If Wong means to say that her speaker, too, worshipped whiteness, the reader is left wondering how this confession—ironic or not—fits alongside the rest of the collection. If she means to say something else, that meaning is lost, at least on me. Similarly, in 'Watch Hill', Wong's speaker describes visiting a park where the park ranger 'distinguishes non-native plants / from invasive species, as some are / from elsewhere, but aren't overgrowing.' Wong raises important questions about how we talk about 'non-natives', human and non-human, but invasive species are far from benign. Indeed, they have often been a product of the same colonialist and racialist discourses that have generated anti-immigrant rhetoric. Yet, this may be precisely the point. Why, Wong invites us to ask, do we pin such negativity on 'invasive species' when we are often the ones responsible for their overgrowth? What does it say about us, humans, that we are so preoccupied with categorization and labelling and assigning of responsibility, even to plants? Indeed, the latter of these may be the central question of Wong's book. 
This is, in a different way, also the central question in Sylvia Legris' Garden Physic, a breathtakingly intricate and original meditation on plants and planting, which was longlisted for this year's Laurel Prize. Garden Physic attempts to recover the magic from 'Plants Reduced to the Idea of Plants' … 'reduced to woodcuts / (circa 16th century) reduced to Victorian floor tile.' In doing so, it takes up a key question in contemporary ecological writing: 'How to write about flowers without the nauseating sentimental / phraseology?' ('My Dear Love,'). The solution, Legris suggests, is to confront the dirt and mess of the garden head-on. She fulfils this mandate with grace and humour. The second of the collection's four sections is framed as an exchange of letters between the gardeners Vita Sackville-West and Harold Nicolson. In 'O' My Love,', Legris (or Vita) writes:  
Enough of this love your perennials and they will love you 
back threefold and several seasons. If you don't like it, pull it out! My 
sweetbriars are scraggy at the roots and anemically unremarkable—my 
backstairs darlings. I have enfeebled them with too much devotion. 

—V.
Legris bases these 'Floral Correspondences' on detailed study of Sackville-West's and Nicolson's letters. Thus, she is channelling both their voices, but their exchange also channels her voice and gives colour to her botanical philosophy. In Legris' world, gardening is a physically and emotionally fraught business. We may feel kinship with our plants, but it is far from clear that they do the same for us. Even if we think we are caring for our plants, we may actually be hurting them. Though she does not point it out explicitly, the same, of course, could be said for our planet as a whole. 
Yet, Garden Physic is not simply another collection about the climate crisis treading over familiar ground. It is, above all, an expression of love and awe—one that Legris warmly invites her readers to share in. If the collection had a thesis, it would be two lines taken from the last section, 'De Materia Medica', which is inspired by the eponymous pharmacopoeia written by the first-century Greek physician Pedanius Dioscorides: 'Plants are the flesh of the Gods. / In the Kingdoms of Nature the final authority is earth' ('Flowers of Brass, [Book 5.88], Part 1. Indissoluble Earth'). Legris does not mean this in a romanticised way. Rather, she speaks of plants living in 'Gardens and other human-disturbed places. / Waste places and roads, roadsides and ditches'—of plants growing over, under, through, and alongside the human rather than apart from it ('Habitat'). Thus, Garden Physic advocates a radical humility in our relationship with plants, recovering the joys of gardening and reminding us of nature's capacity to heal and to nurture. 'Pharmacy begins in plants' Legris writes in 'Flowers of Brass', and in 'Prelude'': 
The history of botany is the history of pharmacy.
Plants for easing pain, plants for easing sleep.
Plants to ward off windy afflictions and poisonous beasts.
Plants for weakness of the stomach and eyes that weep. 
And so on. Moreover, in Legris' hand, plants receive agency of their own. There are, for example, 'Plants that scream when pulled from the ground. / Plants that purify the earth. […] Plants that balm the living and plants that preserve the dead' ('Prelude'). Throughout the collection, Legris manages to continue dialogue with traditional botanical literature and to break new ground at the same time. On one hand, rhyme and rhythm—not strict meter, but something approaching it—are an important aspect of Legris' technique at the micro level, adding dimension to her often striking if sometimes obscure vocabulary. On the other hand, Garden Physic is formally adventurous at the macro level. Legris makes generous uses of sentence fragments, with entire poems built as series of phrases and images. This technique suggests that perhaps we cannot but understand plants in fragments. 
The collection also includes maps, illustrations, and photographs by the author. Combined with the letter-exchange and the pharmacopoeia, these visual elements reveal the many ways in which gardening has come to hold meaning for Legris. Reading Garden Physic is like taking one of the plant potions of which she writes. If the structure of these poems sometimes becomes repetitive, Legris' 'rococo' (in her own words) style nonetheless leaves a rapturous impression on the whole. By turns humorous and down-to-earth, Legris is especially skilful at constructing images bit by bit before dropping an unexpected twist in the final line of a stanza or poem, as in 'Cockroach [Book 2.38]': 
Carboniferous cockroach.
Gregarious cockroach. 
Cockroaches who aggregate.
Cockroaches who shun the light.
Pound a millhouse cockroach with oil.
Boil a bakehouse cockroach to insect succulence.
Drip a drop in an ear to diminish an ache.
A dollop on the tongue to unlock the lungs. 
The message of Garden Physic is not explicitly political, nor is it particularly radical, but we should judge a collection against the standards it sets for itself, not for what it does not aim to do. As a successor to Pedanius Dioscorides, Nicholas Culpeper, Erasmus Darwin, Vita Sackville-West, and other botanical writers throughout the ages, Legris' contribution is remarkable. It is a collection full of joy and celebration and itself well worth celebrating. Its humility and seemingly effortless charm make it truly a work for 'the twenty-first century of this uncommon era'.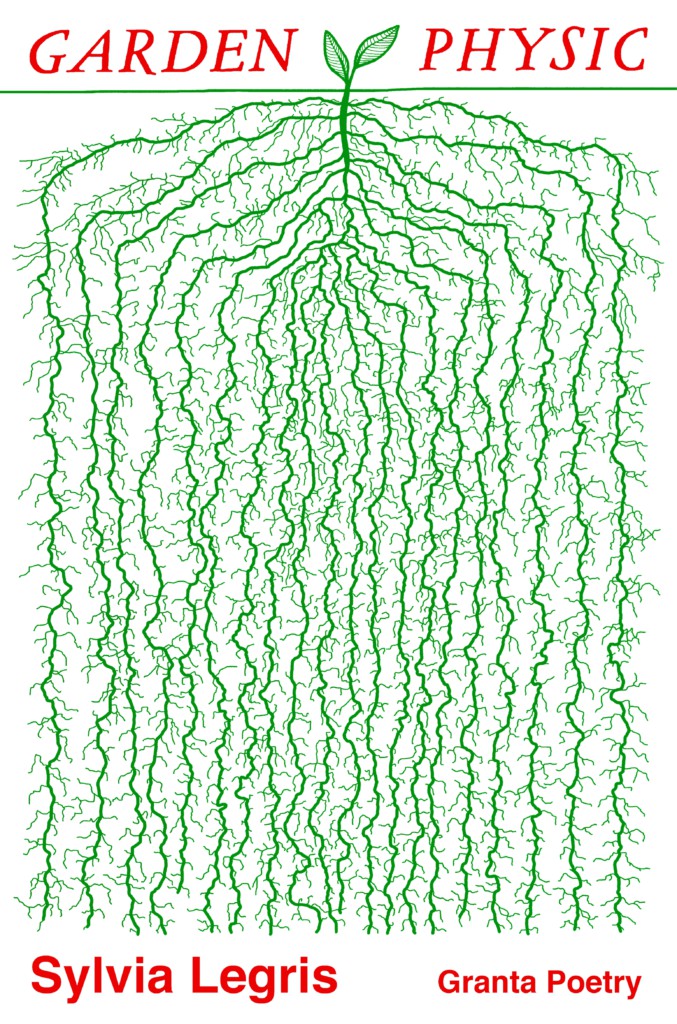 Maggie Wang's recent work appears in Harvard Review, Poetry Wales, and bath magg. She is a Ledbury Emerging Poetry Critic, a Barbican Young Poet, and the reviews editor at SUSPECT, the journal of NYC-based literary non-profit Singapore Unbound. Her debut pamphlet, The Sun on the Tip of a Snail's Shell, was published by Hazel Press in September 2022.