Within the context of contemporary poetry and modern poetic form, how does one begin to describe or characterise 'free verse'? As an academic, Hannah Sullivan's critical exploration of this question is evident in her stated research interests. She argues that 'the prosody of modern poetry is, to a large extent, determined by practices of lexical and syntactic repetition; reliance on noun-compounds and left-stressed polysyllabic words, techniques of parallelism and anaphora, and a preference for non-finite over finite verbs'.
Elsewhere, Sullivan writes of her interest in 'literary language…in how writers write and revise, particularly the process of innovation, in ways of classifying and interpreting style, and in the relationship between local and major form'. (University of Oxford, Faculty of English website)
These aesthetic concerns with the nature of free verse, the interplay between expansiveness and limitations and what constitutes literary style inevitably seep through the poetic scope of Sullivan's ambitious and wide-ranging debut, Three Poems. The collection shows the discernible influence of Sullivan's academic interests: Pound, Auden and, especially, the spectre of Eliot's Four Quartets is uncannily present at various moments throughout. The collection consists of three long poems: 'You, Very Young in New York', 'Repeat Until Time' and 'The Sandpit After Rain'.
Sullivan comments that the first poem, 'You, Very Young in New York' was written in 'a mood of wryly melancholic longing for an American life that was starting to seem as if it had happened to someone else'. (PBS Spring Bulletin, 2018). This sense of yearning and sadness are memorably conveyed in a poignant and evocative opening:
Rosy used to say that New York was a fairground.
'You will know when it's time, when the fair is over.'
But nothing seems to happen. You stand around
On the same street corners, smoking, thin-elbowed,
Looking down avenues in a lime-green dress
With one arm raised, waiting to get older.
Nothing happens.
This is an engaging introduction: a paean to cosmopolitanism, urban living in New York and a certain kind of ennui that characterises contemporary life. Throughout the poem, Sullivan depicts the thought processes, the musings and everyday encounters that occur in the hedonistic life of a young woman in the metropolis, looking for love and sexual fulfilment, whilst holding down an office job in an anonymously corporate office. Sullivan presents this lyric perspective through a second person narration, a 'you'. Yet, this 'you' has a strangely alienating effect on the reader. Rather than feeling involved, or implicated, the 'you' evoked here feels detached, removed, perhaps oblivious to the emptiness and decadence of Western consumerism, whilst 'In Chennai, meanwhile, a man is waiting for your analysis,/ Eating his breakfast of microwaved dal'. Indeed, at times, it's uncertain as to the extent in which the persona of the poem is complicit in or critical of such global power imbalances and inequalities.
Sullivan effectively evokes the multiculturalism and consumerism that characterises New York. There are vivid contemporary references to labels, brands, places, names, music, food, fashion, social media and technology references that capture the paraphernalia of modern life, its dizzying, artificial nature.
Your friends wear flannel and McDonald's name badges,
They talk about Ben Bernanke and Isabel Marant wedges.
…as you are dancing in a suit skirt to the Killer's 'Mr Brightside',
Feeling the anthem soar and rise, he makes the Powerpoint slides;
What is also noticeable here is Sullivan's use of meter, of rhyming couplets which evidence an adherence to conventional forms and a preference for the long line. This lends itself conveniently to the use of anecdote, detail and narrative. She herself describes her aim in writing the poem as not to write 'a "poem" but a kind of essay in verse'.
The second poem in the collection, 'Repeat Until Time' is a philosophical treatise, which plays upon ideas on repetition and history. It is sub-titled, 'The Heraclitus Poem' with an epigraph, 'On those who step into the same rivers, different and different rivers keep flowing'. Recalling Larkin, Sullivan writes:
Days may be where we live, but mornings are eternity.
They wake us, and every day waking is absurdity;
All the things you did yesterday to do over again, eternally
Interspersing the poem are flashes of cynicism, a lack of belief or faith in the world, in love, even. The narrator in the second section of the poem remarks that, 'It is hard to say if there is progress in history'. Later, pondering on a relationship where the loved one is seen with 'A hand in someone else's hand', she concludes that, 'none of those things that meant so much survive,/ Untarnished, hearing the same things multiplied'.
The final stanzas of the poem evidence a pessimism about humanity in its re-imagining of the atom bomb test of July 1945 and references Oppenheimer's infamous quotation of the line 'I am become Shiva, death, the shatterer of worlds' from the Bhagavad Gita:
Out loud he says, 'It worked.' No glitches.
The Director takes hot thumbs from his belt loops,
And struts across the room. Blood in bruised ears.
Now we're all motherfucking sons of bitches.
'Repeat Until Time' consists of a series of loosely connected musings on disparate subjects and images: trees, rivers, cultural references to film, pop culture, social media, airport settings, technology. There are allusions to Henry James, Shakespeare, Larkin, E.M Forster, Monet. Throughout, Sullivan theorises on the relationship between form and content, the challenges or impossibility of originality:
There is saying something the same thing in a different form,
There is saying something new in the same form,
There is saying the same thing again in the same form
There is not much saying something new in a new form
The final poem in the collection, 'The Sandpit After Rain' focuses on the death of the speaker's father and the birth of a child. Appropriately, it reiterates many of the themes of the two earlier poems and links together these two major events in a philosophical rumination on the inevitable cycle of life and death and the way that things repeat themselves. The subtitles, 'Stuffing a Chicken', 'Hospital Windowsills', 'When the Egg Meets the Whisk' and 'The Year of Getting Cards', reflect domestic, comical and tragic concerns. On seeing her baby for the first time, the speaker comments:
The baby did not look like my father at all,
But there was a resemblance:
Our slight awkwardness with each other
Again, in its cadences, rhythms, form and repetitions, the poem recalls the influence of Eliot and Larkin, apparent in the mundane observation 'Dull as any family business/ Dying is what the dead pass on'. Although at times these literary allegiances endow the poem with a sense of impersonality, the final lines are rather more emotionally affecting as the speaker reflects on her dual roles, 'A mother and the child you were/You have been among the living twice'.
Overall, Three Poems stands as an admirable debut collection, impressive and compelling in its sophistication, sharp observation and alert attention to rhyme. Sullivan utilises various poetic forms with great dexterity and skill. Occasionally, the surface of the narrative felt rather busy and cluttered with detail. Despite this, the collection clearly seeks both to explore and expand the boundaries of the long poem in its contemporary form.
---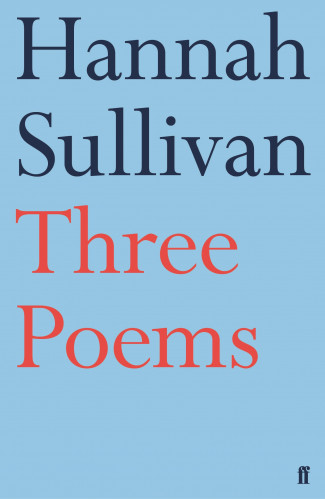 You can buy Three Poems from Faber & Faber.
Jennifer Lee Tsai is a British-Chinese poet based in Liverpool. A graduate of St Andrews and Liverpool Universities, she holds an MA in Creative Writing (Poetry) with Distinction from the University of Manchester. Jennifer is a fellow of The Complete Works III. Her poems appear in the Bloodaxe anthology, Ten: Poets of the New Generation (2017) and are published in Smoke, The Rialto and forthcoming in Oxford Poetry. Jennifer is an Associate Editor for the poetry magazine Smoke. She is currently working towards a first collection.
The Ledbury Emerging Critics Programme was founded this year by Sandeep Parmar and Sarah Howe to encourage diversity in poetry reviewing culture and support emerging critical voices. Open to budding BAME poetry critics resident in the UK, the scheme offers an intensive eight-month mentorship programme, including workshops, one-to-one mentorship and critical feedback.
The Poetry School will be publishing reviews by all eight participants in the Ledbury Emerging Critics Programme.