Sria Chatterjee, John Sheehy, Eleanor Penny, Claire Collison, Neringa Dastoor, and Iris Colomb spent a month in the studio at C4RD and attended workshops with poets Holly Corfield Carr and Chris McCabe, and artist Jamie John James Jenkinson, as well as one-on-one tutorials with Gordon Shrigley. The residency was intended to allow the chosen poets to experiment with work at the nexus of poetry and drawing. Over September, we'll be displaying a selection of work completed during the residency.
The first poet-artist is John Sheehy, a selection of whose work is below. His exhibition 'It's nice but I wouldn't have it in my living room' opens tonight 14th September to 17th September at St Peter's Church, Kensington Park Road, Notting Hill.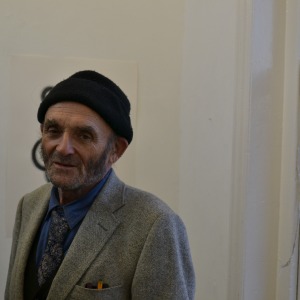 John Sheehy was born in the south west of Ireland in 1949. He immigrated to London in the 1950's and has been living in the city ever since. From 1965 until 1989 he worked as a builder and roofer, but endured lengthy spells of unemployment. He has experienced periods of homelessness and suffered mental health problems. He first began to paint in May 1999 at the suggestion of his psychotherapist. Early attempts revealed a natural ability to conjure powerful imagery from his imagination and memory. His prolific output spans painting, sculpture, printmaking and photography, as well as writing poetry. He paints with a passionate sense of urgency that is evident in his art, and has exhibited in Germany, Norway, Somerset House, The British Museum and The Royal Academy.
---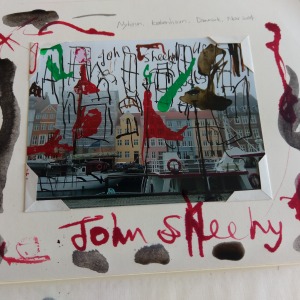 #1: This scene is of a European city in a found photo. The unknown photographer and myself were inspired my the boats and the colours of the dwellings, tempting me to draw into them.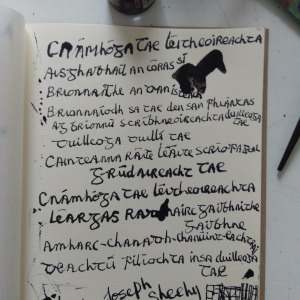 #2: One of my Gaelic poems, the translated title 'The Readings and Leftovers In The Tea Leaves'. These are the stories, poems and lyrics Forged and blacksmithed into the tea leaves.
#3: This is tears and thirst, cured only by good, strong brewed English Tea.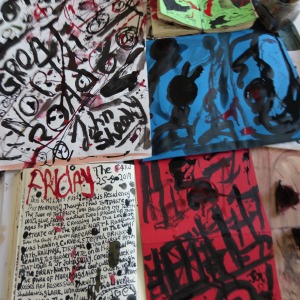 #4: Moving on towards the end of the residency. The gates will be locked and the time for moving will come. New doors and gates opening.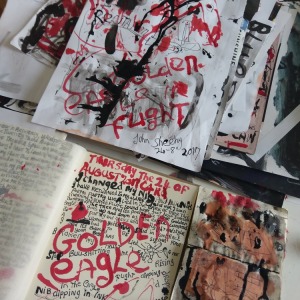 #5: The Golden Eagle, matching the movement of the nib in ink to the movement of the flight of the Eagle.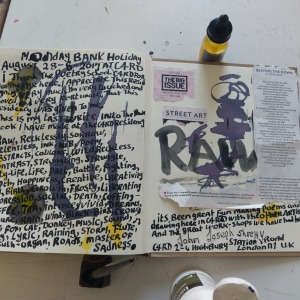 #6: August Bank Holiday, the last day of the residency. London has emptied out, silence and quiet has come to the studio. London has headed for the seaside coast. I was chatting to Phil; he's finished his project. There's no one else in the studio.