'Magical' is not a word I often use to describe an experience, but my first visit to Poetry in Aldeburgh was certainly that.
The town's location on a gorgeous shingly beach, the soft, early November light we were blessed with for most of the weekend, the cosy pubs we'd head to in the evening for a pint by the wood burner — a shout out, here, to our friends at the Cross Keys! — all helped create an unforgettable experience.
Most precious was the chance Aldeburgh offered me to make new friends and catch up with old ones — this seemed to happen a lot at the Co-op — while I was very happy to finally meet in the flesh poets I'd long admired on the page and stage. Writing can be a lonely process. To be in the same place for a long — and, yes, boozy — weekend in the company of so many other poets, the feeling of community and conviviality this offered, was priceless.
The warm welcome offered by Poetry in Aldeburgh and the Poetry School staff at the festival's launch on Friday at Jubilee Hall set the tone for the weekend. I felt lucky to be there as we raised glasses to the festival's success and Jean Sprackland read from her new collection, Green Noise.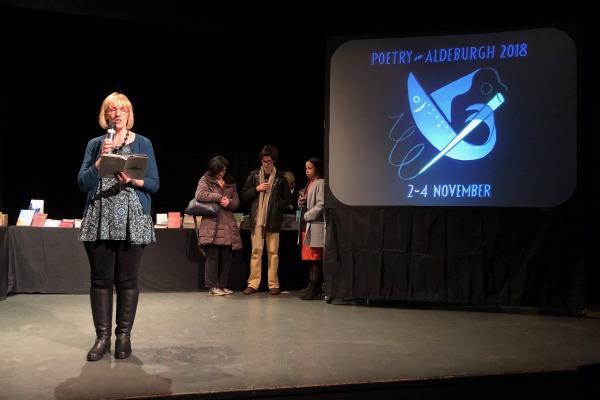 That evening I attended the sold-out Norwich Café Writers event at the Peter Pears Gallery, hosted by the inimitable Liz Sennitt Clough, poet and editor of The Fenland Reed. The readings by Lewis Buxton, Martin Figura, Helen Ivory, Julia Webb, Ramona Herdman and Stuart Charlesworth expressed sadness and joy, while exploring family conflict, anxiety and the long shadow of history. The event showcased what a poetry powerhouse East Anglia is, and having met Julia, Ramona and Stuart before, it was great to hear them read for the first time.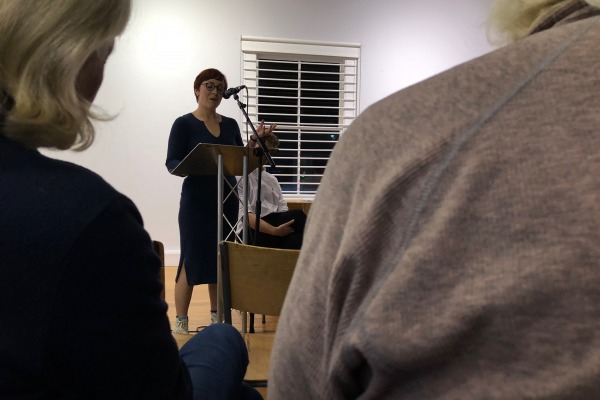 Up early on Saturday with a slight hangover — I was introduced to Ghost Ship ale at the Cross Keys the night before — I could not resist a walk on the beach as the sun rose from the sea. I could have spent all morning admiring the vivid lilacs, pinks and golds of the autumnal Suffolk sky, but I was off to join Yvonne Reddick's 'Poetry of Loss' workshop at the — rather nippy — Baptist Church.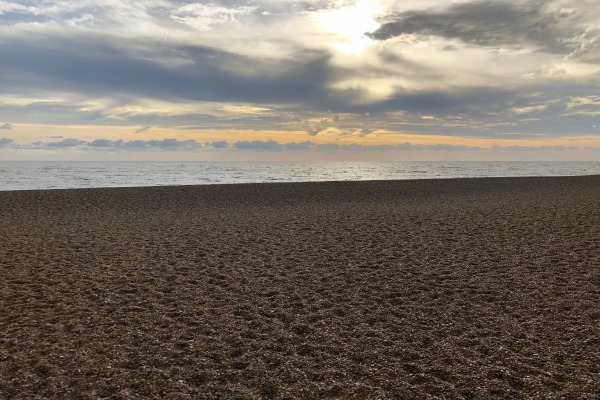 Yvonne's workshop — full house! — was the first event I'd booked when tickets for Aldeburgh went on sale. Having heard Yvonne read at the launch of the Jerwood/Arvon Mentoring Programme 2017/18 anthology the previous June, her elegiac poetry had stayed with me. That morning in Aldeburgh, Yvonne helped us approach the difficult topic of grief, be it over a person, object, country or the environment, with sensitivity but also humour.
'Smaller absences and bereavements can give you really useful ways of writing and thinking about greater losses,' Yvonne advised. Her prompts, inspired by hard-hitting elegies that included Fiona Moore's heartbreaking poem 'The Shirt', generated memorable, thoughtful poems from our group.
Later that day I was thrilled to co-host a workshop on translating LGBTQ poetry with Modern Poetry in Translation editor Clare Pollard. The idea of the workshop was borne out of the summer publication of MPT's LGBTQ issue, 'The House of Thirst' — a stunning, moving issue I'm proud to have been included in with my translations of two poems by the Greek gay poet Andreas Aggelákis.
Poetry in Aldeburgh kindly offered us a garden sitting room in a private home for the workshop, which made it a more intimate affair. Some among us had never translated before. Wishing to offer the group a taste of the Poetry Translation Centre's workshops, where Clare and I first met, I provided a bridge translation of a poem about a male escort ad by the Greek poet Vasilis Amanatidis. We went on to edit my literal version, creating a final, tongue-in-cheek translation of Amanatidis' potent poem about desire, hidden humanity and the purpose of poetry.
I'm happy to say that debate, even over a single word, was fierce. Collaboration is a great way to translate poetry, so it was brilliant to share this experience with the group. Why I felt coy when saying the word 'cock' in front of everyone is another matter, which I can't explain. But the high I felt after the workshop will be hard to repeat.
I ended my Saturday by joining the Poetry School's John Canfield's 'daisy chain' open mic. It was a fun event that kept us on our toes, as each poet was urged to read a poem of theirs that was linked thematically to the one preceding it. By the end we'd somehow gone from Winston Churchill to male pattern baldness, childhood, pilgrimage and heavy partying.
As a result of the latter — Ghost Ship, you have a lot to answer for… — Sunday found me nursing yet another hangover, this time back at Jubilee Hall. But what a delight the hours spent there were, starting with the announcement of the winner of the 2018 Ginkgo Prize for Ecopoetry. Memorably, the ceremony was nearly upstaged by judge Mimi Khalvati's four-legged namesake Mimi the Pekinese.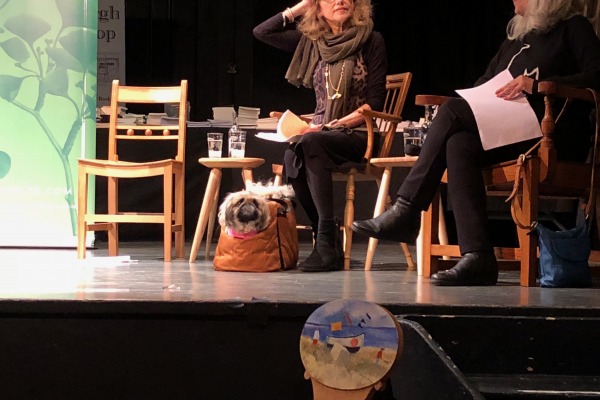 The competition received over 1,000 entries, attracting poems that expressed grief and anger over the loss of species and biodiversity, while celebrating the preciousness of nature. It was won by Jemma Borg for her poem 'Unripe'. Accepting the prize, Borg said she'd listened hard to what the poem wanted to say. This turned out to be hope. 'Hope compared to despair, the sense that everything is lost,' Borg told us.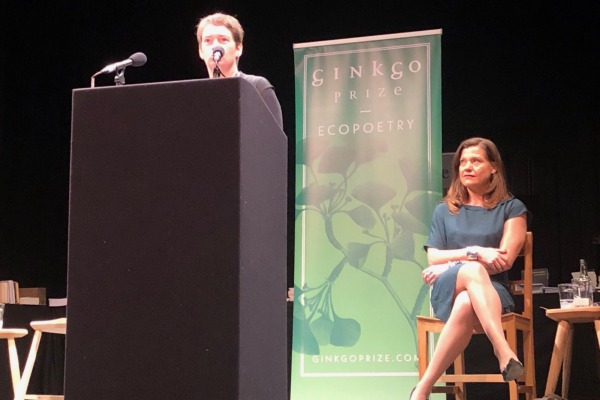 In my opinion, Aldeburgh kept the best for last: the coming together on the Jubilee Hall stage of Jacqueline Saphra, AK Blakemore, Amy Key and Liz Sennitt Clough, who read from their recently published or forthcoming second collections.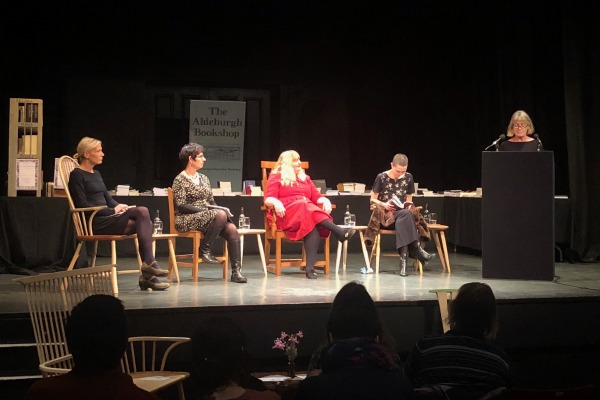 I'd read Blakemore's Fondue twice over the summer, so hearing her read from it was a real treat. Saphra's response to Yeats' 'Leda and the Swan' was astounding, as was her discomforting poem about Lot's daughters. Key's final lines in 'I do not need the sea to love me back' ('I waited for the sea to notice me / But the sea never notices anyone') brought a shiver down my spine.
Monday morning found me sleep-deprived and feeling my system was, by that point, 50% poetry, 50% alcohol. Poets really know how to party — till 4am. Yes, I'd not had a meal on a plate since Thursday evening and my liver was grateful to be leaving Aldeburgh. But as I waited in Saxmundham for my train to Ipswich and then on to London — how handy a shorthand for Saxmundham the sax emoji had proven — I knew it'd take me a long time to come down from the high of Aldeburgh. What a happy and, indeed, magical time.
---
The 2018 Poetry in Aldeburgh festival, co-curated by the Poetry School, took place on the 2nd – 4th November 2018.
Kostya Tsolákis is a London-based Greek poet, journalist and translator. His poems have appeared in Envoi, Strix, The Fenland Reed and Brittle Star, his translations in MPT. He is co-editor of harana poetry, a new online magazine for poets writing in English as a second or parallel language.