Danne Jobin speaks with poet Richard Scott, author of Soho (Faber), about gay shame, the body, and openness.
Danne Jobin and Richard Scott will read together at the Queer Studio event at Poetry in Aldeburgh on Saturday 3rd November, 17:30.
---
Danne Jobin: David Halperin and Valerie Traub's concept of gay shame has heavily influenced your work. In fact, in Soho you quote Eve Sedgwick in an epigraph: "Shame, too, makes identity." How does gay shame affect your poetry?
Richard Scott: This is such a generous and well-considered question. Thank you for noticing my obsession with gay shame – and it is an obsession. Gay shame affects my entire life, not just my poetry. For the longest time I have felt estranged to the notion of gay pride, whilst, of course, realising all the good it has done and continues to do across the world – but I just don't feel recklessly proud in an unchecked way. Gay pride asks that queer people forget and forgive everything done to them, both historically and personally, in the name of acceptance and looming equality, and that is something that I am not prepared to do. Gay shame is far more realistic and radical and asks that we acknowledge our true ancestry, the complicated and conflicting poles of invisibility, trauma and illegality. The theory of gay shame, as pioneered by such important thinkers as Halperin, Traub, Sedgwick and Bersani, speaks to the ever-present need for queer people to face head-on and then move past their 'shameful' origins. It states that there can be no personal or communal growth without this painful honesty.
A quarter of Soho is devoted to gay shame and its intersection with poetry, indeed the 'Shame' poems were written whilst devouring Halperin & Traub's Gay Shame – a collection of essays intended to celebrate and record the 2003 academic conference at the University of Michigan – and I became fascinated by how theory might function in a poetic landscape. In the same way that shame interrupts identity – before going on to create it, as posited by Sedgwick – the language and syntax of theory interrupt the poems themselves and force a kind of remaking. These interjections alter the path of the poem itself, formally, linguistically and narratively, to arrive at a poetic landscape which attempts to balance theory with poetry and shame with a kind of implied confession, or supposed pride. And these quotes, these queer voices, deserve to be celebrated so their authors appear in the marginalia, rather than being hidden in the notes at the back of the book. Their names – the queer theorists, the early proponents of gay shame and the poets – are a huge part of the poems themselves.
But whilst talking about gay shame I think it can be important to also state how positive a thing I think it is. I don't want to submerge the reader into a place of reckless negativity or to leave them in a place of unchecked shame – rather, the poems are a challenge to the willing, an opportunity to uncover a place where we are 'free from shame but made from shame'. I see gay shame as a place where theory and creativity might converge to produce a hopeful roadmap towards a trauma-free future.
Danne Jobin: Your poems are very close to the body, its hungers and vulnerabilities. You do not aestheticise the body in conventional terms, and yet there is a raw but sacred quality to its presence in the poems, its openness perhaps representing a point of entry into something else. Is there a queer tradition of writing the body, and how would you consider yourself part of such a project?
Richard Scott: It is a dangerous time to be queer – indeed when has it ever not been ? – and the vulnerability of the queer body haunts me constantly. There are daily attacks around the globe on not just queer people but upon the legislation and human rights which protects us. To write about the queer body is to try to address this living battle – but then the question becomes: can the poet have any power over this state of affairs? I would argue yes, that a poem joins a massive tapestry of protest, resistance, reportage, journalism and art that seeks to illuminate and ultimately change these injustices.
You are right when you say that I don't exactly write to aestheticise the body – but I hope I haven't completely overlooked the beauty of queer bodies in order to speak towards the damage and harm that individual people and societies are causing them. I think that the queer tradition of writing about the body, as it exists, is nuanced and full of multiplicity which always addresses potential harm. From Cavafy to James L. White to D. A. Powell, the bodies under the poetic gaze are always at risk, be it subtle or explicit. Even Shakespeare's Fair Youth is at risk – of being un-queered at the behest of society and perhaps even Shakespeare himself. Even Whitman's Twenty-Eight Young Men are vulnerable in the face of 'the unseen hand,' the poet's coded voyeurism and death itself.
If there is a point of entry into something else as you say, in terms of my writing about the body, it is that vulnerability, that harm, that potential wound. But I hope that my poetry also praises the ultimate survival of the queer body, despite all of this danger, I am wont to marvel, 'just how did our gorgeous species survive'? Even the statue of Apollo in my poem 'museum', who bears the brunt of these rough and murderous centuries, becomes 'sun-/ stroked hero'. The epiphany of queer survival sustains me.
Danne Jobin: Your poetry often makes references to your father, as well as instances of potential trauma. "Admission" questions the notion of authenticity or the pressure to confess one's experience, and yet your collections are very exposed. How has the process of writing, and seeing your work published, influenced your relationships with people close to you?
Poetry, by its very definition, is artificial. There can be no absolute admission nor is total exposure possible. Even if a poet were to attempt to write the actual truth, the layers of editing and craft would chip away at this. And the mind of the reader would also interpret things in a different way, by necessity, fracturing any supposed truth further. I am interested in writing poetry, not in telling the truth. That said, all my poems begin in truth; however I am not going to speak about what aspects of these truths remain nor indeed the autobiographical truths that were the original stimuli. The search for truth in poetry, whilst fascinating and perhaps compulsive for the passionate reader, is ultimately dangerous as it places a limit on art. You do not need to have experienced something to write about it.
But of course, when the stakes are high and harm, trauma, shame and abuse become the subject matters, there can be this supposed need for authenticity. This is understandable but again it interrupts creativity. My poems 'Permissions' and 'Admission' were written directly towards these conflicting fissures – art/ artifice vs. our human need for truth. There is a huge amount of trauma addressed in Soho but I am not sure that you could call my book exposed or exposing – it is poetry not autobiography, even if it began with elements of autobiography. I am lucky enough that my friends, the people who are close to me, understand this contradiction – this contradiction which is implicit in all art.
Danne Jobin: When reading your work out in public, you use a very intimate and subdued tone, drawing your listeners close. What effects do you hope to induce in your audience when sharing your poetry?
Richard Scott: I am so happy that you've heard me read my poetry. Thank you so much for coming to listen! And I am thrilled that we are going to read together at Poetry in Aldeburgh, as part of Queer Studio. I cannot overstate how important it is for me to be visibly, and perhaps audibly, queer. Although as queer people we are at risk from so much, we are also living in a wonderful moment when an event like Queer Studio is possible and openly queer poetry is being published. This I choose to celebrate by openness.
Our queer ancestors had to fight to stay alive and so by necessity were not writing poetry, or if they were, their poems were heavily encoded or hidden or covertly distributed to their closest friends, lovers and allies. I believe that it is of the upmost importance as queer people to face this complexity and trauma head-on and to be openly queer in our writing. I don't mean that every poem has to be about a same-sex sex act, nor does it have to be explicit, but that writing towards a sense of queer poetics is an important act of protest and celebration.
We, as poets, have the opportunity to be totally open and in doing so we might educate, illuminate and change hearts, minds and politics even further. Poetry, as an art-form, thrives on the subtle and the unsaid, but I never want that 'unsaid' to be my sexuality.
I am aware that I am getting off topic now, apologies for that, but I just think that writing a queer poem is an act of resistance and that reading one out publicly is a deeply important act of protest. But you don't have to shout loudly to protest; perhaps that's why my voice might come across as subdued in readings, as I want the language and the poetry to shout, rather than the poet.
---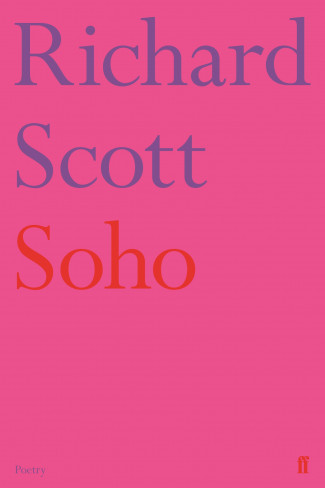 Richard Scott was born in London in 1981. He has been a winner of the Wasafiri New Writing Prize, a Jerwood/Arvon Poetry Mentee and a member of the Aldeburgh 8. His pamphlet Wound (Rialto) won the Michael Marks Poetry Award 2016 and his poem 'crocodile' won the 2017 Poetry London Competition. Soho (Faber & Faber) is his first book.

Danne Jobin is a PhD candidate in literature at the University of Kent and will be reading in Aldeburgh during the Queer Studio session. Earlier this year, they received an Arts Council bursary for a Free Read at the Literary Consultancy. Their poem "The Studio" is forthcoming in Tenebrae: A Journal of Poetics.