He's expecting daintiness
a man might cup
in his hands.
She tells how Great-Aunt Li
arrived one winter.
Her mother wept
but she was a brave child,
dreamed of dancing
at the Emperor's court.
Great-Aunt soaked her feet
in herbs and animal blood,
scrunched the little toes,
pressed them sideways
against the sole
then wound cotton strips
up and down, over
and under and back
again: pulling tight,
she explains, mimicking
the action, every day,
year after year until
they grew numb.
And did you dance?
he whispers, unnerved
by a gauzed conical
distortion from instep
to tapering big toe,
takes photographs
he'll float
in his darkroom sink,
hang up to dry
like squares
of threadbare silk.
She's eager for her portrait,
rebandages her feet,
slots them
into the husks
of her lotus shoes.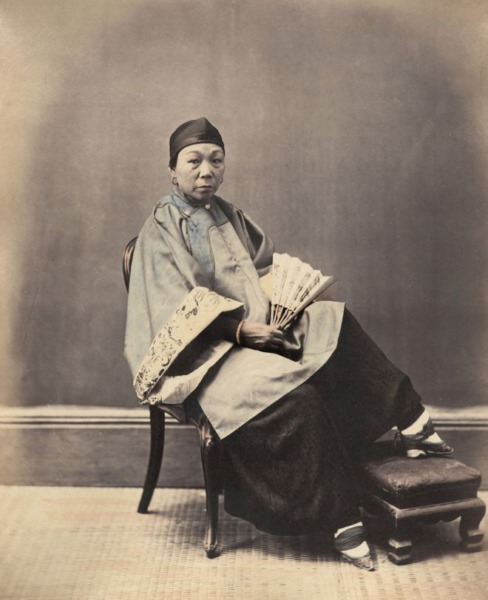 Sheila Jacob was born and raised in Birmingham and has lived in Wales for the past forty years. She considers herself to be an old new poet having resumed writing four years ago after a long absence. Her work is published in Sarasvati, The Dawntreader, The Cannon's Mouth, The Poetry Shed, Clear Poetry, Dotty and The Dreamers and was one of the runners-up in this year's Poetry Space Competition judged by Myra Schneider. She has three children, five grandchildren and lives in N.E.Wales with her husband.
"I wrote this poem for an assignment in Sally Flint's course Adventures in the Blind Field. Sally asked us to consider what sort of images inspired us to write. I found a series of photographs taken by Englishman William Saunders of Shanghai residents in the late nineteenth century and was particularly attracted to one of a woman wearing a traditional spring outfit with tiny feet. Saunders reportedly said she let him take a photograph of her unbound feet before the portrait and the poem took off from there."