I wrote 'The Shipwrecked House II' at my grandmother's funeral. I know this because this image is my contribution to her funeral book.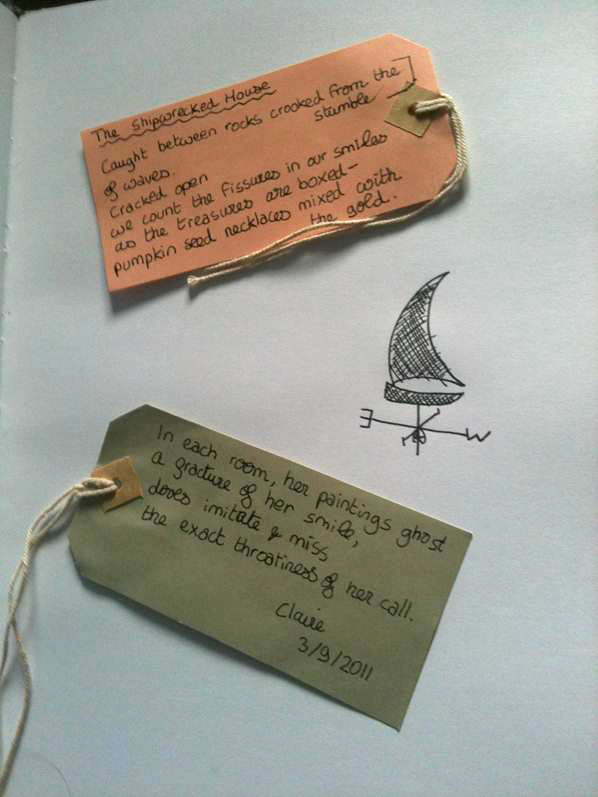 A few weeks later I met Tom Chivers for the first time to discuss my yet untitled collection. I wanted to go with 'Hook' in memory of my grandmother (her maiden name) and who was still very much at the front of my mind, but as time went by I became more and more attached to The Shipwrecked House as a title.
I think that to explain the poem, I have to say a little about my grandmother: Anna Delicia Coatalen. To summarize her is difficult. She was first and foremost an artist, mostly a wood engraver in her early years, mostly a painter in her later years. She lived in a house in Brittany perched by the sea, in which the walls were covered from floor to ceiling in paintings, one in particular painted directly on the wall next to the dining table. I spent most of my summers there as a child, in spite of living only a few towns away, but have equally happy memories of going back there as an adult, improvising recipes with her in a way that never happened outside of those moments. She never got angry but could put you in your place with a few words, and had a wonderful gift for nicknames. Oh and she drank a glass of whiskey every day well into her nineties. In short, she was incredible, fiercely intelligent, relentlessly creative, the kind of person who made everyone who met her fall under her spell.
Her paintings, her house, and most of all herself, have been an important influence on my own writing, and it's especially evident in the two title poems of The Shipwrecked House. Even though they are upsetting poems for me and my family to read as they remind us that she is dead (something which is still hard to believe even now, over two years later), it's important to me that they exist as she was such a positive presence, whereas much of the collection is a reaction to a much more negative influence in my family.
So, the draft. The image shows an early draft which hasn't got much in common with the version that eventually appeared in the collection. I do like that there's the drawing of the weathervane as that inspired the line in the 'The Shipwrecked House I' (written later): 'My mother twists her ring like a weathervane / east to west; still the sun refuses to set'.
Tom wasn't keen on the poem in its first form. I think it ended up in the 'Maybe' even in the 'No' pile. I remember reassuring him that I'd redraft it and make it work somehow. In the end it took several months for that to happen.
The thing that helped the poem click into place was discovering a poem by Frank O' Hara called 'A Quiet Poem':
When music is far enough away
the eyelid does not often move
and objects are still as lavender
without breath or distant rejoinder.
The cloud is then so subtly dragged
away by the silver flying machine
that the thought of it alone echoes
unbelievably; the sound of the motor falls
like a coin toward the ocean's floor
and the eye does not flicker
as it does when in the loud sun a coin
rises and nicks the near air. Now,
slowly, the heart breathes to music
while the coins lie in wet yellow sand.
I decided to 'cast' my poem into O'Hara's to see if it would unblock something. It did. Suddenly the poem flowed, had music. I felt it gave me courage to develop my poem further, and it also reminded me that a dab of humour can amplify the effect of pathos. In the end I stole a few expressions from O'Hara: 'When …. far enough away', 'are still as', 'falls/like a coin toward the ocean's floor', 'echoes unbelievably', the breathing too. The subject, however, is, I hope you'll agree, completely transformed.
So I needed a hand from another poet, one of the first English-language poets I fell for, to take the poem where it needed to go. I could have probably shaken off the last traces of O'Hara from the poem if I'd wanted to, but it felt right to have his poem haunting mine for this particular poem. After all, what could be more apt for a poem about a house that refuses to give up the ghost?
The Shipwrecked House II
After Frank O'Hara
When waves were far enough away
and the pumpkin seeds still as amber¹
in the treasure chest, the calls tumblingly
came to crook the paintings, writings, all.
Now your voice falls like a coin to the ocean's floor
and the house is dragged apart by the fractures
of your smiles — the thought of its absence echoes
unbelievably — our breath opens like a stiff drawer.
You are everywhere and nowhere, you are
the unfinished cup of tea and its straw,
dipped like a paintbrush². I want to keep
the yoghurts that went out of date yesterday.
1 – 'When waves were far enough away / and the pumpkin seeds still as amber' – One of the things that touched me the most is that her jewellery box contained only amber pieces and jewellery made by my aunts and mother when they were children, including an ancient daisy chain. I associate amber with Eavan Boland's gorgeous poem of the same name: 'this resin / collected seeds, leaves, and even small feathers as it fell / and fell, // which now in a sunny atmosphere seem as alive as / they ever were'.
2 – 'the unfinished cup of tea and its straw, / dipped like a paintbrush' – As mentioned, my grandmother was an artist, and her house was cluttered with paintbrushes. Towards the end of her life, with sight and then her strength failing her, this became increasingly difficult. She also had to drink tea through a straw, an image that became so habitual to me over my last visits that it came to symbolise her. These signs of recent presence are part of the frustration of our inability to pick up this straw and paint back into being a loved one. This need to freeze the world the recently departed lived in, attaching significance to the smallest details, preserving signs of their habitual activity is one of the hardest parts of the grieving process. To disrupt the environment they are associated with feels like a whole new loss. I've not had the courage to return to this house for nearly two years now.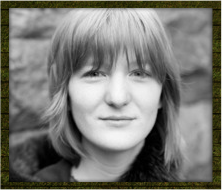 Claire Trévien is the Anglo-Breton author of the pamphlet Low-Tide Lottery (Salt), and The Shipwrecked House (Penned in the Margins), which is longlisted in this year's Guardian First Book Award. Her poetry has appeared in numerous magazines and anthologies including the Forward Book of Poetry 2014 and Best British Poetry 2012. She edits Sabotage Reviews, co-edits Verse Kraken, and co-organizes Penning Perfumes.