The poets will be introduced by Nine Arches Press editor Jane Commane and Primers selecting editor Hannah Lowe. The event is free and no booking is required. Free glass of wine on entry.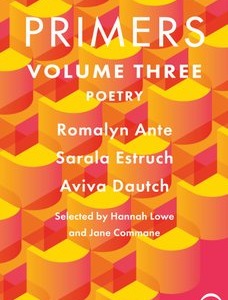 Primers Volume Three is the result of Nine Arches Press and the Poetry School's third nationwide search for exciting and emerging talent in contemporary poetry. This year's guest editor Hannah Lowe and Nine Arches editor Jane Commane read hundreds of anonymous entries and three poets emerged as clear choices: Romalyn Ante, Sarala Estruch and Aviva Dautch.
Primers: Volume Three collects together and introduces these three new vital voices.
Romalyn Ante grew up in the Philippines. She recently joint-won the Manchester Poetry Prize, and was awarded Platinum Award for Poetry by the Creative Future Literary Awards. She was also commended in the Battered Moons Poetry Competition. She is currently a Jerwood/Arvon mentee 17/18. She hopes to publish her debut collection in the near future.
Aviva Dautch teaches at the British Library and Bethlem Museum of the Mind (the original Bedlam). She has an MA in creative and life writing from Goldsmiths and a PhD in poetry from Royal Holloway. Her poems are published in magazines including Agenda, Modern Poetry in Translation, The North, The Rialto and The Poetry Review.
Sarala Estruch is a London-based writer, poet, and emerging critic. She holds degrees in English Literature and Creative Writing from Goldsmiths College and Birkbeck College, University of London. Her poetry, fiction, creative non-fiction and reviews have appeared in Wasafiri, The North, The Jamaica Observer and in anthologies. Sarala's work has been commended for the Wasafiri New Writing Prize and the PBS National Student Poetry Competition.