We're delighted to announce the line-up for Poetry in Aldeburgh Festival 2017, co-curated by The Poetry School.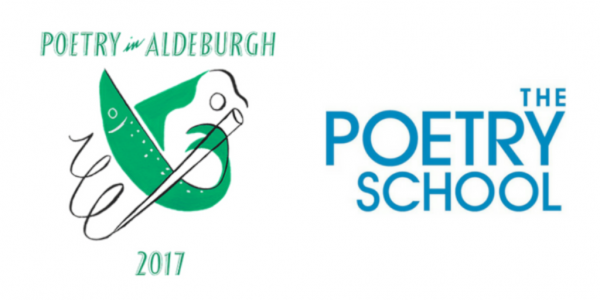 As Headline Partners for the festival, The Poetry School are offering  an exciting and diverse line-up of workshops, talks and readings alongside Poetry in Aldeburgh's main programme of events.
The festival features headline readings from Cholmondeley Award winners Bernard O'Donoghue and Lavinia Greenlaw, events with The Rialto, Magma, and Ambit  magazines, the launch of Ishion Hutchinson's House of Lords and Commons, an exhibition with artist Polly Binns, and The Singing Glacier,  a performance of poetry, music and film by Helen Mort and William Carslake.
To see the full programme, click here. Poetry School events are marked with our special PS20 logo on the programme and listed below.
Poetry School Events at Poetry in Aldeburgh
Friday 3rd
John Canfield MCs an opening night open mic. Come along to read and listen.
Saturday 4th
Kathryn Maris, Elizabeth Speller and the Resurgence Prize Winner let you in on the secrets of their craft.
Poetry Pharmacy and 25 Years of the Forward Prize
William Sieghart talking about  the origins of his new book 'The Poetry Pharmacy' and opening the Pharmacy's doors at Aldeburgh with Poetry School's Sally Carruthers
Leonardo Boix, Karen McCarthy Woolf, Miriam Nash, and Richard Price read and discuss four poems each.
On the Road with Refugee Tales
David Herd introduces the charity and Ted Hughes finalist Caroline Smith reads work inspired by the walk with Poetry School students Claire Collison and Ben Rogers.
Rachel Long, Keith Jarrett and Raymond Antrobus
Three of the most exciting talents in contemporary poetry, featuring tutor Rachel Long and Poetry School board member Raymond Antrobus.
Sunday 5th 
Poetry School Open House Breakfast
A warm welcome and informal gathering with the Poetry School team. Please sign up at the Festival box Office / Hub on Saturday.
Masterclass with Ishion Hutchinson. Poetic transmission—poems crossing the borders of language, via translation—is as old as poetry itself. Looking at the case of poems by two 20th century Greek poets, Cavafy's "Ithaca" and Seferis's "On a Foreign Line of Verse," we will talk through the fraught layers of the modernist practice of creative theft.
Resurgence Prize with The Poetry School 
Judges Lavinia Greenlaw and Dr. Mina Gorji with prize founder Peter Phelps introduce readings by the winning 2017 poets.
Celebrating Mimi Khalvati & Her Students
Celebratory reading with Mimi Khalvati, co-founder of the Poetry School and 4 of her former students – Edward Doegar, Hannah Lowe, Maitreyabandhu and Karen McCarthy Woolf.
Save