Ahead of her Spring Term course 'Me, Myself and (Not) I', we caught up with poet Saradha Soobrayen.
AL: Hi Saradha. Your new course with us is called 'Me, Myself and (Not) I'. Could you tell us what prompted the ideas for the course?
SS: Last year I was working on the Poetry Library's Open day Living in Future Times and I was inspired by transgendered poetics, the idea of living outside of language or existing simultaneously in a future or past self. It reminded me of the writers who inhabit different selves as in Dorothy Porter's novel in verse Akhenaten, where the Egyptian King put out tentacles on her imagination and how Emily Dickinson developed a persona against Patriarchy while Whitman's Song of Myself inhabits a self out of time imagining a future reader where "Imagination and actuality must be united."
AL: Many of your recent poems concern the Chagos islanders, who were forcibly removed from their homeland to make way for a US airbase. How do you go about getting into the feelings and thoughts of others in a situation like this?
SS: I was moved by the Chagossian struggles and how there were dying of 'Sagren', profound sadness and I wondered what if it had happened to me and my family. Adrienne Rich describes how "one of the great functions of art is to help us imagine what it is like to be not ourselves, what it is like to be someone or something else, what it is like to live in another skin, what it is like to live in another body, and in that sense to surpass ourselves, to go out beyond ourselves."  In order to really understand I've spoken to Chagossian activists, and Chagossian supporters who continue to campaign for the Chagossian right of return.
AL: Do we have the right to tell other people's stories? At what point does empathy become 'ventriloquism'? And is this problem tied up with the use of the poetic 'I'?
SS: Galway Kinnell says "It's poetry's duty and part of its role to speak out", as many poets have done so before such as Muriel Rukeyser and Carolyn Forché who advocated the ethical responsibility of poetry to bear witness. This year I am pleased to be the poet in residence for CHAGOS: Cultural Heritage Across Generations, working with an anthropologist to develop a digital archive and conduct poetic inquiry, collaborate on translation of texts, and facilitate creative literacy workshops with the Chagos Community. I believe the poet's intention should be questioned and the poetic 'I' sacrificed in favour of empowering the community to speak for themselves.
AL: In your course description, you talk about exploring the seemingly contradictory "art of disguise and self-revelation". Can writing in personas reveal universal or personal 'truths'?
SS: I'm looking forward to discussing Beckett and Pessoa's work and the idea of creating speakers for our many contradictory truths. According to Hannah Arendt, "We humanize what is going on in the world and in ourselves only by speaking of it, and in the course of speaking of it we learn to be human." Sometimes this needs to be tackled obliquely or a specific poetic device becomes the central path towards speaking honestly, and in doing so what seems to belong to one self actually belongs to many others. Or as Fernando Pessoa says "To have opinions is to sell out to yourself. To have no opinions is to exist. To have every opinion is to be a poet."
AL: You're a qualified writing coach. What does coaching writers involve?
SS: While mentoring is concerned with supporting the writing, coaching is most concerned with supporting the writer. Primarily coaching involves listening and reflecting back and waiting patiently for those open questions to arise organically which allows the writer the opportunities to find their own answers or discover the many opinions hidden within themselves.
AL: Finally, what are you up to at the moment?
SS: These days I'm exploring solitude and silence and ways of moving slowly in a fast and expectant world.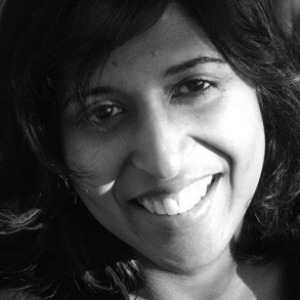 Saradha Soobrayen is a qualified Writing Coach and Creative Arts Mentor. The Guardian named her as one of the 'Twelve to watch', up and coming new generation of poets. She received an Eric Gregory Award in 2004 and was the poet representing Mauritius as part of the Southbank Center Poetry Parnassus Festival. Saradha is currently developing Sounds Like Root Shock, a poetic inquiry into the depopulation of the Chagos Archipelago.  Her course this term is 'Me, Myself and (Not) I.'