With the deadline for Primers Volume Four, our mentoring, editing and publication scheme, just around the corner, we thought we'd catch up with last year's Primers poets, Sarala Estruch, Romalyn Ante and Aviva Dautch to find out about their experience on the programme. You can buy their book, Primers Volume Three here!
First things first, how did it feel to be chosen as one of the three Primers poets?
Romalyn Ante: It feels great! Being chosen is not only a validation of your work and talent but also a chance for you to be mentored by a high-calibre poet and to be introduced in the poetry scene. I am forever thankful for that.
Aviva Dautch: I was shocked because I thought the poems by the other shortlistees were extraordinary. It was one of the most diverse, interesting groupings that I'd seen in a long time and, with such strong competition, I didn't expect to win. After the celebrations finished and reality set-in, I felt this overwhelming sense of relief that an opportunity had finally opened up. I've been reading and writing poetry for a long time, but my family life and financial circumstances meant I couldn't focus on a poetry career when I was in my twenties and early thirties. I also thought it important to learn my craft and it took a while for the technical knowledge to bed in until it became muscle-memory. However each year, as I found myself passing the age-thresholds for most of the 'emerging' prizes,  publication seemed to get farther away. The fact that Primers isn't age-barred is so important for writers like me who need time to develop and I'm very grateful to The Poetry School and Nine Arches for understanding that and being open and inclusive.
Sarala Estruch: I was in shock for a couple of weeks. I'd applied to other schemes for poets/emerging writers over the years and gotten used to not being selected. Being shortlisted and then subsequently being chosen as one of the three Primers poets felt almost too good to be true.
Throughout the early part of the programme, you received one-to-one mentoring. How did you find that experience? 
Sarala Estruch: I was immensely thrilled at being able to meet and work with one of my poetry heroes, Hannah Lowe. Hannah's insight into my poems was invaluable. I felt like she understood exactly what I was trying to achieve and was there to help me make the work be the best it could be.
Aviva Dautch: Being mentored by Hannah Lowe was a joy. She's such a fantastic poet and someone I've long admired. To have your work treated seriously by a writer like Hannah is confidence-building and made me look at the poems afresh in a different way. She'd read every poem very carefully and came to our first session with a list of considered suggestions that I then worked on and she reviewed with me once I'd redrafted. Sometimes the change was just a single word, but precision is everything in poetry and often that alteration was crucial. She was also very generous in the way she shared her own journey as a writer practically, creatively and emotionally, and talked through what my next steps could / should be.
Romalyn Ante: Hannah is a terrific and inspirational mentor. She helped me establish stronger poetic voice and realise the importance of  technical skills in your craft.
The final book – Primers Volume Three – was edited by Nine Arches Press editor Jane Commane. Was this the first time you'd worked in-depth with an editor on your poems? What difference did it make?
Sarala Estruch: Yes, this was the first time I'd worked in-depth with an editor on my poems, and I felt so privileged to be getting this time, one-on-one, with an editor as talented and experienced as Jane. She helped me to see, and cut away, the clutter so that the most important images could shine through.
Romalyn Ante: Yes. Jane is just fantastic! We know because of the success of Nine Arches Press and Under the Radar! I think having an editor who believes in you and your work really matters. Jane is someone who is very skilful on editing; but she can also empathise with you as a poet. I think trust, understanding, respect and belief between editor and client are necessary to have an effective working alliance
Aviva Dautch: Working with Jane was an invaluable learning experience as she is a fantastically sharp-eyed and meticulous editor as well as a talented poet in her own right. Producing a collection is very different from publishing individual poems in magazines and anthologies and we talked a lot about what it means to put poems together as a sequence: how to find a balance between thematic and formal coherence and variation, thinking about the emotional weight of poems, how they lead into each other and how the order shapes a reader's understanding. With Jane, as with Hannah, I very much appreciated her generosity and desire to help us make our work the best it could be and have huge respect for how much she put into the publication process, thinking about every detail.
Do you feel that your poetry has changed over the course of Primers? Where are you now compared with last year? 
Romalyn Ante: Yes. I get to have deeper conversations with my poems – I learn to spot what is working and what is not working in a poem. I learn the importance of how a poem looks on the page and how the use of certain technical skills can make a big difference to a poem.
Aviva Dautch: Putting such emotionally charged material out into the world was scary but, with Hannah's and Jane's support and encouragement, I realised the risk would be worth it. So Primers has made me braver. It's given me the confidence to trust in my work and the next step will hopefully be a full collection.
Sarala Estruch: My poetry has certainly changed over the course of Primers. I am so grateful to both Hannah and Jane for their help, and feel that I have learned so much from their expertise, particularly with regards to paring down my poems to the essential words and images, and learning that what you leave out of a poem is as important as what you leave in.
Having fourteen of my poems published in a book by a publisher as respected as Nine Arches Press, and showcased through the promotion and support of an organisation with as much prestige as The Poetry School has been an amazing experience. The Primers scheme has provided both validation and visibility — two things that are essential for an emerging poet, with validation being perhaps the most important thing. Primers has allowed me to take myself seriously as a poet.
I am currently working towards completing my debut pamphlet (almost there …) and have quite a clear idea for a debut full collection – the essential next step.
Were there any unexpected benefits to Primers?
Sarala Estruch: The opportunity to read my work at the Birmingham Literature Festival and at a vibrant London launch has definitely been a highlight of the scheme (and I'm looking forward to reading at Poetry Swindon in October, too!).
Meeting such lovely people has also been an unexpected bonus of the Primers scheme. Romalyn and Aviva are wonderful people as well as poets, as are Hannah, Jane, Ali and the rest of the team at the Poetry School (who must surely all be poets!). I have also met some really great people (and poets) through social media and at readings as a result of the scheme, including Cynthia Miller and Ben Bransfield (Primers 2 poets). I feel that I am slowly entering a poetry community that I have been tentatively circling for many years, and it feels like a homecoming!
Romalyn Ante: It really helped me put my work out there. This experience allowed me to meet new writers too and I am glad that I have made a lifetime of friendship with other poets.
Aviva Dautch: Meeting, and having my poems published alongside, my inspirational Primers sisters, Romalyn and Sarala. When I read the first set of proofs, I was struck by how well it worked as a whole book. We are women from three generations of immigrant families, all of us have other languages and are addressing issues of culture and heritage in our work. There was so much resonance between the themes of our poems (and, I was delighted to find out, between the three of us in person too) and I love how the whole concept of joint publication and the way Primers is set-up enables us to amplify each others' voices. The sense of camaraderie is also true of the wider Nine Arches Press list – it feels like being welcomed into a community of poets, which is lovely.
---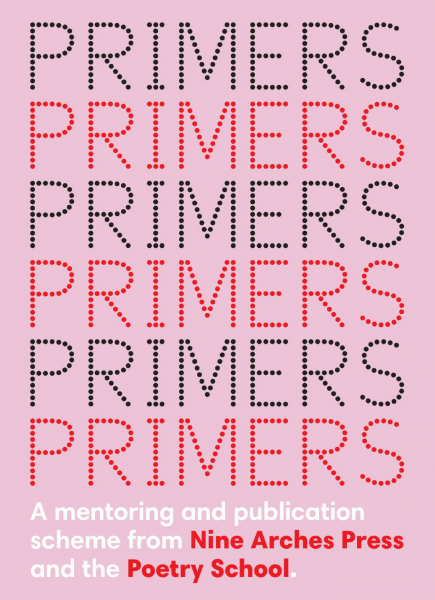 Primers is an annual mentoring and publication scheme organised by the Poetry School and Nine Arches Press. It provides a unique opportunity for talented poets to find publication and receive a programme of supportive feedback, mentoring and promotion.
Three selected poets will receive mentoring from poet Kim Moore, author of The Art of Falling and winner of the 2016 Geoffrey Faber Memorial Prize, editorial support from Nine Arches Press editor and Jerwood Compton Poetry Fellow Jane Commane, and publication in Primers Volume Four, followed by a programme of readings and launches. There are up to 25 free entries available for writers who would not otherwise be able to afford to enter. The judges are poet Kim Moore and editor Jane Commane. To apply, click here.