A CPD series for professional & aspiring poets
Becoming a freelance poet – whether full- or part-time, alongside employed work – requires a range of business and practical skills, not to mention the actual practice of writing and publishing. These sessions aim to creatively and reflectively unpack these skills, inviting participants to consider their own strengths, resources, and areas for development.
In this special programme, you'll explore skills and ways of being that will enable you to flourish as a freelance poet. We're already creative, reflective practitioners and, as such, well-resourced to discover inventive, personalised ways of working effectively.
As your 'own boss', how can you be the best, most compassionate, supportive, developmental leader? When you find that your 'boss' (i.e., yourself) needs extra support, where else do you look for it? Access to these skills and knowledges should be available to all. But we rarely talk about them in the poetry world.
Not simply imparting information, these sessions invite participants to use the reflective and developmental potential of writing, to inform choices you make about your working life as a poet.
Let's talk about time-management, money, taxes, and inboxes. Let's explore branding and even networking. Let's assert our value and our values. And let's do it together, with flair, like poets.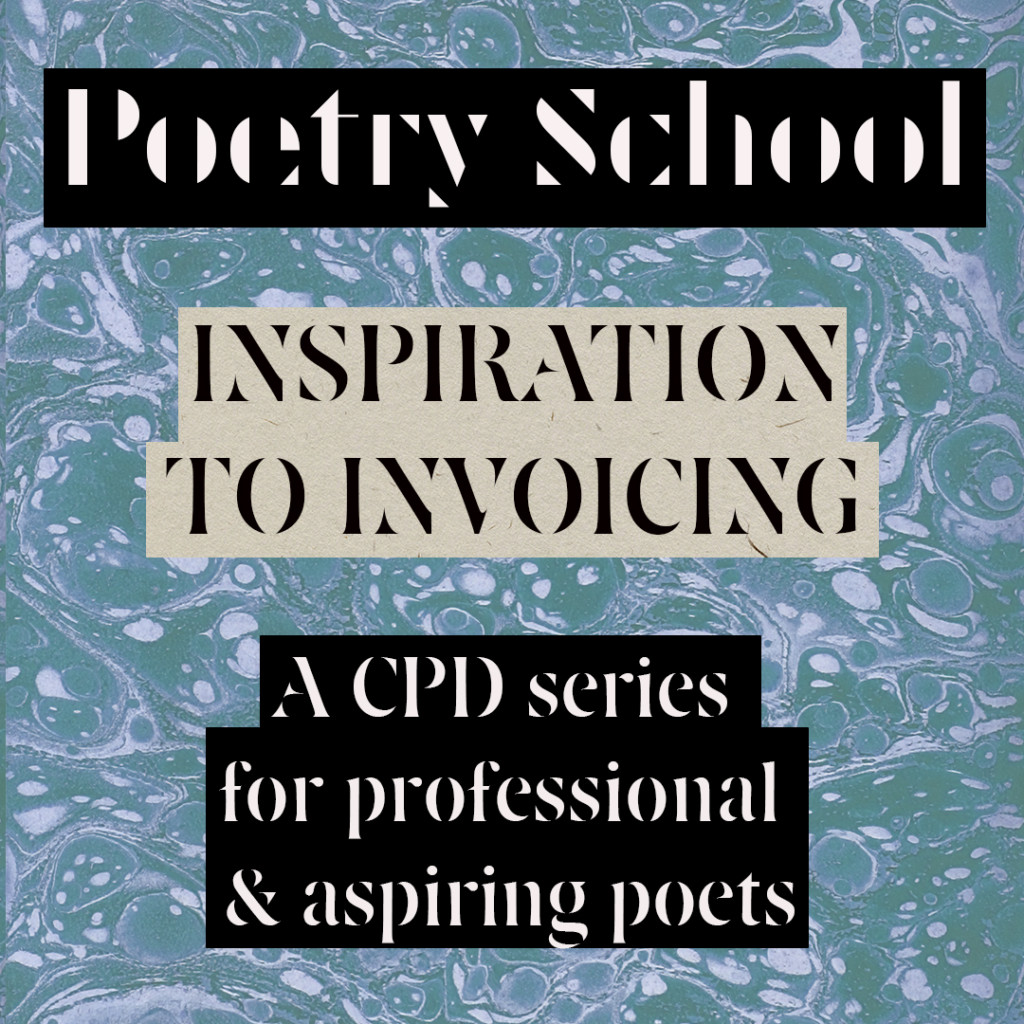 This CPD series is a new initiative from the Poetry School, designed to impart vital business practices and skills to professional and aspiring writers at an affordable cost. Each session will run twice to provide a range of attendance options for participants.
In addition to the workshop programme, leading poets will also share their wisdom and experience of 'the work around the work' on social media. Expect videos from Anthony Anaxagorou, Jacqueline Saphra, Romalyn Ante, and more.
You can see the full schedule for the programme below:
Everything But the Writing: Balancing Poetry Life with Jane Commane – 18 & 21 February
Don't Duplicate, Diversify: Networks & Activism with Hannah Hodgson – 18 February
Rooting Yourself: Creative & Peer Support, with Caleb Parkin & Nathalie Teitler – 28 February
Shop Front: Building A Poet's Profile with Dfiza Benson – 25 February & 2 March
Forms: Finance, Funding & Not-Getting Rich Quick with Emma Simon – 4 & 7 March
Being Busy, or Making Progress? Professional Support with Nick Makoha – 4 & 9 March
If you attend multiple sessions in the series, you will receive a bundle discount, with a lower per session cost the more you sign up for. Here are the bundle pricing options:
1 session: £50
2 sessions: £95
3 sessions: £135
4 sessions: £170
5 sessions: £200
6 sessions: £225
Please purchase the sessions you would like to attend, and we will refund you the difference between the full cost you have paid and the bundle pricing within two weeks of your booking. Alternatively, please contact us directly by emailing [email protected] to arrange payment for a bundle pricing option.
Our concessionary discounts are also available on all bundle options. To apply for a concession, please send relevant documentation showing your eligibility to [email protected]. Conditions of eligibility are detailed here.
If you have any questions or wish to be added to the waiting list of a sold-out course, please email [email protected].