It's National Poetry Day Eve and to celebrate we're publishing another poem from one of our incredible Poetry School tutors on the theme of 'Messages: Say it with a Poem'. Jacqueline Saphra sees you into NPD2016 with her wonderful poem 'In the winter of 1962 my mother'!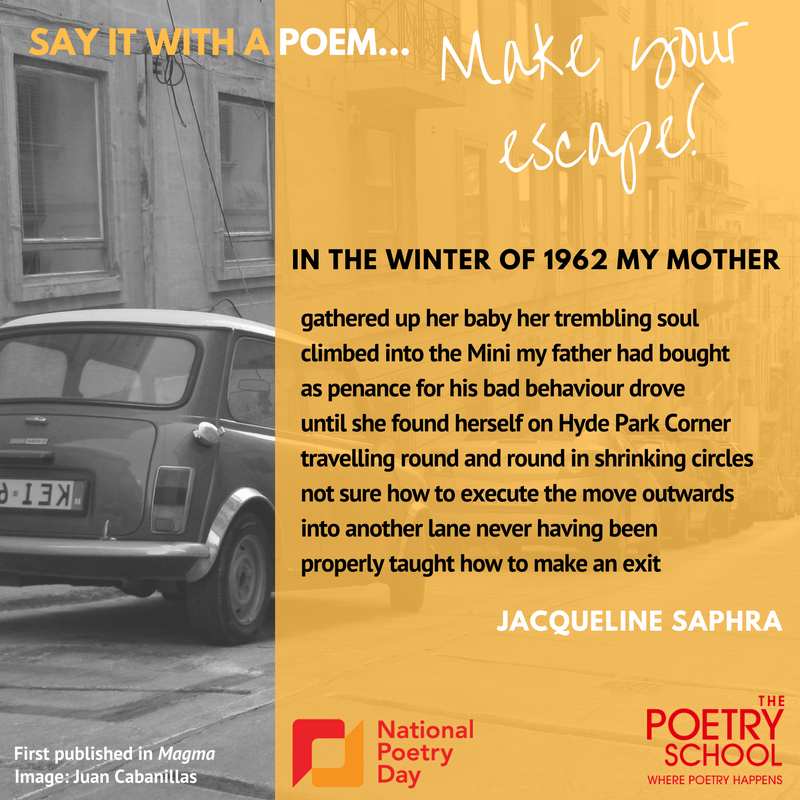 'In the winter of 1962 my mother' was originally published in Magma Poetry.
Jacqueline Saphra's first full collection, The Kitchen of Lovely Contraptions (flipped eye) was nominated for the Aldeburgh First Collection Prize 2011. Her recent illustrated pamphlet, If I Lay on my Back I Saw Nothing but Naked Women, was published by The Emma Press and won the Saboteur Award for Best Collaborative work in 2015. She lives in London and teaches for the Poetry School
National Poetry Day, the annual mass celebration of poetry and all things poetical, takes place on Thursday 6 October 2016. It is an initiative of the Forward Arts Foundation, a charity that celebrates excellence in poetry and widens its audience. They bring together leading poetry, literacy and literary organisations around a shared purpose: promoting the enjoyment, discovery and sharing of poetry.
The Poetry School is a national arts organisation providing inspiring tuition and opportunities for poets and poetry audiences. With established teaching centres throughout England as well as online courses, downloadable activities, and the world's biggest social network dedicated to poetry – CAMPUS – the Poetry School is unique in its ability to reach and develop aspiring poets wherever they may be, both in the UK and internationally.