On October 6th, it's National Poetry Day 2016, the annual mass celebration of poetry and all things poetical. The theme for this year is 'Messages: Say it with a Poem', so we've asked a generous handful of our Poetry School tutors for a poem with a message to share with the world.
It's Day Five of our poem-a-day countdown to National Poetry Day, and today's poem is 'Save the Date' by poet and Poetry School tutor Holly Hopkins.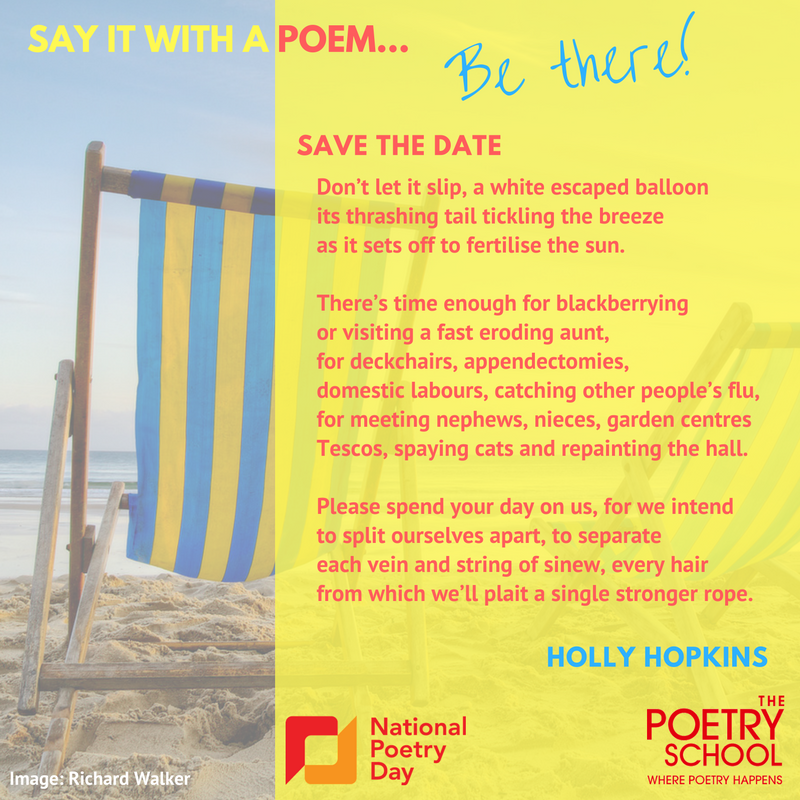 Holly Hopkins lives and works in London. Her debut pamphlet, Soon Every House Will Have One, won the 2014 Poetry Business Pamphlet Competition and Poetry Book Society Pamphlet Choice. Holly received an Eric Gregory Award in 2011 and she was an assistant editor of The Rialto during 2015. She is the Forward Prizes Manager.
National Poetry Day, the annual mass celebration of poetry and all things poetical, takes place on Thursday 6 October 2016. It is an initiative of the Forward Arts Foundation, a charity that celebrates excellence in poetry and widens its audience. They bring together leading poetry, literacy and literary organisations around a shared purpose: promoting the enjoyment, discovery and sharing of poetry.
The Poetry School is a national arts organisation providing inspiring tuition and opportunities for poets and poetry audiences. With established teaching centres throughout England as well as online courses, downloadable activities, and the world's biggest social network dedicated to poetry – CAMPUS – the Poetry School is unique in its ability to reach and develop aspiring poets wherever they may be, both in the UK and internationally.