On October 6th, it's National Poetry Day 2016, the annual mass celebration of poetry and all things poetical. The theme for this year is 'Messages: Say it with a Poem', so we've asked a generous handful of our Poetry School tutors for a poem with a message to share with the world.
In the build up to the big day, we're posting a poem with a message every single day. Day Two's offering is 'Go On, Say Something In French' by Claire Trévien. Her message is: Try something new!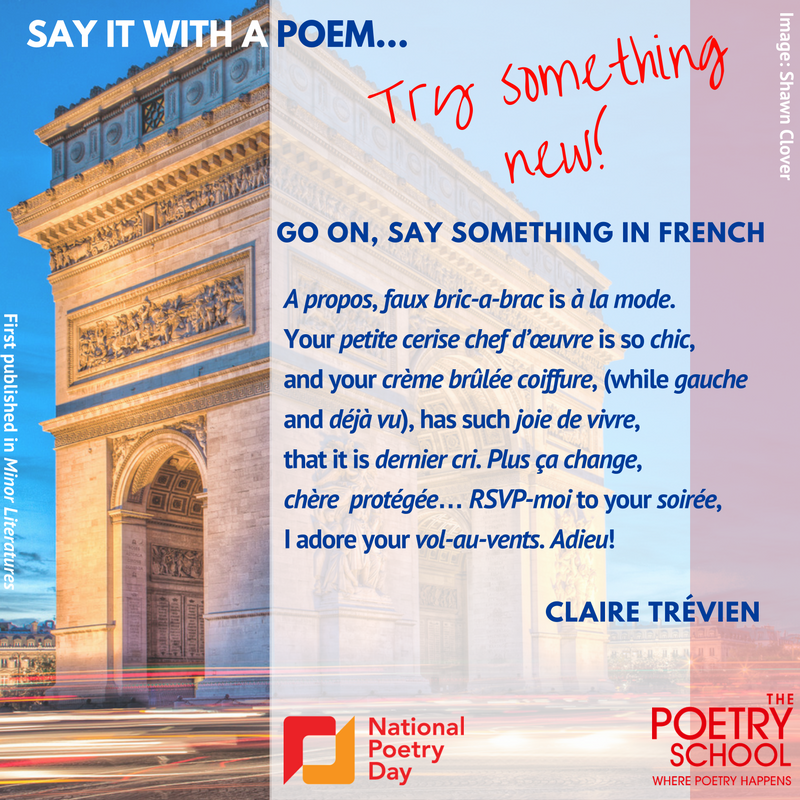 This poem was first published in Minor Literatures.
Claire Trévien is an Anglo-Breton poet, editor, reviewer, workshop leader and live literature producer. She is the author of the pamphlet Low-Tide Lottery (Salt, 2011), and The Shipwrecked House (Penned in the Margins, 2013), which was longlisted in the Guardian First Book Award. Her second collection, Astéronymes, was published by Penned in the Margins in March 2016. Her poetry has appeared in numerous publications including POETRY, The Sunday Times, and The Guardian. She edits Sabotage Reviews.
National Poetry Day, the annual mass celebration of poetry and all things poetical, takes place on Thursday 6 October 2016. It is an initiative of the Forward Arts Foundation, a charity that celebrates excellence in poetry and widens its audience. They bring together leading poetry, literacy and literary organisations around a shared purpose: promoting the enjoyment, discovery and sharing of poetry.
The Poetry School is a national arts organisation providing inspiring tuition and opportunities for poets and poetry audiences. With established teaching centres throughout England as well as online courses, downloadable activities, and the world's biggest social network dedicated to poetry – CAMPUS – the Poetry School is unique in its ability to reach and develop aspiring poets wherever they may be, both in the UK and internationally.