Happy National Poetry Day 2016! Today's the annual mass celebration of poetry and all things poetical. The theme for this year is 'Messages: Say it with a Poem', so we asked a generous handful of our Poetry School tutors for a poem with a message to share with the world.
The final poem of our National Poetry Day countdown is 'The Adulteress' by Poetry School super-tutor Kathryn Maris!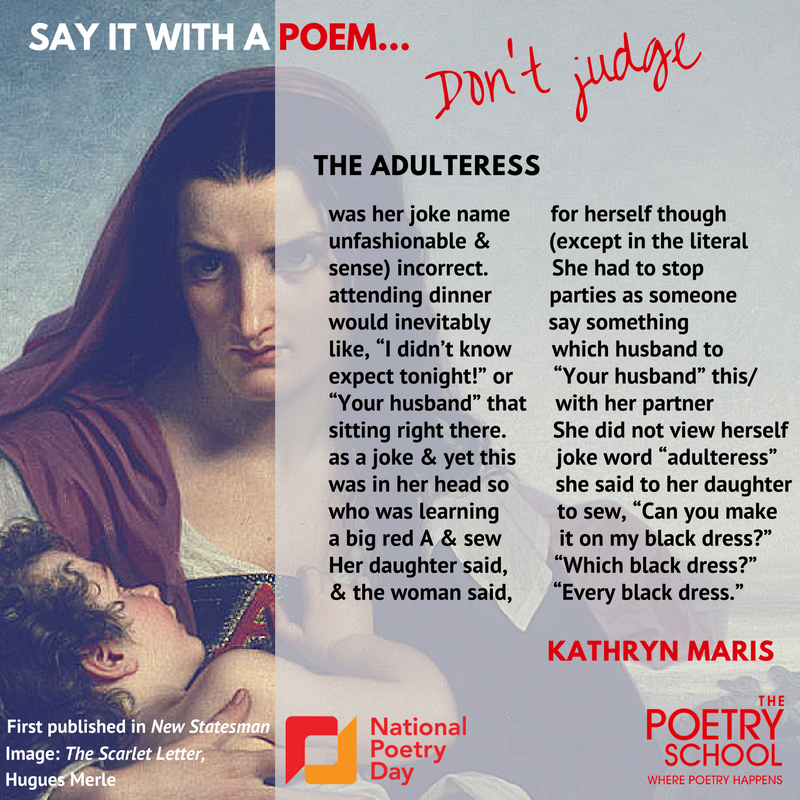 This poem was first published in The New Statesman. 
Kathryn Maris, a poet from New York City who has lived in London since 1999, is the author of two collections: The Book of Jobs (Four Way Books, 2006) and God Loves You (Seren, 2013). She has won a Pushcart Prize, an Academy of American Poets award, and fellowships from Yaddo, the Fine Arts Work Center in Provincetown and the Hawthornden Castle. Her poems have appeared in periodicals and websites such as Poetry Review, Poetry London, Slate, Poetry, The Spectator, The Financial Times, The Guardian, as well as anthologies including Best British Poetry 2012 and the Oxford Poets Anthology. In addition to teaching creative writing at the Poetry School, she writes essays, reviews and interviews for British and American publications.
National Poetry Day, the annual mass celebration of poetry and all things poetical, takes place on Thursday 6 October 2016. It is an initiative of the Forward Arts Foundation, a charity that celebrates excellence in poetry and widens its audience. They bring together leading poetry, literacy and literary organisations around a shared purpose: promoting the enjoyment, discovery and sharing of poetry.
The Poetry School is a national arts organisation providing inspiring tuition and opportunities for poets and poetry audiences. With established teaching centres throughout England as well as online courses, downloadable activities, and the world's biggest social network dedicated to poetry – CAMPUS – the Poetry School is unique in its ability to reach and develop aspiring poets wherever they may be, both in the UK and internationally.