The fourth of our eight Is There A Doctor in the House? poets is Janet Rogerson. Janet is currently studying on the PhD Creative Writing programme at the University of Manchester.
Hi Janet – tell us a bit about your PhD
Janet: It's a Creative Writing PhD, which is two-thirds creative and one-third research. The split is fortunate because I'm two-thirds creative and probably a bit less than one-third research. My research subject is still evolving. It's about sound and cinema in the poems of Frank O'Hara. Frank O'Hara is an exciting poet to study, and what he did in his poems was game-changing. I want to do him justice, but I have to say I'm not finding it easy.
Tell us a bit about what you're planning to offer in your lecture/workshop?
Janet: My workshop will incorporate Frank O'Hara's legendary swiftness of composition to inspire participants to write; after half an hour hands will ache and heads will be spinning but lots of exciting things will have been written. My lecture is about sound, it's what I love most about poetry and something I think isn't talked about nearly enough.
How are your studies affecting your writing?
Janet: The creative section of my PhD is healthy and I have many poems, but I'm at the point now where I need to step away from the pen and head to the library. The problem with Frank O'Hara is he is so inspiring that reading him just makes me want to write poems and lots of them. Also, when you are reading a poet with such focus it's inevitable that you start to do a little bit of this thing that he does, and a little bit of that thing that he does. For example, I already have one poem entitled, 'Poem'; I'm having to keep a really close eye on myself.
What's been the best 'eureka' moment in your research?
Janet: It took me a long time to decide the subject I was going to study, I originally submitted a different proposal completely, and my supervisors have been very patient and accommodating. I guess the only 'eureka' like moment I've had so far was when I decided to ditch the other guy and focus on Frank, that was great. I'm waiting for a proper one though, any day now!
Which other lectures/workshops are you going to sit in on at the festival?
Janet: I'd like to go to A B Jackson's because I've met him and he's very likeable and interesting. Same with John Challis, and his is related to film which is something I'm very interested in. I'm pleased the lectures will be filmed because they all look great and there isn't one I'd want to miss.
Are you going to put 'Dr' on your credit cards?
Janet: No, I won't use the title at all, because I would live in fear of having to say: 'Sorry, I'm not that kind of Doctor', as someone takes their last breath at my feet.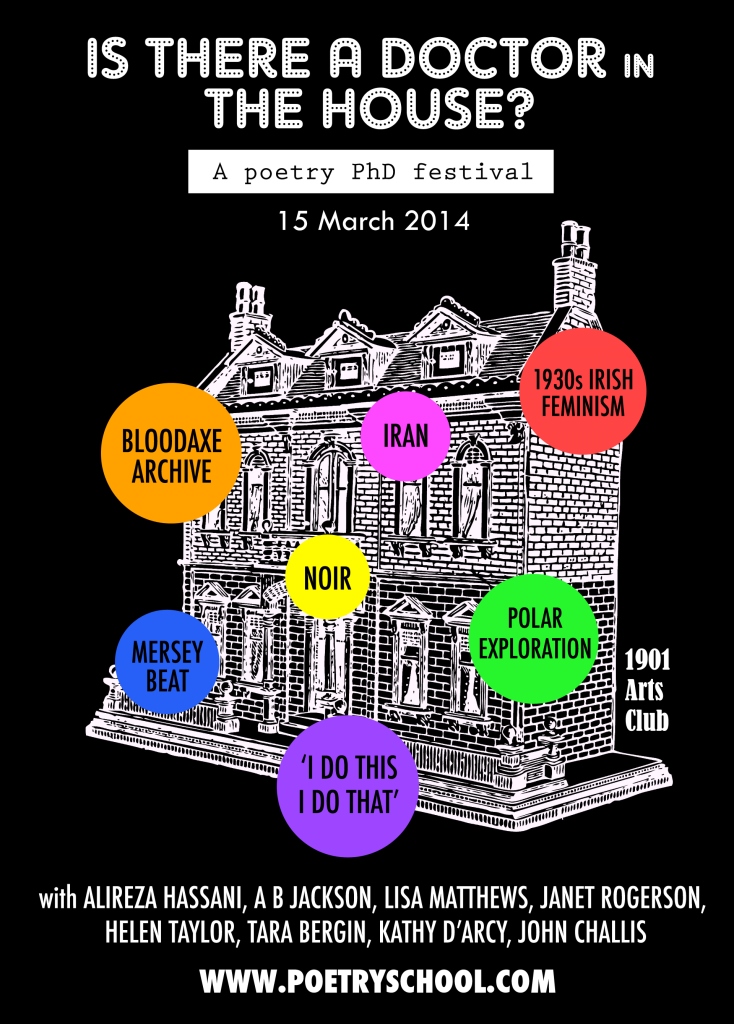 Is There a Doctor in the House? — 15 March 2014 — 10am until 5:30pm
1901 Arts Club, 7 Exton Street, London SE1 8UE
A full programme of lectures and workshops is available here. To book, visit www.poetryschool.com or ring 0207 582 1679
Janet Rogerson lives in the North West of England, and is currently studying on the PhD Creative Writing programme at the University of Manchester. Her poems have been published in The Rialto, Smiths Knoll and Stand. Her pamphlet, A Bad Influence Girl, was published by The Rialto in 2012.