The second of our eight Is There A Doctor in the House? poet tutors is Helen Taylor. Helen is studying for her PhD at Royal Holloway University in London, concentrating on the Liverpool-based movement Merseybeat.
Helen, what's your PhD about?
Helen: My thesis is the first major critical discussion of Merseybeat poetry, considering it as a 'total art' movement, and focusing on its performative and collaborative aspects, with particular attention to the work of Adrian Henri. My work involved much new archival research and interviews with the poets and audiences of 1960s Liverpool. I was fortunate to have a wonderful supervisor, and I met a lot of very helpful, very interesting people along the way, which really made the experience.
Tell us a bit about what you're planning to offer in your lecture / workshop?
Helen: I want to share my thoughts and ideas about the importance of performance for the Merseybeat poets. These poets wanted to make poetry accessible, and, towards this end, the live event was an act of sharing and community-creation as well as pure entertainment. My workshop will put these ideas into practice, looking at oral and visual examples from Roger McGough and Adrian Henri – puns, in-jokes, ideas stolen from the Surrealists and acted out in pubs – in order to promote this kind of audience-connection in the participants' own performances.
How are your studies affecting your writing?
Helen: My research-to-writing ratio worked very well, as I had decided on chapters which allowed me to do the research and then the writing for each one separately. Conference papers and journal articles were often factored into the timetable quite late in the day, but I knew that it was important to engage with the wider research community and get my work out there, so they were important asides from the thesis. As to my own writing – sometimes the thesis was so all-encompassing that I had no time or energy left for other creative outputs, so you have to try and force a balance.
What's been the best 'eureka' moment in your research?
Helen: One oral, one visual: hearing, for the first time, archive recordings of the Merseybeat poets in tour, digitised from their original, inaccessible, formats; finding, in the Henri Archive, manuscripts which proved my thesis of poems being amended to suit unique performance instances. I loved the research side of the PhD, exploring the Archives and unearthing new material.
Which other lectures / workshops are you going to sit in on at the festival?
Helen: I want to hear about Tara Bergin and Anna Woodford's work in the Bloodaxe Archive, and wish that I wasn't on at the same time as Janet Rogerson's workshop, but will definitely sit in on her lecture.
Are you going to put 'Dr' on your credit cards?
Helen: Absolutely! The people in Natwest said 'Congratulations!' and got quite excited on my behalf. I know someone who changed absolutely everything, including store reward cards, but I've not gone that far… yet.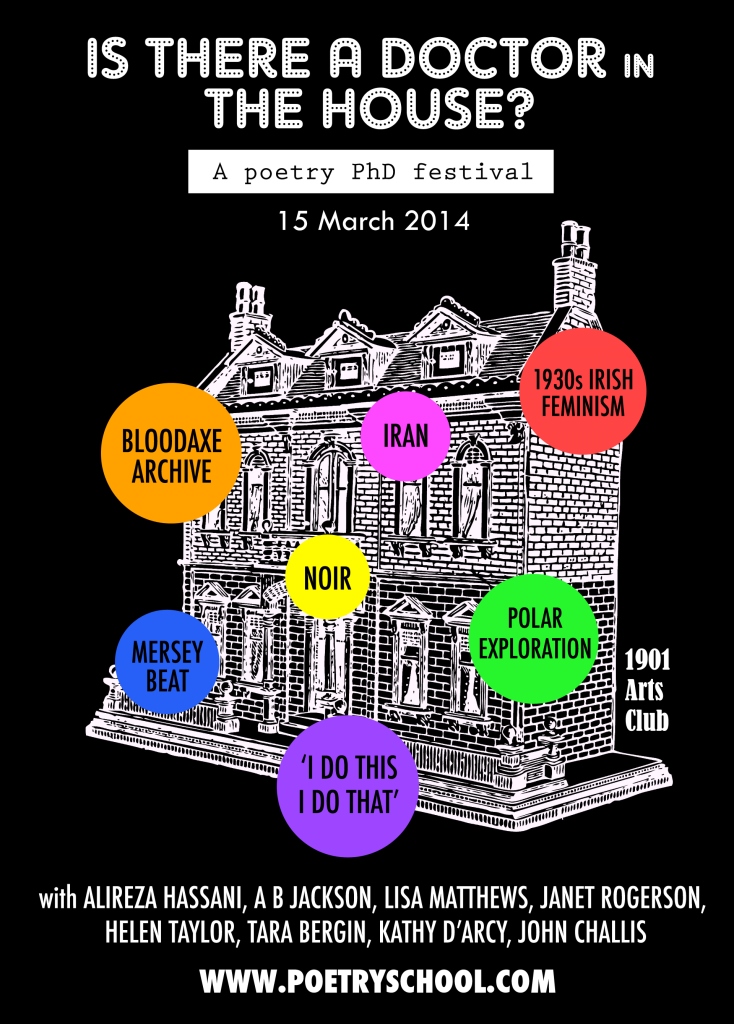 Is There a Doctor in the House? — 15 March 2014 — 10am until 5:30pm
1901 Arts Club, 7 Exton Street, London SE1 8UE
A full programme of lectures and workshops is available here. To book, visit www.poetryschool.com or ring 0207 582 1679
Based in Oxford, Helen Taylor has a doctorate in 'Adrian Henri and the Merseybeat movement: performance, poetry, and public' from the Royal Holloway, University of London. For this year's poetry PhD festival, Helen will be lecturing on the Merseybeat poets and encouraging us to try our own Merseybeat-style performance activities such as 'poems without words' and Dada-inspired 'cut ups'.