The seventh of our eight Is There A Doctor in the House? poets is Alireza Abiz. Alireza manages a translation business in Tehran and is currently working on his PhD in Creative Writing (Poetry) at Newcastle University.
Tell us about your PhD.
Alireza: My PhD is a practice-based PhD in Creative Writing – Poetry. It consists of two main components: a creative component (in my case a collection of poetry) and a critical component (the same as a normal dissertation in other fields). For the critical component, I am investigating on the effects of censorship on creating poetry. I am focusing on the state-imposed censorship in Iranian poetry after the Revolution of 1979. Censorship has always existed in all societies for different reasons. There are contradictory views on the necessity or effectiveness of censorship and there are many types of censorship. I am however studying the type of censorship which is directly imposed by the government.
Born and raised in Iran, I came in contact with censorship as a young child when I was denied access to certain books in the school library. I later suffered a lot as a young poet, literary critic and translator. My personal experiences with censorship acts as a bridge to connect the creative part of my PhD to the critical component. I am also discussing different approaches to censorship and the creative ways that writers and poets find to avoid being censored. My main thesis is to see how a long-lasting state-imposed censorship affect creativity in poetry.
Tell us a bit about what you're planning to offer in your lecture/workshop.
Alireza: For my lecture, I intend to give an insight into the mechanism of censorship in creative arts, mainly in poetry. Sharing some of my personal experiences, I will show how extreme and sometimes bizarre censorship may act and how it can make poetry a challenging and even dangerous profession. For the workshop, I will share some experiences in translating poetry. I will present some literal translation of Persian poetry and will guide the participants to transform the literal translation to an acceptable poem in the English language through collaboration. By this practice, I will try to highlight some common problems in translating poetry especially the significance of the cultural element in translation. It would be a fun activity and will give the participant an insight into the art of translation. No knowledge of foreign language is required. You can enjoy being a "translator" without knowing any language but your own.
How are your studies affecting your writing?
Alireza: Before starting my current program, I was already an established poet in my home country (Iran). My studies helped me understand English poetry better and also look at some more professional aspects of writing poetry. It also helped me learn some technics for teaching poetry. As a result of my studies, I am now looking at a wider audience and I have a different type of reader in mind when writing.
What's been the best "Eureka" moment in your research?
Alireza: My research concerns the effects of long-lasting censorship on creativity in poetry. Personally, one of the major discoveries I made during my research was that writing under censorship influences your creative faculties in a manner that you cannot write freely even the external force is removed. For example, when I want to write about an issue which is considered sensitive in Iran, I am still inclined to self-censorship although there is no external force here. In other words, the effects of censorship last more than the life of the censoring powers.
Which other lectures/workshops are you going to sit in on at the festival?
Alireza: All the programs seem to be very interesting. I will hopefully attend all workshops and lectures which do not clash with mine.
Are you going to put "Dr" on your credit cards?
Alireza: No! what's the point?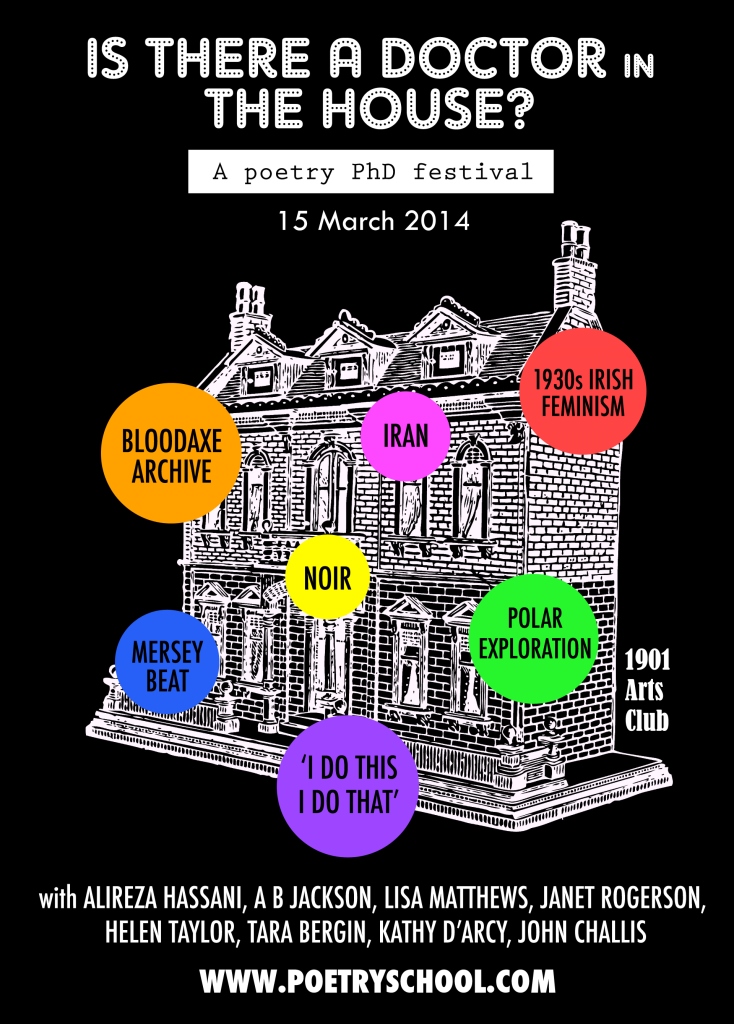 Is There a Doctor in the House? — 15 March 2014 — 10am until 5:30pm
1901 Arts Club, 7 Exton Street, London SE1 8UE
A full programme of lectures and workshops is available here. To book, visit www.poetryschool.com or ring 0207 582 1679
Alireza Abiz was born in 1968 in South Khorasan Province in Iran. He studied English Literature at the Ferdowsi University of Mashhad and then at the University of Tehran. He has published two collections of poetry, Stop, We Shall Get Off (1998) and Spaghetti and Mexican Ketchup (2004); his third collection, The Voice of a Tree Comes from My Desk, is currently awaiting a publication licence from the censor's department in Iran. Abiz is also an award-winning translator and has translated many leading modern English-language poets into Persian, including W B Yeats, Ted Hughes, Seamus Heaney, Derek Walcott, Basil Bunting, Jack Kerouac and Allen Ginsberg. For two years Abiz presented a poetry programme on Iranian TV. A noted literary critic and reviewer, he has also written extensively for radio and is the poetry editor for Aineha website.