Welcome to our Eric Gregory Award 2018 'How I Did It' series. We asked the winners of this year's awards to explain the process behind one of their award-winning poems. In this piece, Victoria Adukwei Bulley, author of Girl B, talks about 'What it Means'. The Eric Gregory Awards will close for entries on the 31st of October, 2018.
---
Of all the essays by Audre Lorde, it was 'The Uses of the Erotic: The Erotic as Power' which I had to read, and read again more closely, before I got it. Once I finally felt Lorde's meaning – embodied, not merely understood it – her sentiments stayed with me. Hers was a poetics of the attainment of joy and satisfaction. A belief in the possibility of and right to these, not simply the distant, mythological dream of them:
                   In touch with the erotic, I become less willing to accept powerlessness, or those other supplied states of being which are not native to me […].
                  And yes, there is a hierarchy. There is a difference between painting a back fence and writing a poem, but only one of quantity. And there is, for me, no difference between writing a good poem and moving into sunlight against the body of a woman I love.
In these passages I find a reminder of my own still-forming poetics, and in this way am enabled to more fully enjoy the experience of writing, even when it is difficult. I don't know what it means to be an erotic poet, but when I consider Lorde's emphatic insistence upon a sense of completion, a finality that is felt in the body, I find the confidence to struggle towards a version of a poem that finally feels like it hits the mark.
Many of my poems are minimalistic, at least in intent. Already being an over-thinker I find myself leaning toward the idea that less is more, and that the more cleanly and with less embellishments I can build an image, the better. And although language is only ever approximate, what I cannot feel or name with some element of exactitude, I usually won't write. At least, not yet. Instead, for want of the poem, I'll read around and write towards it through journaling and free writes. Even still, this process of reaching for clarity does not always birth a poem. If I can't get the poem to come, it's usually because the unit of thought or experience I am attempting to capture simply isn't complete. Less commonly – but in a much more rewarding way –  it becomes apparent that the poem I'm chasing isn't about what I think it is, but something else. Sometimes the poem that I want to write isn't the poem that I need.
As a result, I can tend to write fast but produce poems slowly. Even when ideas come easy, the writing of a line is half construction, half cutting away. This is why, recently, I try to keep a habit of writing in longhand first of all. A laptop is great for those occasional and sublime moments of what many people call flow. Outside of these moments of what feels like channeling, it's too easy to delete a thought or image that's not actually unworthy, just unfinished: only in need of another day, mood, or mode of thought. Wash your hair and come back to it, I tell myself. Writing by in hand is slower and messier, but I find that it helps me to embody each thought and, ultimately, that it eventually gets me closer to what I really need to say.
'What it Means' is one of the oldest poems in the manuscript I submitted for the Eric Gregory Award. I don't know if it's an erotic poem, but in the spirit of Lorde, I imagine that it is. If I read it often read at events, it's because whatever I felt when I first wrote it – a sense of awe at the body; a humbled, liberatory acceptance of what our bodies do, cyclically, rhythmically, of their own accord, regardless of gender – I still feel today. It is also a poem that I take my time with, vocally. Thoughts arise line by line, couplet by couplet, and don't trouble themselves with explanation. Most of all, it's a poem in which I feel at home as a poet, even if – as the poem suggests with it's own sense – all that I have ever written is only a warm up for all that I have yet to write.
The campus nurse offers up pills
like penny sweets.
Means it when she says
it's just one less thing to worry about.
It's okay.
There are many freedoms.
In the first world,
freedom from bloodshed
is tasted
between the legs.
I don't judge.
How would she know
I have come to love
the cup spilling over:
the floor of the bath
a Rothko on fiberglass
an opening ceremony
a private showing
circa this month.
There is little like knowing
I am an orchestra –
only rehearsing.
'What it Means' was first published in The Rialto 87.
---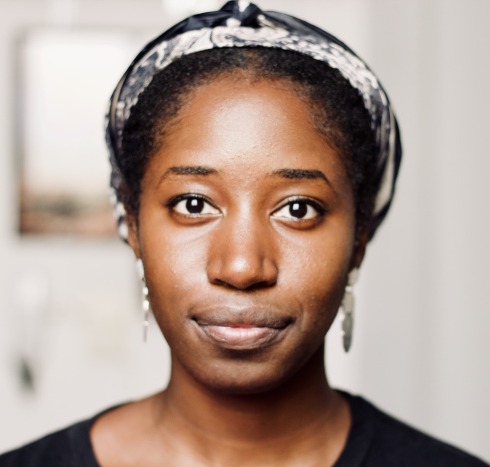 Victoria Adukwei Bulley is a poet, writer and filmmaker. A former Barbican Young Poet, her work has appeared in publications including The Poetry Review, as well as on BBC Radio 4's Woman's Hour. She won an Eric Gregory Award in 2018, and has held residencies internationally in the US, Brazil, and the V&A Museum in London. Victoria is the director of MOTHER TONGUES, an intergenerational poetry, film and translation project supported by Arts Council England and Autograph. She is a Complete Works Poetry and Instituto Sacatar fellow, and sits on the advisory board of the Poetry Translation Centre. Her debut pamphlet is Girl B.