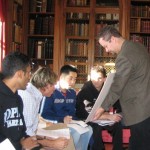 Tutor Academy
This is a Campus group associated with the Tutor Academy course, a place for course members to share work, resources and conversation.
Course description:We don't only teach poetry writing skills at the Poetry School. We help working poets extend their range too – hence this course where experienced poets, new to teaching, try their wings in front of a class of helpful students. James Brookes will be looking at vanity, Luke Heeley at iconography, Wayne Holloway Smith will be 'making it wonky', Holly Hopkins will sort out your list poems and Sarah Howe will be working with dream poems. (More details on http://www.poetryschool.com.) Lots of great prompts for and feedback on your writing at half the price of our usual courses.
This is a private group. To join you must be a registered site member and request group membership.