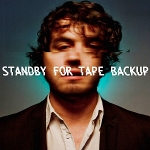 30 Poems / 30 Videos
Writer and filmmaker Ross Sutherland will create thirty new works over March and April 2015. Each work will be a synthesis of poetry and video, exploring the different ways that the two mediums can shape and influence the other. Ross is travelling across the UK throughout this period, completing a national tour of his theatre show, Standby For Tape Backup. Hence, the project also doubles as a poetic tour diary. Ross will use the project to respond to the places he visits and the people he meets.
In this public group, CAMPUS students can also provide Ross with materials to respond to, as well as create their own work in response. Ross will be casting his magpie eyes over CAMPUS looking for raw materials that he can fashion into one of the 30 film-poems he'll be making as part of his digital residency.
In particular, Ross wants to find out what inspires us as individuals – our personal muses and private obsessions. Ross is asking CAMPUS for prompts, provocations and creative suggestions to help stimulate new ideas for films, and to push him in new and unlikely directions.
The rules. You may consider sharing:
– Photos (personal, or public domain/archive)
– Video (personal, or public domain/archive)
– Songs/audio clips of music and field recordings
– Favourite poems by other people
– Found text (page of a website, or a photo of text)
– Overheard conversations
– Interesting articles and links
You can also ask Ross questions and suggest personal challenges or restrictions (no ice buckets please!)
CAMPUS members can also share a poem of their own with Ross, but this should be done with discretion. Furthermore, Ross reserves the right not to use any of the material he is sent.
If you'd like to share something with Ross, please upload it – at any time – to the 30 Poems / 30 Videos group on CAMPUS (you'll need to join the group to do this). Ross will be checking the group regularly.
Any member of CAMPUS caught violating Community Guidelines, or using this group to conspicuously advertise projects of their own will be removed.