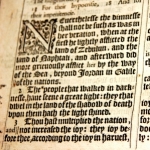 'The Word Made Fresh' — Restoring the Bible to English Poetry
The late mediaeval/early modern English translations of the Bible are among the fundamental texts — alongside Beowulf, Chaucer, and Shakespeare — of English literature, comprising an unrivalled treasure-house of content, themes, forms and techniques that contemporary poets might appropriate and incorporate into their work. On this course, you will identify characteristic Biblical literary techniques such as parallelism, repetition, rhetorical questions, precise lexis, compression and economy, patterns of imagery, distinctive approaches to conjunctions/prepositions and much more, writing your own poems under their influence, as well as considering the distinctive content of the various texts and the parallels between the verse structures of the original Biblical languages and Old English prosody. Key texts, pre-sessional reading and other necessary contextual material will be made available before the course starts.
This is a private group. To join you must be a registered site member and request group membership.