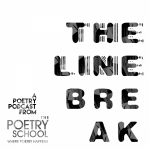 The Line Break
The Line Break is a free monthly podcast about writing poetry, hosted by Ryan Van Winkle and produced by Colin Fraser. During The Line Break, Colin and Ryan will be re-visiting the archives and bringing you some of their favourite interviews and readings with poets from around the world. Blended with the archive recordings will be Ryan's exclusive new commentary, introducing fresh themes, additional ideas, and creative provocations.
Each episode, Ryan will also offer a few 'poetry sparks' for you to try out, opportunities to pause the podcast and work on your own poem-writing assignments. Every episode will offer a multitude of these fun exercises that can be easily fitted into a lunch break or the commute home.
You can use this group to listen to the podcast, upload new work inspired by each episode, and share other related material. And Ryan will be popping his head in and out too, so don't feel afraid to ask a question!
Full details here: http://campus.poetryschool.com/the-line-break-new-monthly-poetry-podcast/
Group Admins
Group Tutors