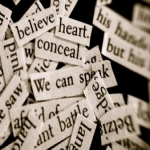 Show Us Your Poems
This public appreciation group is open to poets of all levels, from experienced workshop pros, to inexperienced writers new to CAMPUS. Post up to two poems a month and get public feedback. Maybe publish a new draft, or simply showcase one of your greatest hits? You write them and we read them.
The rules:
– Please post no more than 2 poems per calendar month.
– This group works on a 'quid pro quo' system – if you post a poem of your own into the group, then please leave a comment on someone else's work. For each poem you upload, you should aim to offer your personal feedback on someone else's work, particularly those who have received no comments so far.
– Please be sensitive to the experience and needs of the poet when and if you are commenting on his / her work. Constructive criticism helps writers develop their skills; inappropriately harsh commentary at the wrong point can stop them writing altogether.