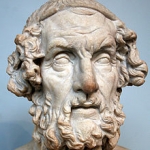 New Homers – a Reading & Writing Course
Christopher Logue, Alice Oswald, Michael Longley and Derek Mahon have all written brilliant adaptations of Homer, from the cinematic drama and violence of Logue's War Music to the majestic sweep and poignancy of Oswald's Memorial and the compact lyrics of Longley and Mahon. We will examine and discuss their very different approaches and draw inspiration for our own new poems from them. No previous knowledge of Homer required.
This is a private group. To join you must be a registered site member and request group membership.