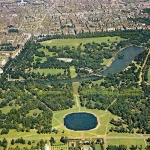 Mixed Borders – poets in residence in London gardens
The Poetry School and the London Parks and Gardens Trust have hybridised! As part of London Open Gardens Weekend (13-14 June) we are offering the chance for you to take part in your own garden-based residencies. You'll be paired up with anything from an allotment to a garden square, and you can use the opportunity to write, perform, inspire or otherwise create poems following your own skills and interests. During the morning of the April session, Sarah (poet and Event Manager for London Open Garden Squares Weekend) and Julia from the Poetry School will explore some residency options and styles with you, and allocate the gardens. In the afternoon, we'll work on some garden-themed writing exercises to propagate your green and leafy poetry ideas. You don't need to have had previous poet-in-residence experience to take part in this project, but you do need to be writing at an advanced level and be able to organise and carry out the particulars of your own residency.
This is a private group. To join you must be a registered site member and request group membership.