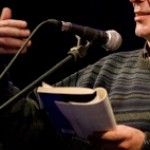 Here & There & Now
This is a Campus group associated with Roddy Lumsden's Here and There and Now course, a place for course members to share work, resources and conversation.
Course description: To be a contemporary poet, you should read contemporary poetry, but it's easy to fall behind when so much is happening and so many new poets are publishing. This course is aimed at well-read advanced students who want to discuss and learn about recent developments in UK and US poetry. This term will look at a new generation of younger UK/US poets who are revitalising poetry. Class members will be encouraged to write and show poetry which responds creatively to the poems discussed.
This is a private group. To join you must be a registered site member and request group membership.