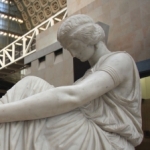 A Conversation with the Past 2: From Sappho to Basho
This is the third of a trio of student-centred courses designed both for experienced writers looking to widen their repertoire and for beginners looking for a more structured approach to their writing. You will have the opportunity to consider how much of today's poetry has its roots in the work of innovative poets from the past. Drawing on the work of poets from a wide range of cultures and traditions from the earliest times to the Renaissance, you will continue to develop your individual approach to writing and start to build up a body of creative work with a definite individual identity. Through exercises, reading, writing, group feedback and small group planning sessions, you will be encouraged to construct an independent voice, while maintaining a dialogue with poetic traditions. While students who have completed the courses 'Developing a Style' or 'Defining a Style' will enjoy this new course, it is also suitable for those seeking a one-term stand-alone course. As this course will contain completely new material it may also be of interest to students who have attended Tim's courses in previous years.
This is a private group. To join you must be a registered site member and request group membership.